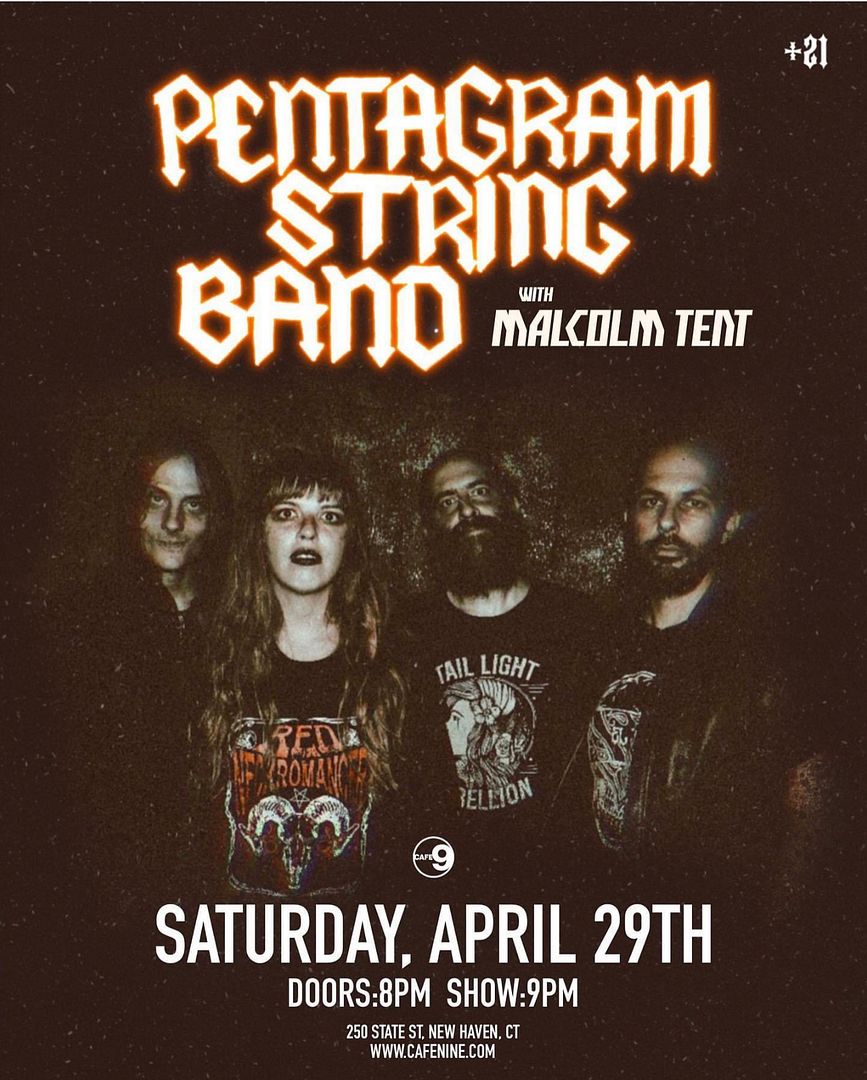 Additional photos can be found in a Facebook album located here :::
https://www.facebook.com/media/set/?set=a.1236402597089959&type=3

While I had seen this show advertised on the Cafe Nine website I didn't know a lot about it. I had listened to some songs by The Pentagram String Band because Jess expressed her interest in wanting to go to this show and I'm always up for music, even if I'm not completely familiar with it.
I will say though that the addition of Malcolm Tent to this show was an added bonus and really got me wanting to be out there. Malcolm Tent spent time talking in between songs and while doing so I could hear people talking amongst themselves at the bar. I get that New Haven is a college town and people can do what they want, but you'd never catch me talking through someone's set as I have better manners than that.
That might have bothered only me and the fact is they still paid the cover so Malcolm Tent is still taking their money, so I look at that as a positive. Malcolm Tent told stories and sang us songs about the worst days of his life, time he spent in jail, women he met that did him wrong and just all around things which most people should be able to relate with or have a laugh at because of the absurdity of it all.
This set also carried that punk rock mentality of going up there, singing, playing the electric guitar and just saying fuck it, while also knowing the audience and name-dropping Satan when you can. I don't really know on other tour dates who would open for The Pentagram String Band- what type of musicians they might be- but there was perhaps no better choice at this stop on the tour than the one and only Malcolm Tent.
As a lover of music, The Pentagram String Band fascinates me. The four members consist of an upright bass, a washboard, a banjo and a violin. Trying to create this traditional rock and metal sound with instruments typically not used to make it was part of what made this set so good. The Pentagram String Band also has an undeniable energy that even if you didn't listen to them ever before or ever again you'd have fun at their live shows.
One of the things that I never really thought of until seeing The Pentagram String Band live was how much the washboard (and other assorted small instruments attached to it) replaced the sound of the drums and essentially became the percussion. The banjo acting as the guitar makes sense, but this was something that just clicked with me at this show and it all sort of came together in a way that made it that much better in the sound as well.
Something I've always believed about music is that you shouldn't have things which might separate people involved in your songs. This includes politics, religion and a number of other belief systems. On one hand, The Pentagram String Band (just based on their name) isolates anyone from listening to them who isn't along the same beliefs or just not open minded enough. If you're really into religion in a Christian sense or whatever, I'm going to guess this music isn't going to be for you because you'll be too offended by all the talk of "Hail Satan".
But as I've grown older, I've found that good music is always going to rise to the top. At this point in my life I'd listen to a straight edge band if they were really good, even though I'm very much not straight edge. So, for me, I don't particularly worship Satan (that whole belief system is very complex and personal for me) but I can still find the energy and technical skills of The Pentagram String Band to be an experience worth believing.
The singer/banjo player was strumming to the point where his fingers bled. As they said they only had a few songs left and members of the audience shouted out higher numbers he commented "There will be a sacrifice tonight... but it won't be me". It also got really hot inside of Cafe Nine so they opened a door, which brought random people in. Some of them stayed and danced but others quickly left to go home and pray for our souls I imagine.
Malcolm Tent can be found on the internet here :::
The Pentagram String Band can be found on Bandcamp here :::
Cafe Nine can be found on the web here :::