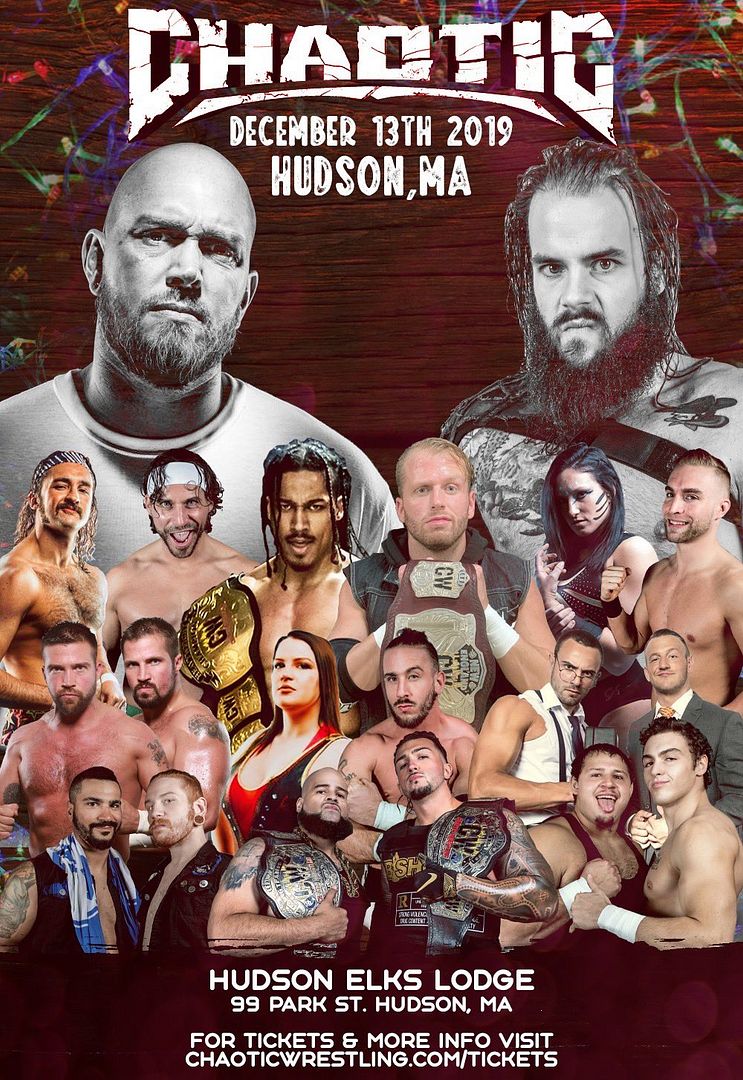 12/13/19
@ Hudson Elks Lodge / Hudson, MA
Last weekend as I was leaving for the Blitzkrieg! Pro event, my son was upset that he wasn't going with me even though when I had asked him if he wanted to go when I was ordering tickets he said no. Via Facebook and DL Hurst, I found out about this Chaotic Wrestling show and since it was on a Friday and also was close enough to drive to, I asked Quentin if he wanted to go and the plan was set.
I'm one of those people who likes to prepare and would rather show up somewhere an hour early than an hour late. It's roughly a two hour drive to Hudson, MA and Chaotic Wrestling told me doors would open at 7:15 (Have doors ever opened on time in wrestling though?) so with the combination of rain and ~rush hour traffic~ I decided it was better to leave and plan on getting there at 6 than plan for 7 and end up stuck in traffic.
On the way, Quentin was playing Luigi's Mansion on the 3DS while I was listening to "Blue Sky Noise" by Circa Survive and then I went back to "Three Cheers For Sweet Revenge" by My Chemical Romance. We made only rest stop before the Mass Pike (which I haven't been on in forever) and then we were about ten minutes away at 6:00 (made excellent time) so we found a Shaw's (which is apparently still a thing) and went there before also going to a Dollar Tree.
Friday also happened to be the Christmas party at my work, so I wore my new DL Hurst shirt because it was red and festive. Once we got to the Elks Lodge, it was almost 7 and we saw people outside but then they started going in so we went in but we were stuck in the lobby area. I saw Ava Everett come out and grab some boxes and I didn't know she was on the show but she had mentioned on Twitter she had a new Ava Taker shirt and I was hoping she would be there tonight so I could get one from her in person.
Around 7:30 we were finally let in and our first stop for Quentin's first wrestling show was the bathroom. I must say now as well that I was pleased there were other children at this show, some younger than Quentin, so I didn't feel like I was being that guy bringing his kid to a show where kids shouldn't be.
We went over towards the merch tables and saw none other than Josh Briggs standing there. As large as this man comes across on television, he's even bigger in person. Quentin took a picture with him and the size difference is just so great.
When the show started Rich Palladino came out to do the ring announcing and I'm familiar with him from IWTV as well, so, you know you're pretty far into this scene when you feel yourself popping for the ring announcer (and refs).
The thing about Chaotic Wrestling that I should say before I start talking about the show is that they have a weekly show online plus these events on demand, so their shows have continuity to them. People have been going to these shows for years now and it's just incredible to me. There is that balance of keeping the product true to the fans who have been there all this time, but also being able to bring in new fans. It's one of those things where you couldn't just start reading a comic book series on the fifth issue and expect to know what's going on, but Chaotic has this way where even though this was my first time seeing them I just felt like it didn't take anything away from the experience.
I also must note that I wanted to come to this event to see a number of different wrestlers (mostly Josh Briggs) and I felt like going into this there would be at least one wrestler I really wanted to see in each match. That's a solid card for me.
The show opened with this group that has Christian Casanova in it and when he said there was no man in the locker room who could defeat him it brought out Kris Statlander for our first match. With some shenanigans, Christian Casanova picked up the win and I'll just say now that once again Kris Statlander went missing after her match. She's super over but isn't even selling t-shirts. I can't explain it.
The second match saw "Retro" Anthony Greene defeat Jason Cade and though I wanted to see the real AG entrance he came out with Ava Everett instead to a holiday song which everyone sang along with. Jason Cade is a decent heel and has some athleticism that should be watched. I feel like I knew his name before this match, but yeah, I was partly here to see AG as well and him having Ava Everett by his side was a lovely surprise.
This is when things get interesting because that was announced match and I knew Kris Statlander would appear, but out came this wrestler I don't know named Chase Del Monte and he's been their champion before, but he basically called out Charlie Cashew, who I saw in Blitzkrieg! Pro and feel has a great gimmick. The next Chaotic Wrestling event is called "Pandemonium" and there's going to be this six person match for a shot at the title and this was basically a match to try and get into it. Even though Charlie Cashew lost, he got put into the match anyway or maybe he got put in instead of Chase Del Monte... I'm not sure. It was a little confusing.
Before intermission there was a tag team gauntlet match with the winner getting a title shot later in the show. It started with the Maine State Posse, which is funny because I saw Dangerkid last week for the first time. I didn't know a lot of the people in this gauntlet match, so I'm not going to try and mess up their names but CJ Cruz was in it and I've seen him on IWTV and the last tag team to enter was JT Dunn and Davienne, who I saw for the first time last weekend as well. I was hoping for the JT Dunn/Davienne team to win but someone called the Logan Brothers won by cheating. It was a fun gauntlet though afterwards I did feel like we needed a breather.
Also, during the first match, Dangerkid pointed and yelled at Quentin to sit down in his seat and be quiet. So, Quentin did sit down and got quiet but then he kind of laughed about it. It was a funny moment, and it was a heel thing to do (this is wrestling) but it's also just one of those little things that makes the overall experience that much more personal and memorable. Even though it goes against kayfabe: thank you, Dangerkid.
During intermission, I went over and bought tickets for the next Chaotic Wrestling show because it was announced that they would be on sale then. This is such a great business move, because you already have your fans there (hopefully) having a good time-- get their money!! I also asked Quentin if he wanted to go because it's his birthday so it's going to be pretty fun. It's in Lowell, MA so it's not close but not as far as Hudson. I'm really, really excited for it though and I feel like Quentin is as well.
We also made our way to the merch table (again) as we saw both Anthony Greene and Ava Everett out there. I asked Ava Everett if she remembered me from last week and she said yes (If she didn't really though, it's okay- I'm sure she meets so many people) and we talked for a little bit about the Power Rangers, how they should bring back the Girls Room for the Blitzkrieg! Pro show on 2/1 and how this was Quentin's first wrestling show and his next one would be on his birthday. I also bought the Ava Taker t-shirt because I do not have enough wrestling themed shirts still.
I also ran into CJ Cruz and said "Hey, it's the little brick shithouse!" and he seemed genuinely happy that I called him that and told him I enjoyed seeing him all over IWTV recently. He's someone to watch in 2020 for sure.
Following intermission we came back to DL Hurst defending the New England Championship against... I don't remember his name and don't want to look it up on Twitter but he had this yoga gimmick, like a more annoying/updated Simon Dean. It was decent for what it was, but it could also get really old really fast. Now, with this match I need to make a point and it's not about the other guy in it (Sorry, his name is out there though) but rather about DL Hurst.
In the world of professional wrestling, it's one thing to create a gimmick for yourself and then just be that gimmick everywhere. But to do what DL Hurst is currently doing is not what every other wrestler is but shows how talented he truly is. What he is doing being the fact that in Blitzkrieg! Pro he can play the heel and in Chaotic he can play the face. There are certainly wrestlers who will be cheered or booed wherever they go, but to be able to get that reaciton out of the crowd depending upon where you're wrestling... that's rare. I don't know how many people can pull that off, but that really impressed me with DL Hurst on this Friday the 13th.
The second to last match (pre-main event?) saw the Logan Brothers get screwed (kind of how they screwed the team I wanted to win earlier in the night) and Christian Casanova and his partner retained the tag team titles. They were then attacked by JT Dunn and Davienne, who got the best of them so hopefully on 1/10 we'll have that tag team match signed and ready to go.
The main event really needs a review in itself. They showed this video package (Which I also watched before the show) of what lead to this fight and it's one of those things I instantly love about Chaotic Wrestling. You could be a fan who has gone to every show and seen all of this unfold, but if you're like me and tuning in for the first time, this video package tells you all you really need to know about these two guys just wanting to beat the hell out of each other.
It took quite some time before the match ever even got into the ring and officially started. Brian Fury was on the guardrail at one point with Josh Briggs running for the big boot when Fury just dumped Briggs over into a few rows of fans. That was crazy. They brawled through the crowd and the thing I kept repeating to Quentin before this show was: If the action seems like it's coming your way, move. Thankfully as well, Chaotic had security people around to help out. At one point, one of them did tell us we should move a few steps back and so I did make Quentin slide over a few chairs.
We were sat near the merch area and so as they came over there I literally was within arms reach of them both. Josh Briggs hit Brian Fury with a cash register and the cord to plug it in whipped around and hit me. That's how close I was. They just wrecked the place. This was the fight I wanted to see and if he isn't considered to be so already, Josh Briggs is going to be that breakout star in 2020.
Once they did get into the ring it became a battle of wills. Two guys just giving each other all they had and neither surrendering. This is wrestling. Josh Briggs beat down the bald ref who reminds me of the ref from Celebrity Deathmatch but he's also been on Uncharted Territory. The other ref came out and when he tried to count a three at one point, the first ref woke back up and stopped him. This lead to the bald ref trying to attack Josh Briggs which just felt stupid because he's the size of one of his legs. I thought that would give Brian Fury a cheap win but it didn't.
Constant ideas of "What do these two have to do to beat the other?" made this one of my favorite matches to ever see live. If this does come onto the Chaotic website and I can view it again, I'll pay whatever to watch it again because I enjoyed this show so much. Sign me up for the buying the blu ray or whatever, this was just such a great experience and I am just excited and very ready to do it all again soon. If you haven't been watching Chaotic Wrestling, my best advice is to start now.