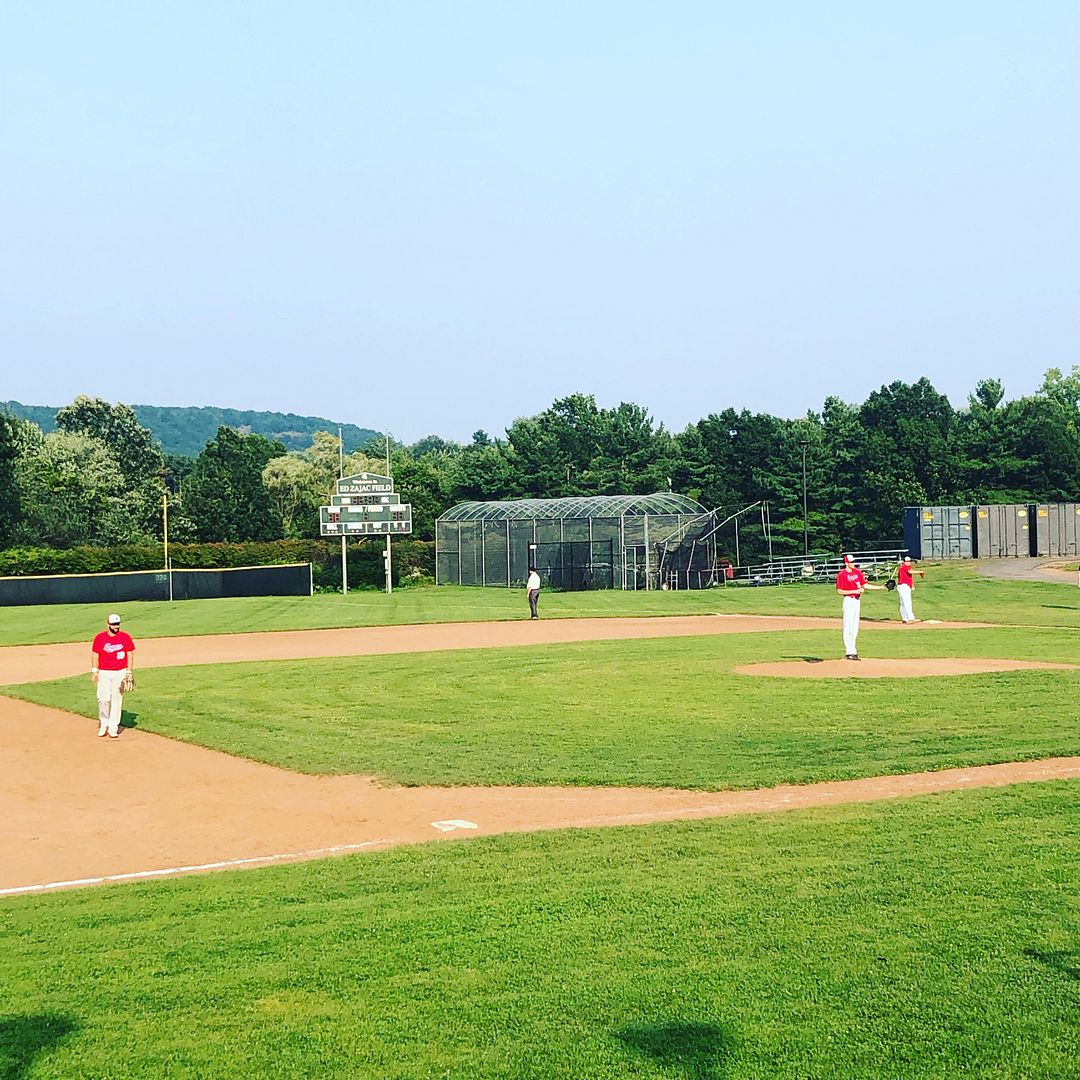 Additional photos can be found on Facebook here :::
https://www.facebook.com/media/set/?vanity=raisedbycassettes&set=a.5934522639922594

With the weather (it's either been extreme heat or thunderstorms) and just being busy in general it had been a while since I had been to a baseball game. This just did not seem like the summer for baseball, mostly because of the weather, but Quentin has also started a series of summer camps and so it isn't as easy as it was last summer to stay up late and sleep in.
This game was originally scheduled for 6pm at Maloney High School but started around 5:47 and I'm not really sure why anything is what it is anymore when it comes to baseball- it all seems to be happening as it happens, a moving train that you have to run to jump on if you want to be a part of it.
It's a little funny that of all the games I was able to make it to after a month or so without baseball this one has the Bristol Greeners playing. Not only are the Bristol Greeners perpetually in last place but they blocked me on Instagram because I asked them why they weren't green. And, in my defense, when I saw them play the Bandidos at home (at Bristol Eastern) they *were* green so I feel like it was a valid question. Oh well. In this game they were on the road so they weren't meant to be green.
In the first inning the Bristol Greeners played a little bit of that chess that I love about baseball. They got a runner on and then hit him over to third and with a long flyball to right field he was able to score and put the Greeners up 1-0 right away. Sometimes you might have to sacrifice some outs along the way but scoring runs is always the goal when on offense.
Perhaps one of the most bizarre plays I have ever seen in a long time came in the bottom of the first inning. With runners on first and third for the Expos, the runner on first attempted to steal second. It looked as if the runner was going to get run down between the defense players but while all the back and forth was happening before anyone could be tagged, Sebby Grignano (who was on third and had initially been walked onto first) ran for home.
At this point in time there is a choice you must make. You either throw to home to try and save the run or you stay focused on the task at hand and get the out taking the runner off of either first or second base. The Expos played this whole run down perfectly while the Greeners demonstrated why they are a last place team. By the time that the throw was made to home in an attempt to save the run it was too late. Sebby Grignano scored and tied the game 1-1. What's even more so is that they couldn't get the ball back in time to get an out so the other runner was also safe at second.
If you are caught in a run down situation between first and second with a runner on third, you should either throw to home to keep that run from scoring (and basically give up second base in the process) or keep your eye on the prize and let the one score but get that out between first and second. If you don't think the runner on third is going or it just becomes too late by the time you have a play, let the run score and stay focused on getting that out between first and second. This felt like what happened here and the Greeners came up with nothing to show for it.
During the top of the second inning Expos pitcher Carson Coon managed to get three strikeouts. In the bottom of that same inning, Charlie Hesseltine put up a double and then was able to score, giving the Expos that 2-1 lead which they maintained for the majority of the game. The Greeners couldn't seem to figure out the pitching of Carson Coon and he just pitched a fantastic game with strikeouts in the double digits.
The top of the third inning saw two more strikeouts for Carson Coon and the inning ended with a runner being thrown out trying to steal second base. Why someone would try to steal when there are two outs is a question I simply cannot answer. It felt at some point during the game like the Greeners were playing to lose and just out there doing the opposite of what was smart to see if it might work.
During the fourth inning the Greeners managed to get a runner all the way to third for a triple but left him stranded there. In the sixth inning the Expos would also get out of a bases loaded situation without giving up any runs. The Greeners were trying their best, but Carson Coon and the Expos were just better.
The fifth inning was when the Expos inflicted all of their punishment. Up 2-1 a run would score before Jack Rich would hit a bases clearing double to put the Expos up 5-1. Jason Sullivan would bring Jack Rich home, making the final score 6-1, with the Greeners only having two more chances to comeback but both would fall short.
In the top of the seventh there was a doubleplay to end the game. The play at second was clearly an out but the throw to first was questionable. It could have been a tie- I'm not sure and I was too far away to see it properly- but it had strong vibes of the umpires saying they were paid by the game not the hour so they were packing up and going home.
This was a rather short game, around an hour and forty five minutes, but it worked out with the timing of it all because right after the game a storm came through which lead to a number of other games throughout the state of Connecticut being suspended and ultimately canceled. Had this game started at 7pm instead it would not have made it till the end so I certainly appreciate the timing of it all.