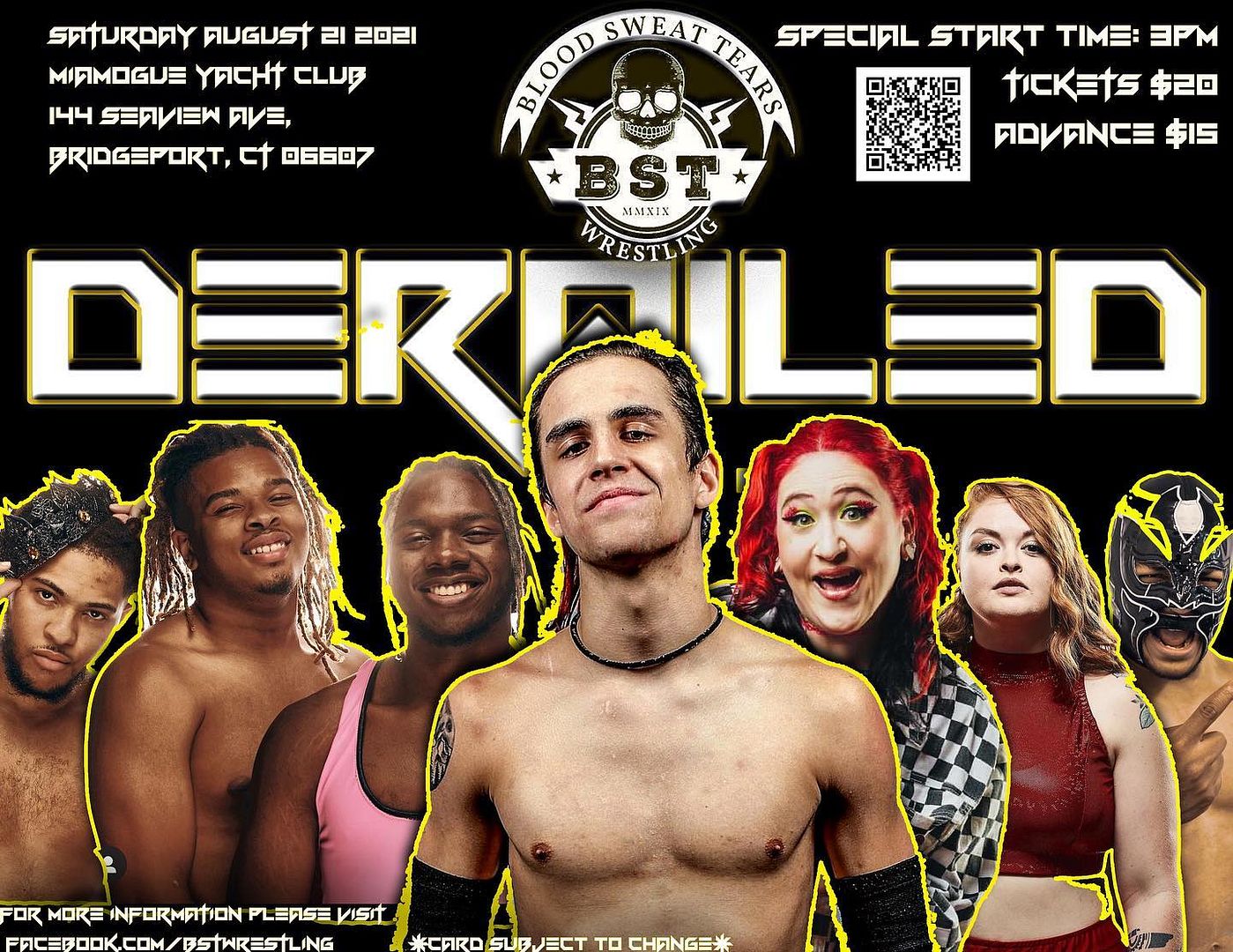 https://www.instagram.com/bloodsweattears_wrestling/

https://www.facebook.com/BSTWRESTLING/

On the Wednesday after this show I found out that Big Jym (Jym Parrella) had tragically died. This review is dedicated to him, may his legacy forever live on.


I first found out about this show by telling Jess something to the effect of: "Jessie Nolan is coming to CT!" The time between then and this day was very eventful as we were also on the eve of Hurricane Henri coming through, so being near the water made it seem more threatening somehow. What I liked about this show right from the start is that the venue is a Yacht Club and it really looks about how you would imagine a Yacht Club would look. There are a lot of places where wrestling can go and the walls just feel boring, but this place... this place had something special to it and I liked that.
There was a pre-show meet and greet scheduled here so we got to the Miamogue Yacht Club in time to see Dustin Waller, who is their Heavyweight Champion. The show was scheduled to start at 3 pm, so as we were in our seats waiting for the show to start (like many others), I see Big Jym (mask on) come out of the back through the corner of my eye. I think this is odd, but then he goes over to where the table is set up for the meet and greet, begins attacking Dustin Waller and puts him through a table!
In all of my years, all of the wrestling I've witnessed, I've never seen a show start like this before because there wasn't a song that came on and a ring announcer who came out and welcomed us to the show. It just kind of started. And if you weren't paying close enough attention, you might have missed it. This actually set the tone for the show quite well, too, because it left me feeling like you didn't know what could happen next: blurring the lines between what is part of the show and what is real.
The first match was contested for the Tag Team Titles, as The Bite Club had been stripped of them and as such the winners of The Haven vs Brick City Boyz. I once saw the Brick City Boyz lose in Pro Wrestling Magic, so I didn't have much hope for them here and the crowd was hot behind The Haven. Even Quentin got in on yelling "Brick City Sucks!" and, eventually, The Haven got the win and captured the gold.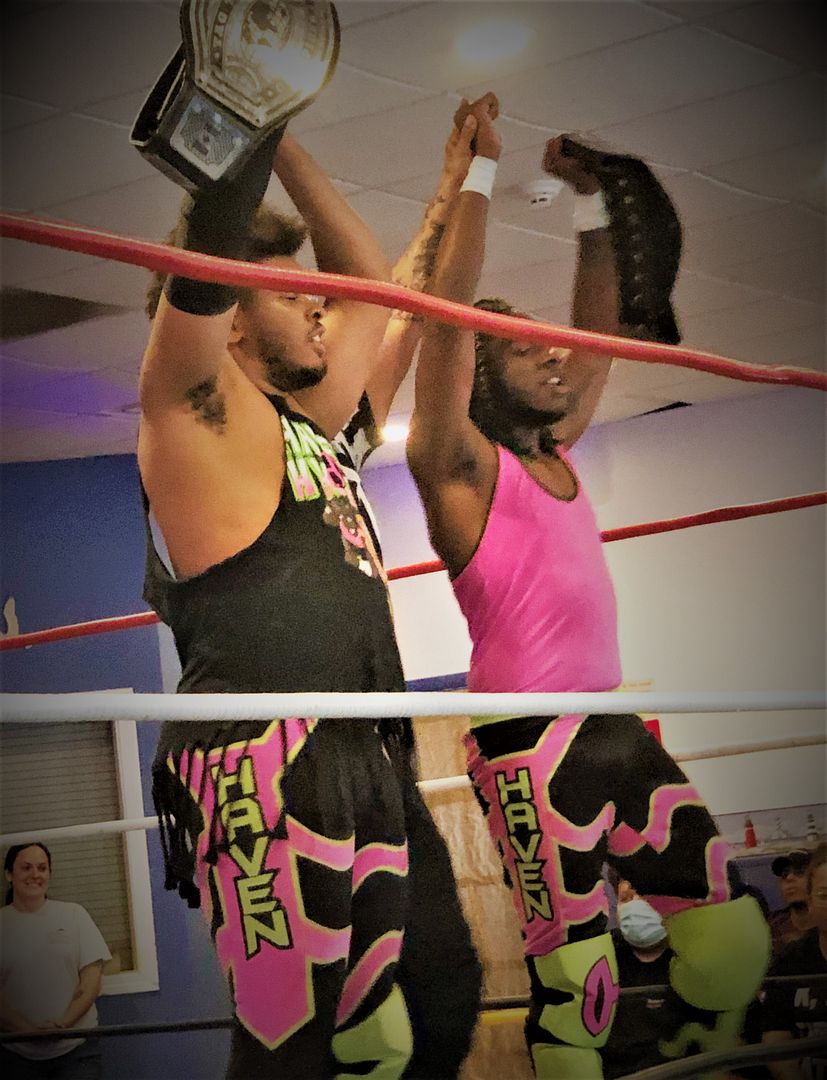 Dan DeMan came out next but he didn't want to talk about why he doesn't dress as Cruella any more (the live action film is coming to Disney+ soon without the $29.99 fee) so I wasn't really paying attention to him.
This took us to a match featuring Stevie Legend, who I had recently seen at Blitzkrieg! Pro, and I swear he was wrestling Michael Chiklis. Either way, it made for fun commentary by me when there was a kick out at two and I would say "Fantastic Four 2: Rise of the Silver Surfer!" Also, I stand by my opinion that "The Shield" is overrated. This was a nice showing by Stevie Legend though. I expect to see a lot more of him in this area.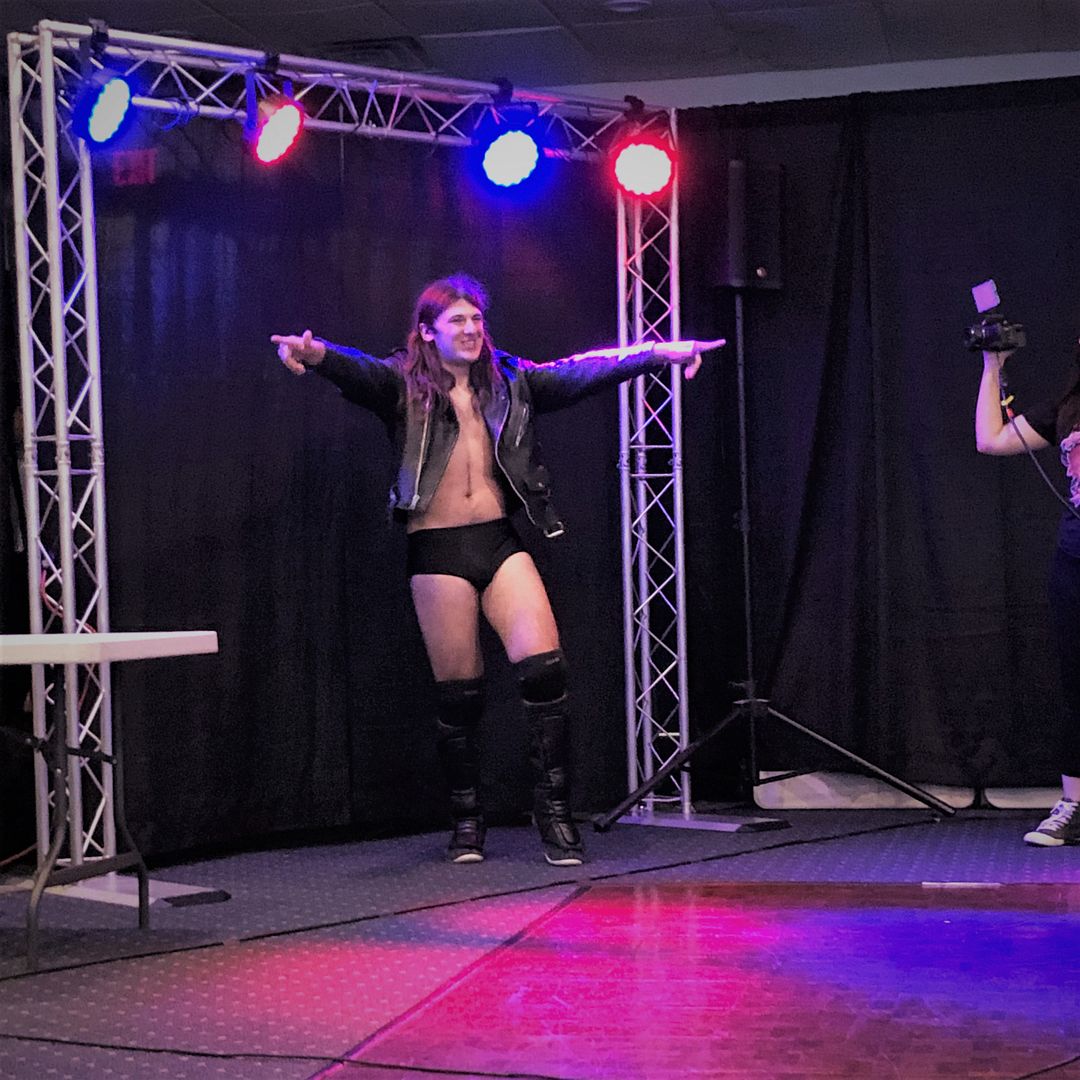 Because wrestlers often times do what they want, Jarett Diaz came out and said he didn't want to be part of the threeway (turned fourway) match and instead he got into a singles match with Lucas Chase. This was a really good match that if you can take the time to go out of your way to see it, you won't regret it.
The actual threeway turned fourway then back to threeway took place next with El Presagio vs Matt Awesome vs Zachariah Gibbs. First off, I don't know anything about Zachariah Gibbs but I was willing to go into this match and see his character with an open mind because there is another Amish character out there (sometimes in GCW) and so I didn't want it to feel like Zachariah Gibbs was just ripping off that guy. But Gibbs came out not really dressed like he was Amish and he was billed as an angry Amish man, so he just tore into everyone.
This character, which I thought might be infringing upon someone else, was actually really well done and it left a lot of questions for me- such as why is he so angry. I asked him but he didn't respond. I was also impressed by the way El Presagio created his own language and Matt Awesome connects with the crowd.
We went to intermission at this point and after buying merch we went to get food. Bless the Miamogue Yacht Club who just seemed overwhelmed by how many people were there, especially since a lot of us came in at the same time during intermission like a rush. When we got our food, the introductions for the next match had started so we had to quickly run back to our seats and eat cheeseburgers and fries during some of the match.
If you're paying attention to independent wrestling, then you should be paying attention to the Northeast scene here. If you are, then you'll likely know both Ichiban and Kylon King. These two have been on every TOS show we've gone to and we even saw Ichiban once at Chaotic Wrestling. From the high flying, to the mat-based wrestling and submission holds, this match had it all. Far too many times I thought it was over when it wasn't. They talk about leaving it all out there in the ring and that is exactly what these two did.
Yet another match on this show to go out of your way to see. At one point, Ichiban was outside of the ring near me and I said "Ichiban 1" and he corrected me "Ichiban NUMBER 1!", which I thought was hilarious. And the thing is, Ichiban is a lot of fun as a character. He did the spot where he punches his opponent in the corner and instead of counting to 10 he just says "1!" every time and some of the crowd started on "2! 3!" and he corrected them. But as much as you can laugh during his matches, Ichiban can get it done in that ring.
Kylon King is really going to be one of the next big breakout stars from this area. When I think of wrestlers from around here I think of names like Richard Holliday, Anthony Greene and Christian Casanova. And the thing which all three of them have in common is that they have their own unique character, much like Kylon King does. So it's not enough to say "Kylon King is the next ____" because he isn't like anyone else. Kylon King is the first Kylon King and soon the world will see what we in the Northeast have been knowing.
After all of that wrestling it was time for some straight up comedy as War And Peace (who we also just saw at Blitzkrieg! Pro) took on Perfectly Sexy and Buff Inc. First off, The Firm was supposed to be in this match but during the opening match, after becoming Tag Team Champions, Elijah Six attacked The Haven and said he was coming for the titles, all the while everyone wondering where Sammy was. So this went from four tag teams down to three but that's okay because it worked.
Perfectly Sexy seemed to be more interested in wiggling than in actually wrestling and this lead to Buff Inc trying to wiggle as well, which thankfully didn't break down into a dance off. War And Peace played to this as they both tried to stop the wiggling and win the match. If you ever needed more clearly defined people to cheer for it was obviously War And Peace in this match because much like me, they just wanted the wiggling to end.
The BST Monarchs Championship Match felt like a big deal because it went on right before the main event. Sometimes, it's not just about the fact that you book women but how they are presented and this just made them feel like a really big deal- which this match was. One of my biggest problems in wrestling is believable contenders. There are a lot of match ups out there (I won't name names) where you just look at the contender and say "That person is never winning the title!" But Big Juicy is great as a champion and Jessie Nolan would also be great as a champion, so this match felt like it had a great deal of credibility.
During this match, Quentin told me first that he liked it because no matter who won he would be happy. Then he told me that Big Juicy would win because juice puts out the fire. This was just one of those matches that really showed how women can do what the men can do inside that ring and to some extent they can even do it better. Big Juicy is a star and so is Jessie Nolan, so when you put them across from each other inside a ring they're going to create something special and that's exactly what this match did.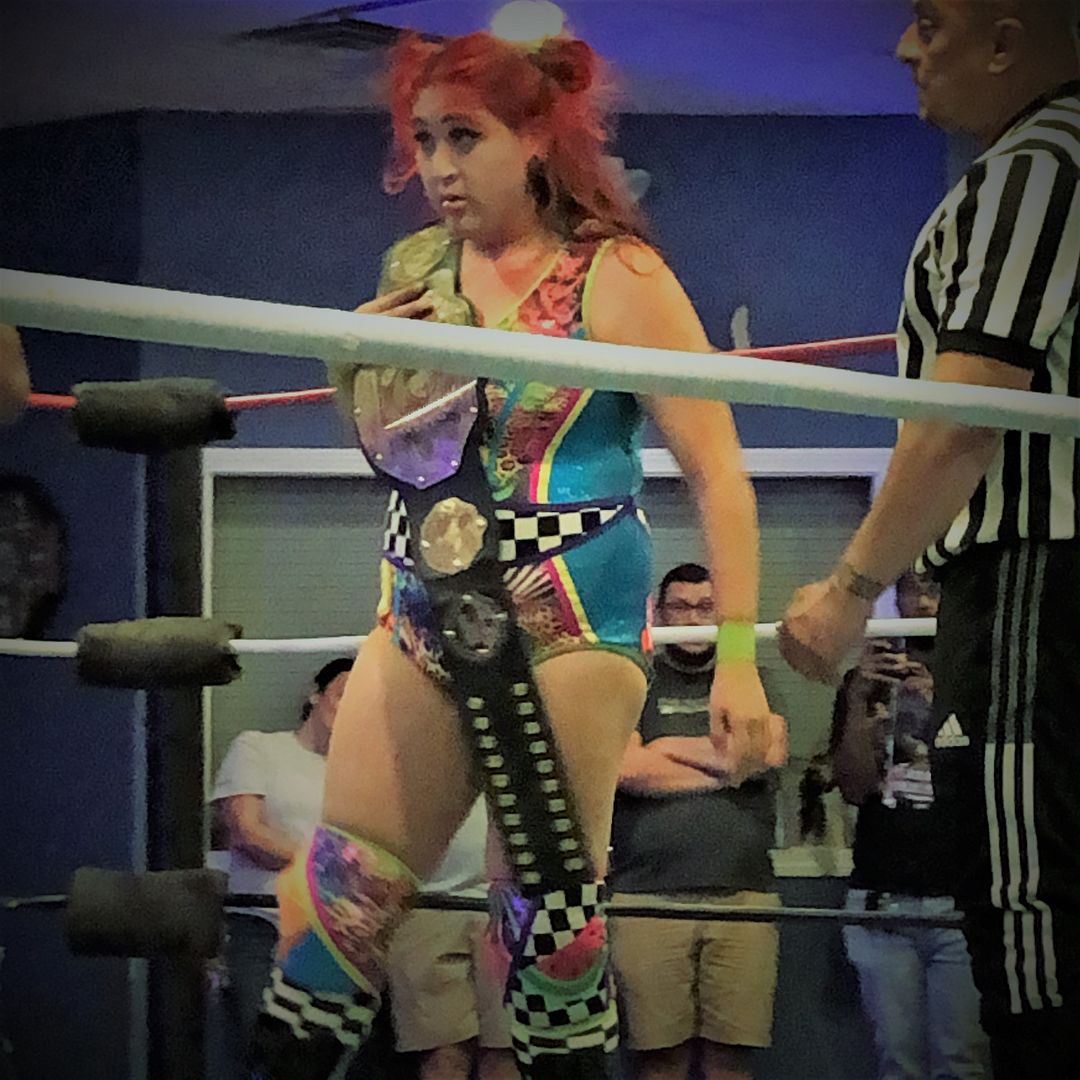 So often I see things in professional wrestling that don't make sense and you're just supposed to accept it-- I can do the whole suspension of disbelief, but I can only take it so far. At the beginning of the show- to start the show really- Big Jym beat up Dustin Waller and their main event match was to be for the BST Heavyweight Championship. One might think that this was a bad move because if you beat up the champion and he can't compete in the match then you basically just lost your title shot, right?
Well, Big Jym is not only a large man full of destruction but he is also a smart man who knows the rules of BST. The BST Championship *can* change hands on a count out and as such, Big Jym came down to the ring and told the ref to start counting Dustin Waller out. This was a plan which actually made a lot of sense and I applaud Big Jym for it because being smart and being a heel don't always go hand in hand.
At the count of 9, Dustin Waller came out with a chair and said that they would have their match but it was going to be a Hardcore Match! This match was a lot of fun and several times I thought that Dustin Waller might lose it because he seemed to have the deck stacked against him: even in a Hardcore Match, he seemed to be playing right into the plan of Big Jym. Dustin Waller overcame the odds though, won and I will forever be left with the image of Big Jym clapping and saying "You did good, kid" (Though that might not be exactly word for word)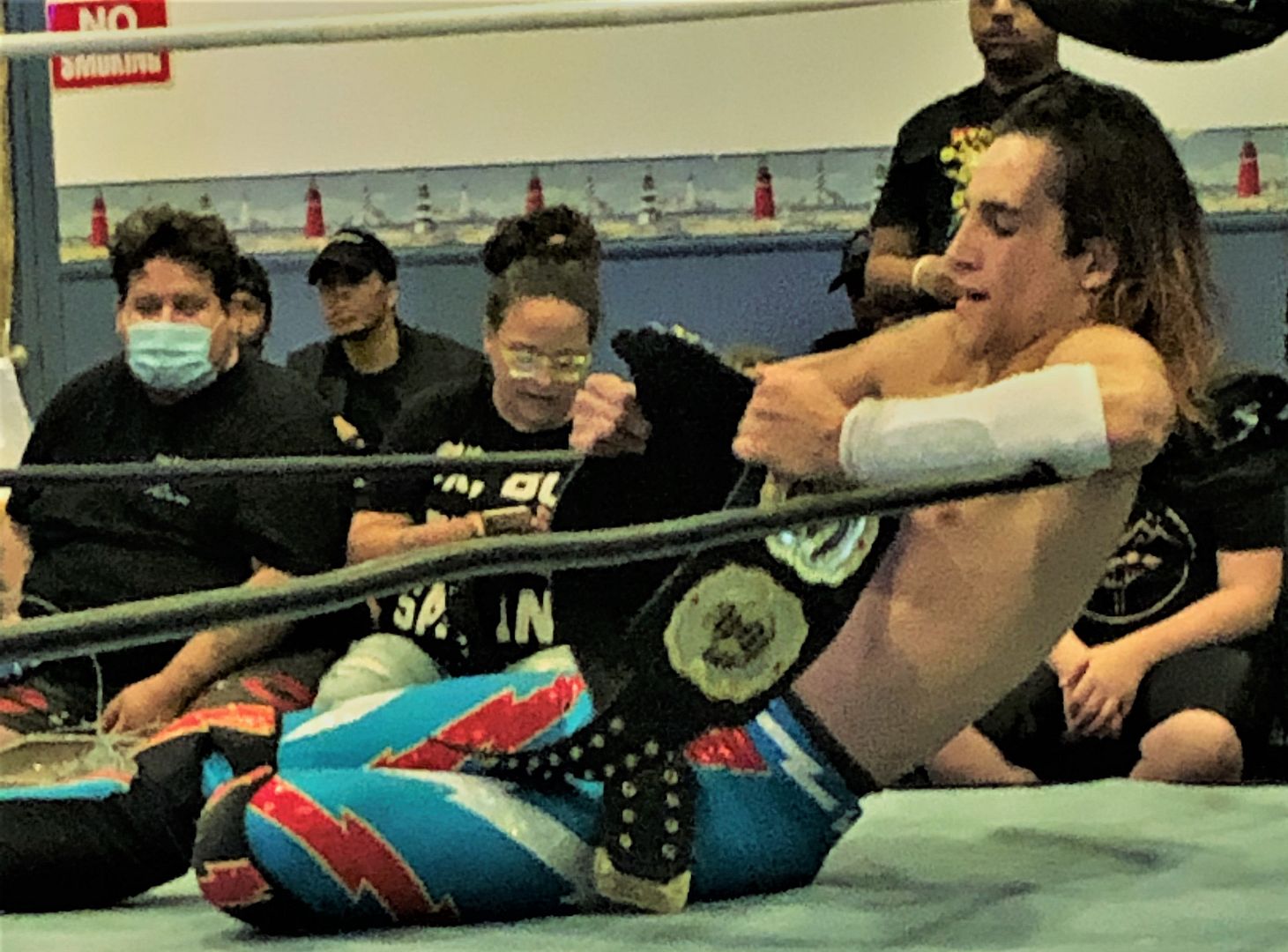 This was a really fun show at a really neat place and I don't feel like there were any real parts of the show that made me think I wish they would just hurry up and get to the next match. I often times end up buying tickets to a show based upon one match, but then when other announcements are made and I see the full card I can get behind it all. I'm glad that I can find so much wrestling- like BST- that just makes the whole show such a great experience because even though it's that one thing which draws you in, the entire show will make you stay.