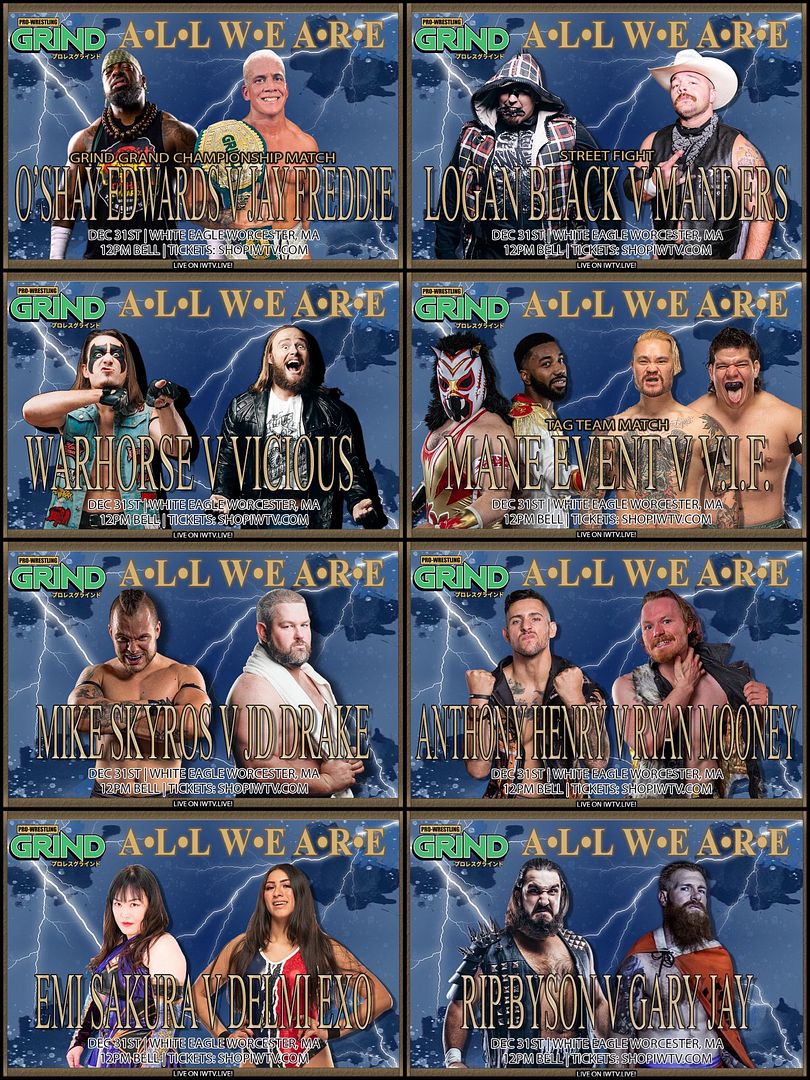 Pro Wrestling GRIND tends to spend their time at the Pulaski Club in Easthampton, MA but for this special occasion they bring their special brand of hard-hitting violence to Worcester. As seems to be the theme of The Wrestival, fans in Worcester may have seen some of these wrestlers before but it is likely that they haven't seen them like this! "All We Are" is an entire card designed to steal the weekend and it just may!
MIKE SKYROS has changed his attitude and as a result, has turned around his losing ways here at GRIND.

Will his venom and malice be enough to conquer the returning JD DRAKE in Worcester at #Wrestival though?

MIKE SKYROS VS JD DRAKE

First time ever.#AllWeAre pic.twitter.com/eXlQJljyLQ

— Pro Wrestling GRIND (@GRINDpuro) December 16, 2022
Mike Skyros vs JD Drake
Since debuting in GRIND, Mike Skyros has been someone who seems to have found his winning ways but that's partly due to the help of Travis Huckabee. As of yet, Travis Huckabee has not been announced for The Wrestival at all, so Mike Skyros might be on his own in this match against JD Drake. JD Drake is one of the toughest, biggest and strongest wrestlers out there today. What's truly interesting about this match is how these two wrestlers are perceived.
JD Drake has made somewhat of a name for himself, not just on the independent scene but as part of AEW as well. You have to imgaine that in some respect of it all, JD Drake beating Mike Skyros is just another day at the office for him. In ways, it's what people expect to happen and makes this match feel like it could be cut and dry. But what if Mike Skyros wins this match? That has to be weighing heavily on Skyros' mind.
Mike Skyros certainly has more to gain by winning this match than JD Drake does. Imagine Mike Skyros going into 2023 with a win over JD Drake. I think if Skyros had one or two more big wins after that he could even be in line for a title shot. And Skyros has to know this. Skyros is as calculated in his mind as he is in his body. This might feel like an upset if Mike Skyros wins, but it also might just feel like making the most of an opportunity and Skyros might do just that.
FIRST TIME IN GRIND HISTORY…

December 31st at #AllWeAre

S T R E E T F I G H T

🎟️: https://t.co/ZJrpOYRrcl
🎥: @DJ_Tony_D pic.twitter.com/imrk2bJyqc

— Pro Wrestling GRIND (@GRINDpuro) December 13, 2022
Logan Black vs Manders (Street Fight)
You know things get serious when GRIND brings out their first ever Street Fight. Before we get into why this is, I feel I need to point out that both Logan Black and Manders are not the type of wrestlers you want to be on the other side of the ring from during a Street Fight. Logan Black really has that hardcore style to him while Manders has been making the rounds in H2O, ICWNHB and even had a stand out Anything Goes match against Slade at Limitless back in May.
Which is funny because this all started back in May between Logan Black and Manders, at GRIND "Come And Get It", when these two were originally scheduled for a match against each other. Manders was only in his second match in GRIND and it looked like he was going to show respect, but he ended up disrespecting Logan Black and in this match definitively turned heel on the GRIND crowd.
While Logan Black has his own issues with Travis Huckabee and Mike Skyros, which lead to a tag team match at Sinister Urge, Manders got involved there and it looked as if we were headed into a three vs three match with Joseph Alexander and Angelo Carter on the side of Black, but now it looks like GRIND might have to somehow construct War Games.
This match will be one of the most brutal matches of the entire Wrestival and it won't even have the use of light tubes and other weapons that ICWNHB will. This match might even go so far as to make some people uncomfortable, but plain and simple, this one has become a blood feud.
The mighty Mane Event go to war against the debuting Violence Is Forever @TheWrestival for #AllWeAre 12/31 in Worcester, MA!

Be there live to see these two teams clash on New Year's Eve!

Streaming Live @indiewrestling !#Wrestival #GRINDpuro #TagTeamWrestling pic.twitter.com/iSnXAWtybx

— Pro Wrestling GRIND (@GRINDpuro) December 5, 2022
The Mane Event vs Violence Is Forever
No tag team has been more dominant in Pro Wrestling GRIND than The Mane Event. The only loss The Mane Event has in GRIND is at Celebration Day at the hands of Shook Crew because they ripped off Lyon's mask. And ever since Kevin Ku was on the very first show against Matt Makowski, GRIND has been building better and better tag team matches which felt like the debut of Violence Is Forever was only a matter of time.
The Mane Event are fast, they are high flying and they utilize tag team moves perfectly. But there aren't many tag teams out there right now like Violence Is Forever, who will look for more of a ground and pound approach to winning this match. VIF has to have a strategy to isolate each member of the other team and pick apart the legs to both slow them down and keep them grounded. But The Mane Event also has to be aware of that and ready for it. Yeah, this is going to be *that* tag team match of The Wrestival.
FIRST TIME EVER:

The definition of violence

The physical embodiment of GRIND@RipFNByson 🆚 @StiffRoboGinger

NEW YEARS EVE | 12PM#ALLWEARE pic.twitter.com/KhYgn2Dv6M

— Pro Wrestling GRIND (@GRINDpuro) December 9, 2022
Rip Byson vs Gary Jay
Gary Jay has only had two matches in Pro Wrestling GRIND but each time he nearly killed his opponent in Ryan Mooney and Jay Freddie. Gary Jay is pound for pound one of the toughest wrestlers alive today and though when he came this way for GRIND he also appeared at Wrestling Open, it was in a scramble and as part of a match that lasted less than four minutes. This match will last more than four minutes and the amount of punishment these two will inflict upon each other will feel infinite.
Rip Byson is coming off of a loss in GRIND- to Jay Freddie- and that kind of puts Byson in this weird position heading into 2023. A loss here, this close to the New Year, could see a losing streak in '23 whereas a win over Gary Jay could put Rip Byson back on track for a title shot again some time down the line. Either way, this match is going to be destruction personified. Only once have I seen a match in Worcester that was so brutal and hardcore but without the use of weapons and this match is going to be along those same lines only somehow more unhinged.
OFFICIAL FOR 12/31!

HEAVY METAL vs. MONSTER TRUCK!

First time ever!

WARHORSE
vs.
PERRY VON VICIOUS

Doors 11:30am

Belltime at NOON!

Tickets @ https://t.co/ZJrpOYRZ1T#Wrestival #NewYearsEve #AllWeAre pic.twitter.com/3id2Ubd7NV

— Pro Wrestling GRIND (@GRINDpuro) November 29, 2022
WARHORSE vs Perry Von Vicious
WARHORSE was the first talent announced for this show and as soon as this match was announced I knew that GRIND were onto something big. WARHORSE just feels like one of those talents that is too big to come to Worcester these days, as his only other Wrestival appearance will come in a gauntlet match to crown a new Independent Wrestling World Champion the day before this. Yes, if WARHORSE does run the gauntlet, Perry Von Vicious could be going into the ring with the IWTV Champion- title match or not.
And let's talk about the year that Perry Von Vicious has had in GRIND. Let's talk about how some of the best matches of this year have seen PVV vs the likes of BEEF and Travis Huckabee. I'm not sure if you'd call it a career resurgence or a "finding yourself" type of journey, but whatever it is, everything PVV has been doing in GRIND has just been clicking and bringing out that star quality in each and every of his matches.
But on New Year's Eve, Perry Von Vicious is going to face a bonified star in WARHORSE. There are a few pillars on independent wrestling and who you think they are can be debated, but if WARHORSE isn't in your Top 5 then I can't take you seriously because people can book entire shows around WARHORSE (Trust me, I've been there!) This will certainly be a test for both wrestlers and in the end, I truly do believe many fans will see Perry Von Vicious in a new, shining light.
After his war with Kevin Blackwood at Sinister Urge, @ayy_marino caught up with @RabidRyanMooney about his future in GRIND, and we immediately signed it for #AllWeAre at #Wrestival...

RYAN MOONEY VS ANTHONY HENRY goes down in Worcester at NOON on 12/31! pic.twitter.com/PgfSIEkJya

— Pro Wrestling GRIND (@GRINDpuro) December 15, 2022
Anthony Henry vs Ryan Mooney
For The Wrestival, Anthony Henry seems to be getting haunted by ghosts of matches past. This match was originally to happen a few months back but what a way for both of these wrestlers to close out the year! (Though Anthony Henry will go on to face Kevin Blackwood for Limitless after this) If you're looking for wrestlers who have just been at the top of their game in GRIND this past year, few stand out more than Ryan Mooney. The GRIND fanbase (who I hope make the trip to this show) are fully behind him and as such, this is just going to be an intense match based on the crowd.
But Anthony Henry has been having the best year of anyone and as such this is going to be an important match for him as well. There are few wrestlers who can take what Anthony Henry dishes out and not only win but just survive. Ryan Mooney truly feels like someone who can do just that. Mooney recently picked up a hard fought victory over Kevin Blackwood, who is also facing Anthony Henry on this day so it's going to be a real even match here where it feels like either competitor can win but it will be a true fight.
After an incredible victory against Rip Byson at #SinisterUrge

Jay Freddie heads to the White Eagle in Worcester, MA to defend his GRIND GRAND CHAMPIONSHIP against the Big Bad Kaiju…

O'SHAY EDWARDS!

Dec 31st | 12PM EST

🎟️: https://t.co/xBtYMBHt4K #AllWeAre pic.twitter.com/oUSFvopAPu

— Pro Wrestling GRIND (@GRINDpuro) December 12, 2022
Jay Freddie (c) vs O'Shay Edwards (GRIND Grand Championship Match)
After being crowned the first ever GRIND Grand Champion, Jay Freddie had one title defense against Rip Byson- who had a prior win over Freddie, so that match felt like a lot of tying up loose ends for the Champ. O'Shay Edwards was originally a part of the Emerald 12 but left the tournament and questions of "What if" remained.
On New Year's Eve, all of those questions will hopefully be answered as O'Shay Edwards goes one on one with the Champion Jay Freddie. Few challengers have been as big and powerful as O'Shay Edwards but few wrestlers are as big and powerful as O'Shay Edwards in general. Jay Freddie seems to be lined up for the toughest fights of his career as soon as becoming Champion, but I'm sure he wouldn't have it any other way. This match will blow the roof off of the White Eagle.
🎡ICYMI🎡

New matchup added to @TheWrestival lineup for #AllWeAre Dec 31st!@EmiSakura_gtmv 🆚 @DelmiExo !

🎟️: https://t.co/xBtYMBHt4K https://t.co/5Y8P7Xt7qZ pic.twitter.com/GlPZ8IHoiu

— Pro Wrestling GRIND (@GRINDpuro) December 13, 2022
Emi Sakura vs Delmi Exo
What can be said about Emi Sakura that hasn't been said before? In the darkest days of my fandom of professional wrestling, I still watched one form of pro wrestling: joshi. I watched Stardom and Ice Ribbon on YouTube before discovering so much more. Though Emi Sakura spends time in AEW, she also is the mind behind Gatoh Move Pro Wrestling, who also have free shows on YouTube that you should really go out of your way to see.
Words just cannot seem to describe how important this feels to me and I hope other wrestling fans share the same importance. But then you have to realize that this all comes to a head with Emi Sakura going up against Delmi Exo. This may not quite be the Pulaski Club, but it is still close enough to being Delmi Exo's home that she could be at an advantage here. Also, outside of one loss in the Emerald 12 to Travis Huckabee, Delmi Exo is still undefeated in GRIND.
This is going to be one of those matches that just feels like even if you don't watch any other match on The Wrestival, you should go out of your way as a wrestling fan to watch at least this one. This isn't just about The Wrestival or even GRIND, this is about wrestling on the whole and you have to appreciate that.
Tickets and more information on "All We Are" can be found here :::