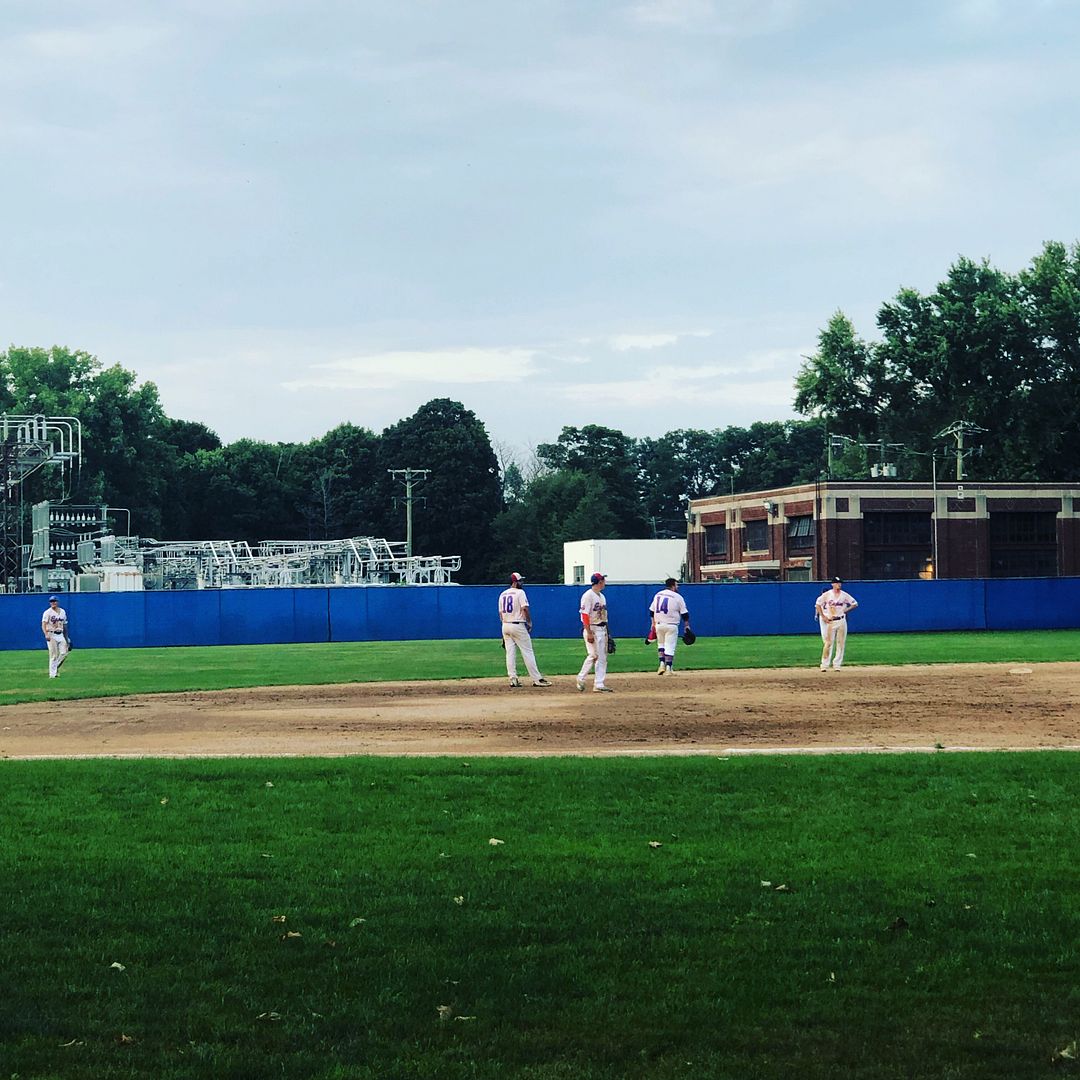 According to this box score, Jeff Massicotte threw a no-hitter :::
https://hartfordtwilight.sportngin.com/game/show/25514004?subseason=564508&referrer=4591727
More photos can be found in a Facebook album here :::
https://www.facebook.com/pg/raisedbycassettes/photos/?tab=album&album_id=2972567869451434
This game was originally supposed to be last Tuesday at Legion Field but then it got moved to Maloney HS and then it got rained out. It just somehow makes it so the last two games I see the Expos in for the season are against the Ulbrich Streel. Tonight's game missed Hector Gonzalez from the lineup as well as Jonathan Walter from the Expos side of things. Apparently, Jonathan Walter showed up late because he had to shave.
With the absences, Jason Sullivan got shifted to shortstop, Kyle Hartenstein was at 2nd, A.J. Hendrickson played third and in the outfield we had Matt Fusco (right), Joe Gulino (center) and Jack Rich (left). Jeff Massicotte was on the mound, my first time seeing him pitch for the Expos, and Sebby Grignano was catcher, my first time seeing him catch for the Expos. Will Kszywanos was on 1st. I really enjoyed this game because it reminded me a lot of what kind of team the Expos have been this season while also not being a complete blowout.
The Expos started off down, 2-0, going into the third inning. This would bring up Joe Gulino who would hit a double to bring Jeff Massicotte home and make the score 2-1. In the 4th, the Expos put up another run to tie the game 2-2, but the Steel would battle back and in the bottom of the 4th take a 4-2 lead after a wild pitch scored one run and after another scored on a good hit, an Ulbrich runner slipped going from third to home and was tagged out to get the Expos out of the inning.
In the fifth inning, the Steel tried to bring in a relief pitcher- Brendan O'Connell- who threw one pitch and then appeared to have something wrong with his back as he was taken out of the game. This took some time, and as the Steel brought in Will Musson next (who was on third), Joe Gulino hit a solo homerun off of him. After that, Jeff Massicotte hit a three run homerun. The Expos had six runs in the top of the 5th and it was just too much for the Steel to come back from, even though for a little while there it was a close game (and the Steel was up 4-2 going into the fifth)
Jeff Massicotte pitched a heck of a game, as he stayed in all seven innings, and even managed to get a lot of offense. The Expos had at least two double plays in this game but it's also worth noting that they had something like 4 HBPs. One of these was to Peter Barrows by Jeff Massicotte and it created quite the scuttle, as Jason Sullivan particularly seemed to think that Barrows leaned into it. With their pitcher supply running low, Peter Barrows took the mound to close out the seventh and intentionally hit Jeff Massicotte, which is the first time I've seen someone intentionally hit someone else in the GHTBL (Editor's Note: Allegedly intentionally hit)
In the bottom of the 7th, Peter Barrows returned to the batters box and hit a huge bomb to left that I swore was gone over the fence but it dropped in and he got a double out of it. I don't know how that ball stayed in- it was a shot I was sure would never come down. The Steel couldn't fight their way back though, and as the light was going away they seemed to somehow plan the ending at just the right time.
At one of these Expos games, I heard two people talking about the team and how dangerous they were because there wasn't one or two hitters who were good- they're all good, and as a pitcher you wouldn't want to face any of them. This rang particularly true tonight. Joe Gulino had a night. Jeff Massicotte had a night. But even Will Kszywanos, A.J. Hendrickson and Sebby Grignano had crucial hits during this game. It's something that you don't see enough of in baseball these days, but they all just work so well together as a team and each of them bring their own skills to the game.