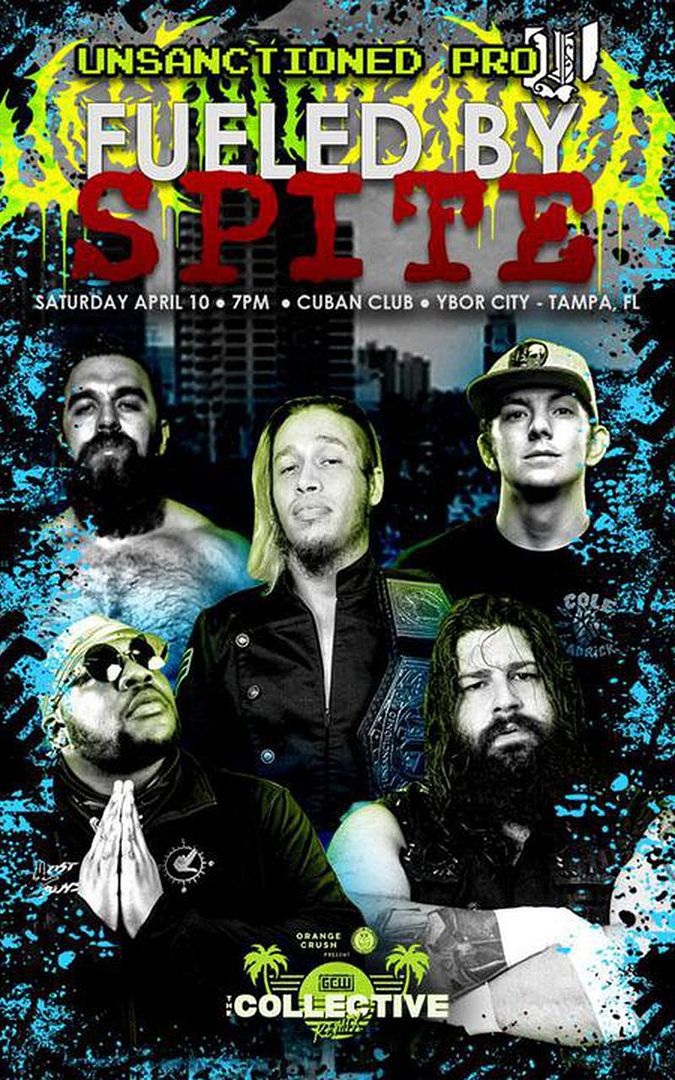 https://www.fite.tv/watch/unsanctioned-pro-fueled-by-spite/2p8yy/

Fueled By Spite was my fourth out of fifth show purchased on FITE TV and it was on at the same time as ICW No Holds Barred Volume 12 but was one of the last shows of the whole weekend. I mainly bought this show because a) Casanova Valentine is on it and b) I've seen some Unsanctioned Pro shows before and I've really liked them so this felt like a no-brainer based on the brand name as well.
As much as I don't like scramble matches the way this show started off with one was okay. I knew everyone in the match except for Freddie Hudson and Zach Thomas. The Whisper came out first- to Chiodos- and that was great. Yoya was in here and he has been part of the Paradigm Pro UWFI shows which I enjoy and only recently found out about. I also saw Ron Bass Jr. on one of those shows and he is a big boy but he can move. Rob Killjoy is, of course, a duck and the eventual winner of this match is Billie Starkz and that is going to be how I remember her this weekend.
In the second match Robert Martyr submitted MV Young and I will admit having MV Young on this show helped sell me on it as well- this was one of his rare and exclusive appearances this weekend. I haven't seen a lot of Robert Martyr and mostly know him for being bested by Dominic Garrini this weekend. Also, nine times out of ten when I see a promo shot for a match with Robert Martyr in it I think he's Tony Deppen. Still, he had a nice showing here and he comes out to Green Day which is recognizable but maybe not the best entrance music since it's "Brain Stew" and slow.
If you want to talk about worlds colliding, I've seen Lord Crewe on some ICW NHB shows as well as in No Peace Underground, but here he faces PB Smooth who was on For The Culture and also is in a tag team called 40 Acres with Tre Lamar. If it's been done before please point me to where but if it hasn't been done yet I've love to see 40 Acres vs. The Hallowed (Lord Crewe and Otis Cogar) This match was like ICWNHB/NPU vs. GCW/AIW in some ways and I liked that about it, that it's bringing wrestlers together.
I was a little upset that Charlie Tiger came out to the same theme song as Jordan Oliver because I thought it was Jordan Oliver. Watching the match I felt like I'd never seen Charlie Tiger before, but later on I was reminded of the Hybrid Wrestling show "Let It Ride", which took place before GCW Take Kare, and I have seen him once before in his tag team form. Lexus Montez is a name I didn't know before this match though and now he's on my radar.
If you told me there was a wrestling show I hadn't watched and Jake Something wrestled Cole Radrick, I would assume that Jake Something won. Not only did Cole Radrick win this match, he did so after taking a hell of a beating and he threw Jake Something through a door (maybe a table?) set up in the corner of the ring. The sheer strength of Cole Radrick just defies all sorts of physics. And this became one of those matches you need to go out of your way to see.
Hoodfoot and Casanova Valentine didn't disappoint, starting the match outside of the ring and fighting everywhere except for in the ring for most of the match. These two had more of the Unsanctioned side of Unsanctioned Pro in their fight. Hoodfoot hit Casanova Valentine with some barbed wire weapon which was still stuck in him as he left to get the win. Casanova Valentine was also wearing a tye-dyed shirt, on his Dude Love kick I assume.
In what was kind of a match but not really, Conor Claxton came out and said that in all the time he's been wrestling he's been ducked by Alex Colon. Eventually, Alex Colon came out and just started pummeling him. The two ended up fighting in an elevator. Alex Colon ended up tying Conor Claxton to the ropes and then took off. Once free, Claxton went after him so this went to a no contest but I think they're still out there fighting somewhere. It isn't settled yet.
The other half of 40 Acres, the OWA Heavyweight Champion Tre Lamar defeated Myron Reed in the co-main event with some underhanded tactics. I love Myron Reed and I've seen him a handful of times this weekend but I don't get why people keep talking like no one knows who he is. He's on MLW, which airs weekly for free on YouTube. There wasn't a lot of that talk during this match though, thanks to this awesome commentary team.
While I'm still kind of trying to figure out who Everett Cross is- aside from the Unsanctioned Pro Heavyweight Champion- he made this match an open challenge and it was accepted by G-Raver. For those who don't know, G-Raver had this injury a while back where his arm got ripped open during a match and he missed a bunch of time wrestling because of it. So G-Raver just within the last few months has been on this comeback tour of sorts and much like in this main event here, he has been on the losing side more often than not. So I'm not really sure what the future holds for G-Raver at this point.
We started with Billie Starkz winning a scramble, MV Young vs. Robert Martyr, Jake Something vs. Cole Radrick and Casanova Valentine vs. Hoodfoot are all worth the price of this show on their own. But then to consider the violence and wrestling you get on top of all of that, which to me just feels like an added bonus, this show is must watch/must buy.