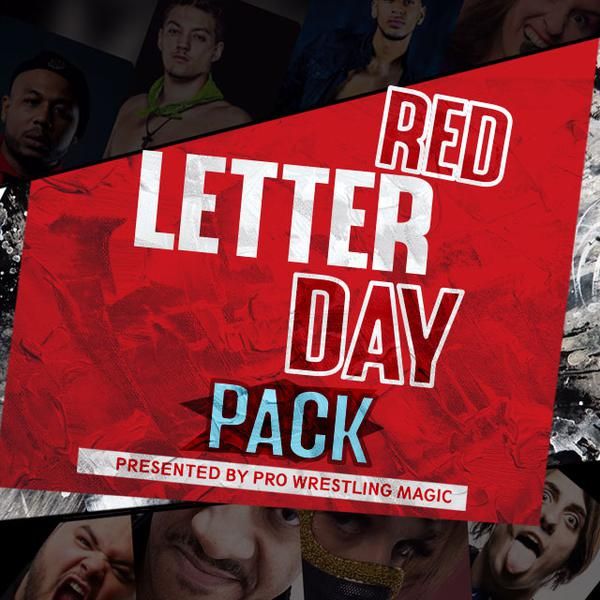 https://www.fite.tv/watch/red-letter-day-pack/2p92z/

https://twitter.com/WrestlingMagic

Pro Wrestling Magic is quickly becoming one of my favorite wrestling promotions to watch because they combine wrestlers who I know with some wrestlers who I might not but the way the show is presented is just all around something which no other company is doing. Point in case, when the Pro Wrestling Magic Champion Meadowlands Monster was injured, PWM decided to have a tournament to declare a new champion. Night 1 of this show would be matches which would send competitors into the next round and they weren't all just one-on-one either.
I was happy to see Matt Vertigo in PWM and even though he lost to Jordan Oliver I hope he comes back and has more matches. Matt Vertigo is really talented. In what makes PWM special, Alec Price was set to face Ace Romero to advance in the tournament but when Alec Price brought out the Main State Posse, Romero responded by bringing out Wrecking Ball Legursky and Adam Payne. This then became a six man match with the winning team having either Price or Romero going on to compete tomorrow night.
Darius Carter even defended the Pro Wrestling Magic Dark Arts Championship against Preacher to advance and I feel like that match worked against Preacher because it was contested under Dark Arts rules, but at the same time it also worked against Darius Carter because his title was on the line so if he didn't win not only was he out of the title picture in one way, but he'd be out in two ways. Masha Slamovich advanced by defeating Little Mean Kathleen, who was then attacked by her Night 2 opponent Jordan Blade.
Killian McMurphy advanced over Manny Rodriguez and perhaps in the upset of the night, Erica Leigh defeated Edith Surreal to move on as well. In the main event of Night 1, Saieve Al Sabah defeated Sebastian Cage to become the new Pro Wrestling Magic Jr. Heavyweight Champion. This was an interesting upset and, again, having titles on the line made this show feel more like a show than just a first round of matches. Along with Darius Carter, Saieve Al Sabah also moves on to possibly become a double champion on Night 2!
Night 2 started with Jordan Blade defending the Women's Championship against Little Mean Kathleen. I feel like Little Mean Kathleen was a handpicked opponent by Jordan Blade because Jordan Blade knew she could defeat LMK. I could easily make a list of ten women who are based in the New Jersey area that would give Jordan Blade a great match, but I feel like I don't need to because PWM has been doing such a great job so far of reading my mind. It's the little things like that which make me happy to be a fan because I don't have to voice my opinion as much.
We went to a classic match between Keith Lee and Ace Romero before the main event. This match was actually a lot of fun because I've been a big fan of Keith Lee since I first saw him and Ace Romero is someone who I felt unsure about at first but the more that I see him wrestle the more I enjoy him. It's cool too because there are few matches I think about for Keith Lee prior to him signing with WWE than him vs. WALTER- because I like that idea of two big boys fighting- but Keith Lee vs. Ace Romero is one that I might not have considered before but now it's right up there as one of my all-time favorite Keith Lee matches.
The main event saw four competitors start the match and then when one was eliminated, the next one would come in so there were only ever four people in the ring at once. This really benefited Darius Carter- who entered the match last- as he would only have to defeat three others who were already fighting for a bit. The final two came down to Darius Carter and Erica Leigh, with Erica Leigh finally getting the big win and defeating Darius Carter. This, my friends, is storytelling. And, yes, I kind of suspected this would happen as it ties the whole Leigh-Carter story together nicely, but you're never certain what will happen.
Coming out of this show, it was revealed that Erica Leigh will make her first title defense against Big Dan Champion. What's interesting to me is how much attention is already put on that PWM World Championship and it's only been a day. You have someone like Darius Carter who could come back and try to get a one-on-one shot. Erica Leigh also was defeated for the vacant Women's Championship by Jordan Blade, so maybe at some point Jordan Blade might want to try and be a double champion. Oh, and after it all, who would show up but Smiley and so that seems to be a match which is coming down the line.
Add in to all of that the fact that Meadowlands Monster will one day return to claim what he never really lost and you really just have to feel like Erica Leigh has a lot of weight on her shoulders coming out of a win. Yes, this should be a time for Erica Leigh to celebrate but she also needs to watch her back because it feels like way too many others are waiting in line to take what she has. But this also makes Pro Wrestling Magic a promotion you should be watching right now because it's only going to get better from here, I can feel it.