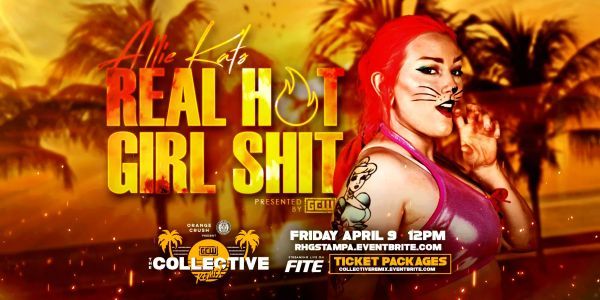 https://www.fite.tv/watch/gcw-allie-kats-real-hot-girl-shit/2p8yr/

https://twitter.com/meowdyxyall

Not only was this the first live show I watched on FITE TV during the weekend it was the first event I saw listed for The Collective that I knew I had to buy. Top to bottom, this was the card of the week for me but maybe I'm biased because I enjoy the shows that focus on non-male talent.
This show started off Friday strong with Allysin Kay defeating Jordynne Grace, though there was one moment where I do believe that Grace had AK47 down for the three count but the ref missed the three count and only got two. It's funny how I remember watching early Shimmer shows by getting actual DVDs from Netflix and seeing Allysin Kay on them. I also am a big fan of Jordynne Grace, so in a lot of ways this was a dream match and to open the show just made it tough to follow.
In the second match, Willow Nightingale defeated Brooke Valentine. Brooke Valentine had this spot where it looked like she injured her ankle and the camera panned out and everything but then she attacked Willow Nightingale and we were all bamboozled. This was also the second time during this weekend I was tricked as the previous night Danny Demanto faked an injury against Brandon Kirk in similar fashion. I may never trust a wrestling injury again.
What I would call the sleeper match of the weekend Holidead took on Dark Sheik and these are both wrestlers I feel like we need to see more of in general. The fact that Holidead is out there and not booked on every show just amazes me because if you book Holidead, I will watch. Edith Surreal defeated Lady Frost which was a nice win since Surreal lost the day before against Lee Moriarty.
The last two singles matches on this show were my favorites for the entire weekend. Hands down. Tasha Steelz and Trish Adora just tore the house down like only they can and these are two of the top talents in the world right now. Then you end the show with Allie Kat defeating Billie Starkz, which was the match of the entire weekend for me and one which every wrestler needs to study to improve their game.
When you're wrestling, the idea is to hurt your opponent so that you are able to defeat them, right? Beat them until their health bar goes to zero. Allie Kat and Billie Starkz put on such a great match that they couldn't simply have it where Allie Kat won because Billie Starkz was defeated. Allie Kat had to take some of the health from her own video game bar as the finisher pinning combination seemed to hurt Allie Kat as well. That whole idea of "It's okay if this hurts me too, as long as it hurts you more" in wrestling is just not used enough and this is just the type of match that I'm going to be talking about forever.
The end of this show came with the Grey Sweatpants Battle Royal presented by Faye Jackson who is injured and announced she would be stepping away from wrestling. Like everyone else, I do not want to see Faye Jackson leave wrestling as we need her still but I respect her decision. This battle royal was a bit wild with the dancing and different wrestlers involved, but my favorite part of it had to be Tasha Steelz on commentary.
So, if you've decided to sleep on what was happening during Wrestlemania week outside of WWE, let me recap it for you real quick. Match of the week: On this show. Every match worth going out of your way to see: Also this show. Best overall show of the week: Right here. All the talent in the world that you want to see on every show going forward and there is no excuse not to book them: That's some Real Hot Girl Shit.