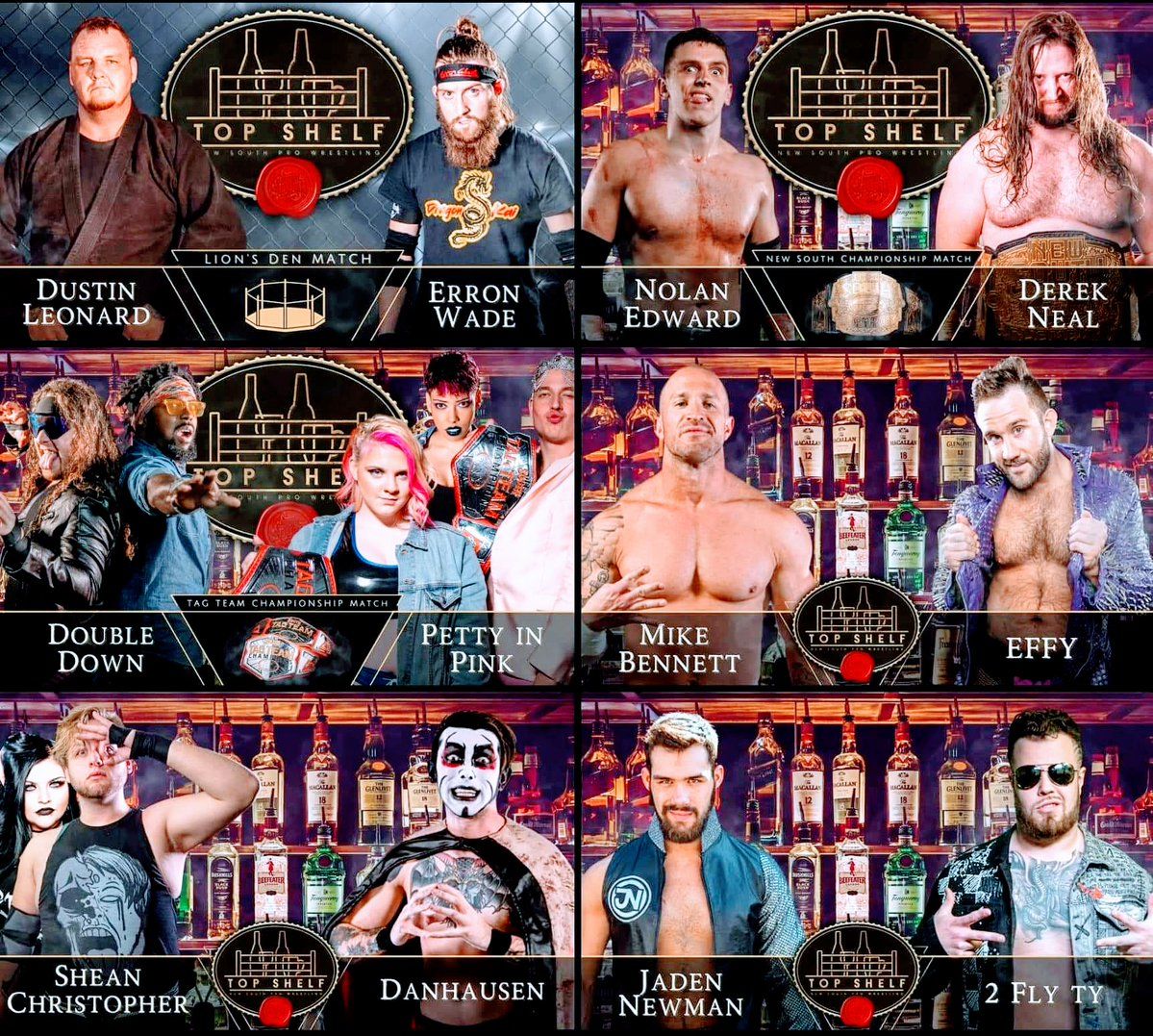 https://twitter.com/NewSouth_PW
New South Pro Wrestling has been doing a weekly series called Action Clash on IWTV and it confuses me because sometimes I think about ACTION Wrestling as the two companies share talent sometimes and just tend to make me think one is the other for various good reasons. On a recent episode of Action Clash, Mike Bennett took on Danhausen. Mike Bennett also makes another appearance for New South, but one of my reasons for watching Top Shelf 4 is because you get Mike Bennett vs. Effy. (And if you haven't, go out of your way to see Mike Bennett vs. Danhausen)
As I say that I confuse New South with ACTION sometimes, this show kicked off with 2 Fly Ty taking on Jaden Newman. If you remember, Jaden Newman crashed that ACTION anniversary show. Jaden Newman also shows up in SUP, so I feel like he's slowly making his way around and becoming a household name in independent wrestling. I'm not sure who Nick King or Tony Evans are- yes you can see them on Action Clash for sure but neither has had that "I remember them because..." moment for me yet.
I remember seeing Shean Christopher during the New South Hoss Tournament because 1) He spells his name different and 2) His entrance music is Deftones. It was pretty fun to see him come out here against Danhausen. Shean Christopher has this sort of goth way about him that makes me think he would be friends with Danhausen. But this was a good match which will hopefully put a much deserved spotlight on Shean Christopher and his crew.
Petty In Pink (still one of my favorite names) successfully defended their tag team titles against Double Down- the team of Donnie Janela and Suge D. After the match, Donnie Janela questioned whether or not he and Suge D should even be a tag team. This made Petty In Pink decide to issue a challenge for one more match: If Double Down wins, they're tag team champions. If Double Down loses, they cannot be a tag team anymore and also give up their New South careers. Look, they were talking about breaking up just a few moments before, so even if Double Down does pull out the win- IN A LADDER MATCH- how long can they survive after that??
This show could be considered to have a triple main event because the first match I would consider to be as such was Mike Bennett vs. Effy. It's one thing to see Mike Bennett wrestling Danhausen because they both are in ROH, but to see Mike Bennett vs. Effy is on another level. Can we get Mike Bennett to Glory Pro next to vs. Dan The Dad? Or maybe Mike Bennett vs. Warhorse somewhere. The ideas are just seemingly endless and I like that Mike Bennett has opened up this option in wrestling where matches you might not have thought possible before are now possible. This was also just one of those matches you should go out of your way to see because both men are incredible performers.
I'm not sure why, but this is the second time that I've seen Dump Sanders come out and impose some stupid rule on Derek Neal. I'm not the type to boo heels because it's cool but I like Derek Neal. I'm sure if I see more of him I'll realize why he's a heel and why I should boo him, but from where I sit right now he's just a big boy from a different generation of wrestlers, out there kicking ass. So having Dump Sanders come out and talk makes me want to see Derek Neal put Dump Sanders (if that's even his real name) through a table or something. Does that make me a bad fan?
Anyway, before this second main event ol' Dumpy declared it to be a street fight but I think that kind of works in Derek Neal's favor anyway. Remember, New South is the company where their championship belt is like twice the size of Nolan Edward. But hey, I've seen enough Nolan Edward matches (he recently has a win over Dan Maff) to know that you can never count this guy out and if you think anything is working against him he'll likely prove you wrong. So Derek Neal- one of the hottest wrestlers in the world today- challenges Derek Neal for the title and you can't really dream of a better title match than that.
I fully believe that Derek Neal defending against Nolan Edward would have been the last match main event had it not been for Dustin Leonard taking on Erron Wade inside of a Lion's Den Match. The only Lion's Den Matches I remember were with guys like Owen Hart, Dan Severn, Ken Shamrock (and apparently upon looking it up also Steve Blackman) This still feels like a special cage with special rules which should come out and be used every so often in pro wrestling and I hope to see it more in New South Pro.