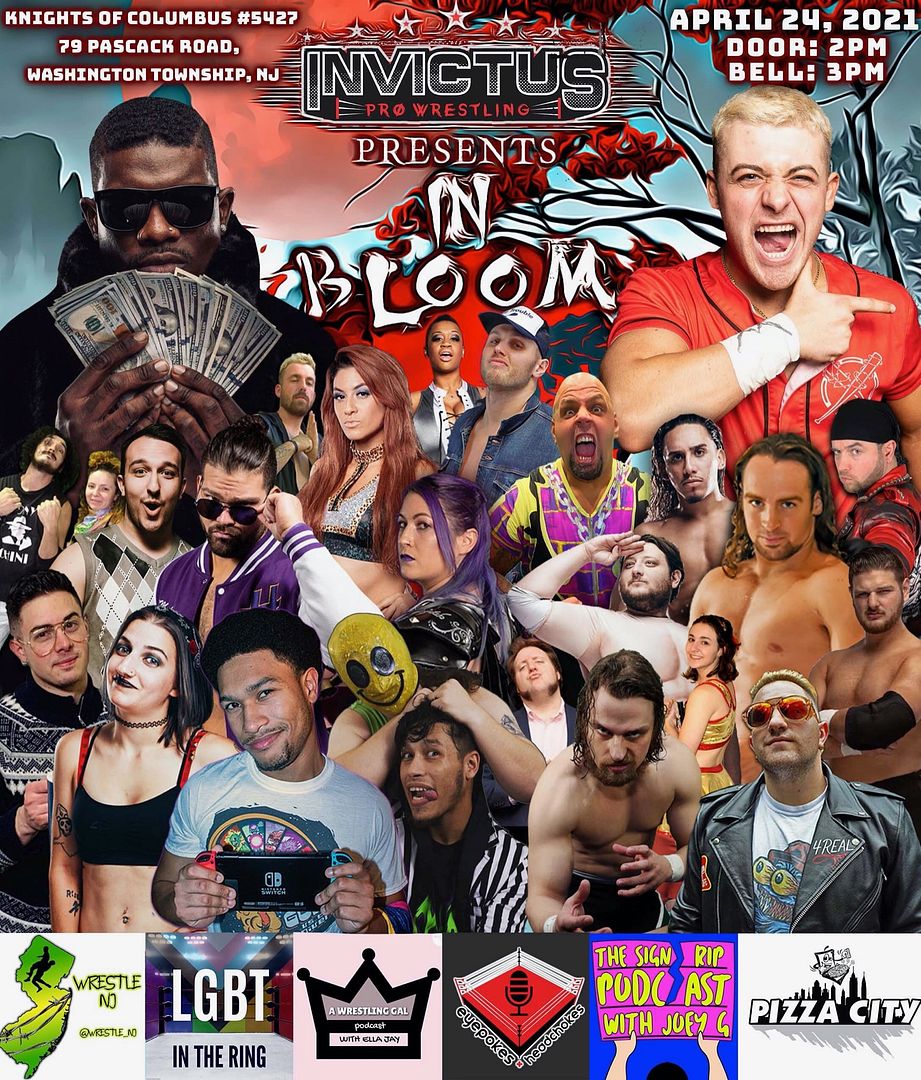 https://invictusprowrestling.com/
It had been nine months to the day since Quentin and I last went to a wrestling show. Following Wrestlemania week, one of the big take aways which I already knew was that Quentin likes watching wrestling live but not always on television. So when I saw Riley Shepard post about this show on Twitter I looked it up and it was about an hour and a half away- 1 hr 38 ms on average from google maps. If there is a wrestler I really want to see or a match, I'll watch an entire two or three hour show on tv no problem. Going out to a wrestling show is different. I was prepared to make this trip for Riley Shepard (and Quentin) but then I looked at the card and that mix of wrestlers I've seen before and know as well as wrestlers I wanted to see live for the first time. So, all in all, that all just worked out so very well.
Quentin and I left somewhat early and I had planned time for us to stop for lunch but we went down 15, barely through New York and then we were there so we didn't find any cool rest stops. We did, however, leave where the show was on our way to a nearby Target but instead stopped before getting to Target at a 7-Eleven in Paramus, NJ where I found Dunkaroos! Quentin was unsure of Dunkaroos but got some and now he loves them. We went back to the event location around 1:30~ish and there were people there but no one really taking tickets or anything. We saw Riley Shepard first, so we went over to talk with her and then went to the merch table to see Big Game Leroy. How do you relate to both children and adults as a wrestler? Play video games! Quentin saw the Big Game Leroy pin on Twitter and freaked out because he wanted it. If you can combine that love of wrestling with video games, Quentin is a fan.
We set up our chairs and were hanging out for a little bit when they announced that the doors would be officially opening soon. I said to Quentin "But we've been here". Eventually, I got up and went to the ticket-taking-table to show them that even though I had been there we had tickets and everything. Going to this table also allowed Quentin and I to get an official Invictus Pro face mask, an Invictus Pro pin and two posters for this specific event. One poster has everyone on it and I knew trying to get everyone to sign it might be a chore, but we got another one which was mostly just photos of the main event so I knew getting two signatures would be an easier and therefore better idea, in theory.
Each side of this show- before and after intermission- had four matches. The show started with "Dangerhawk" Dennis Morgan (who reminded me a bit of Logan Black) against a cowboy type who was recently seen on AEW Dark but I'm one of those few people who watches something like 40 hours of wrestling every week but still doesn't watch AEW (Though I need to get into it since Kris Statlander is back) A tag team match saw Smiley & Everett Cross (Psycho Drivers) take on Sweater Weather, which is some weird version of Even Stevens who I've seen in Blitzkrieg and Chaotic before. There was a woman named Trixie with the Psycho Drivers and she hit one of the Sweater Weather guys with a low blow and Quentin couldn't stop laughing.
The third match featured the women as it was Riley Shepard vs. Vanity vs. Vicious Vicki. Riley Shepard is one of the big reasons why we went to this show, but also, if you book Vanity on your show within driving distance of me, I will be there. Vicki is a great heel though, all the credit to her, as she won this match by choking out Riley Shepard with her own sword which... I feel like should have been illegal but maybe there were no DQs and I just missed that part. There was a gauntlet match before intermission and my surprise pop of the night was seeing Max Zero come out during that one. File Max Zero under "I didn't know you were on this show!"
During intermission we went over and Quentin asked both TJ Crawford and Ken Broadway to sign our poster. I also took a picture with Ken Broadway because I really enjoy what he's been doing in the ring and I don't usually take photos with wrestlers but on this day I really wanted to. We went and talked with Vanity as well. Quentin put on a shirt she had in size large and it fit him a little too well somehow. It was really just a low key intermission but it also wasn't an issue of "Oh, I really wanted to meet/buy merch from ___ but they were hiding" Everyone was out and approachable and that's how I love my wrestling shows.
Looking back at the first half of the show, I knew Smiley was going to be there (someone I've seen on that Jersey scene but never in person) and I was perhaps most excited for the women's match, but I think I kind of looked at it on paper as being the weaker half of the card because the second half just seemed to deliver hit after hit. At one point I even thought that every match was just getting better than the one before it- which might be true. But you can't take anything away from any of these matches. On another show, Vicious Vicki vs. Riley Shepard vs. Vanity is a main event ten times over.
Post-intermission started with the ladder match in which the winner got a briefcase for a future title shot. ABBS (who I see in Camp Leapfrog) was in this match along with Gabriel Skye, who had some matches during Wrestlemania weekend. Kennedi Copeland was in this match as well and I was really excited to see her because she's just been making waves over at H2O [Side Note: After this show I did go back and have since watched the No Peace Underground show "Fatalism" which Kennedi Copeland is also on] The match was won, though, by "Mucho" Chris Moljo who is a heel and called us all nerds.
Big Game Leroy successfully defended the Social Media Championship against Killian McMurphy in a match which saw me constantly yelling at Big Dust. At one point, Quentin even told Big Dust something like "Your shirt is stupid like your face" and I don't think Dust knew how to handle that. But thanks to Erica Leigh, Camp Leapfrog and now Big Game Leroy we know it's boo The Goons in this house, all day every day.
In the semi-main event, a true hoss fight, Wrecking Ball Legursky took on Ben Bishop who is seven feet tall and rather impressive in the ring. I did think about it later- the next day really- and had Ben Bishop been up against someone I didn't like, such as Killian McMurphy or the such, I definitely would have been cheering for him. But it still is just one of these things which will always baffle me but I won't grow tired of typing it: Wrecking Ball Legursky is so over with the crowd to where we're chanting "Wrecking Ball" and "Smash" and yet between WWE, AEW, ROH and Impact none of them can find a spot for him?
During this match, the two went outside of the ring and over to where all of the picnic tables were. Wrecking Ball picked up a metal table and smashed it down onto Ben Bishop. This was one of those metal picnic tables too where it was green with the holes in it but the benches were welded to it, so that was quite the sight to see. Eventually, the numbers would get to Wrecking Ball though and after being distracted by some guy from Barstool Sports, "Mucho" Chris Moljo would hit Wrecking Ball with the briefcase he won earlier allowing Ben Bishop to get the win. I'm looking forward to the rematch and I'm looking forward to hashtag MCM vs. Wrecking Ball.
There isn't really a lot which I can say about the main event other than that I've been told this show is coming to Highspots Wrestling Network and when it does I fully believe you need to go out of your way to see it. Ken Broadway and TJ Crawford are both two of the best at what they do right now. On one side of the right, they were chanting "TJ Crawford" but over near where I was sitting we were chanting "Ken! Ken! Ken! Ken!" and it's nice to have those dueling chants in wrestling again. These two put on a back and forth show and really just left it all in that ring. A match worthy on the main event spot, right up there with Savage vs. Steamboat and if you have the means to do so (an internet connection) go out of your way to watch this match.
Going into this show there was a solid combination of wrestlers I wanted to see again, wrestlers I've not seen yet and even a few names I've never heard of before. I think that mix is what a good wrestling promotion needs. I hadn't been to an Invictus show before so it's always kind of a gamble when you go to a new promotion but you think "Well, at least I'll get to see ____" and that makes up for it even if the rest of the card is lacking. But this show was top to bottom just a really fun card and I'm definitely going to keep attending the Invictus live shows for as long as I can.