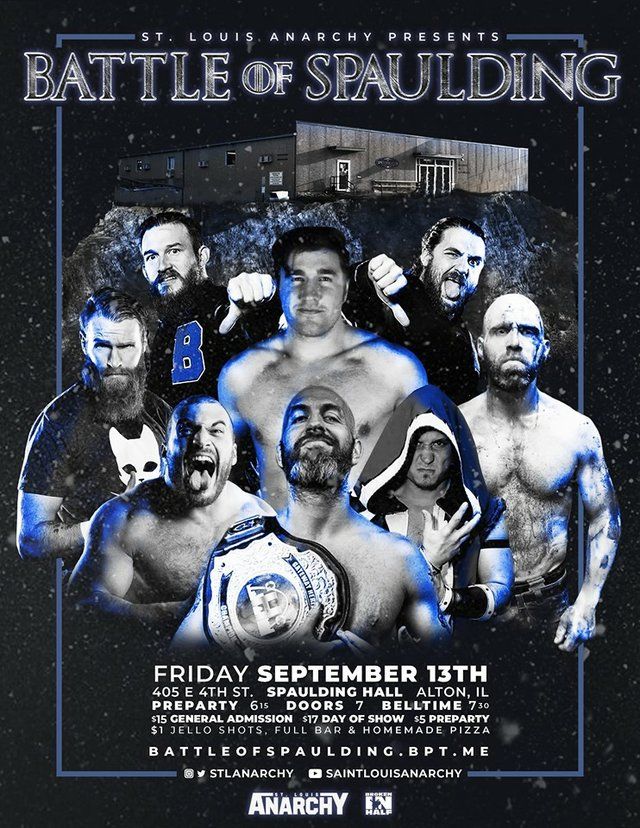 Cage Match Results here :::
https://www.cagematch.net/?id=1&nr=236263
This is my fourth show since joining IWTV and I will admit that I decided to watch it because the lovely Sarah Rose tweeted about it. It's funny that on the IWTV site I can search for "Orange Cassidy" and find events he wrestles on, but if I search for Sarah Rose it doesn't show me the events she is the ring announcer on. I also decided to watch this show because it was St. Louis Anarchy Wrestling, a promotion I'd never heard of before and the majority of the wrestlers on this card I've never seen before. "2 Cups Stuffed" (which I watched before this) was kind of like an all-star event for me and this one is more of a getting to know new names feel.
Right away it's funny to me that Cage Match has the real names of Shark Bait and Big Beef listed in the opening contest. Big Beef (aka Gnarls Garvin) is a big guy, but a lot of these guys have that tall-ish skinny look going on for them. They remind me- in terms of size- of somewhere between a CM Punk and Adam Cole type. If you really think about it though, getting hit with an elbow by someone like that would hurt so much more, like a razor.
The first match I saw where I knew someone was the third match which had Curt Stallion in it, but I only know him by name. I also recognized Davey Vega by name but then in the fifth match we saw Gary Jay take on Chris Dickinson. I watched this CZW show once- the last time I tried writing about wrestling regularly- and I was first introduced to Chris Dickinson and Gary Jay has been on two out of the three other events I've watched so far on IWTV.
Evan Gelistico might be my new favorite wrestler and not just because he came out dressed like Casey Jones. All four competitors put on a great show in that match and Everett Connors is... strange, but I do enjoy seeing Raul The Bear. You might not know all (or any) of these names, but the action hits hard and fast. It's just good old fashioned wrestling, the way wrestling was meant to be, without all of the spots and nonesense which ruins a lot of wrestling for me. These matches had great storytelling in the ring and the commentary sold the history outside of the ring.
Before the Gateway Heritage Title match, the commentary got really funny and personal. There was this one fan in a button up shirt (with one button unbuttoned) and he just sat near the entrance area all night with a pitcher of beer. At this point in the show, he wasn't there and the commentator got really upset and concerned as to where he was- noting they wouldn't hold up the show for him so he needed to hurry up. I would like to see a show dedicated to this fan now called "The Hardest Button To Button" but I digress.
Never having heard of Jeremy Wyatt or Thomas Shire before, these two just put on an absolute classic wrestling match. This was under "Pure Wrestling Rules", which I tried to follow as Jeremy Wyatt explained them but I was distracted by how cute Sarah Rose's shoes are. It kind of reminds me of when ROH had their Pure Championship, which last I remember they merged with their World Championship and I'm... pretty much... afraid to look up anything about ROH these days. Still, this match was Match of the Night for me and if you don't have the time to watch this whole show, at least go out of your way to watch this match.
The main event saw Nick Gage take on Warhorse and, yes, this is my second event in a row with Nick Gage in the main event. This was a fight. At one point, while in the crowd, Warhorse had the fans help him create this pile of chairs. Now, whenever anyone sets up a spot like this it typically leads to it backfiring on them, but I'll hand it to Warhorse because he was able to get the belly-to-belly suplex onto Nick Gage onto that pile of chairs. Later on though, Warhorse would light a skull on fire and end up being the victim of a piledriver onto it so perhaps he pressed his luck a little bit too much.
These two literally tore the ring apart and it was such a contrast from the match before it, but that's what makes this such a great show for me. It had a lot of mat-based wrestling, but there was some high flying and also hardcore style fighting with weapons. Nick Gage is insane and a legit man I would be afraid of if I ever was to see him in person. I'm not sure where I'm going from here, but I'm sure I will be watching more SLA as they post new events.