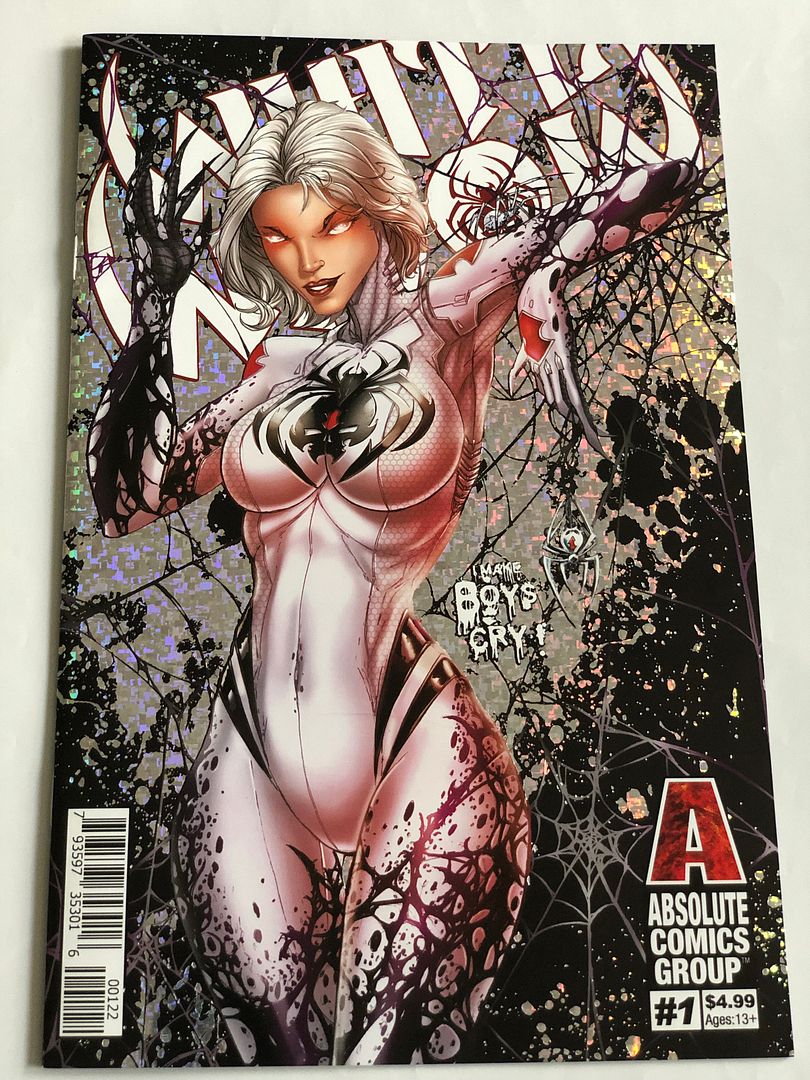 https://absolutecomics.myshopify.com/products/ww01b2-white-widow-1-comic-book-silver-splatter-2nd-printing
I will admit right away that I was attracted to this comic book because the cover is so shiny. It reminds me of something from the 1990's, like something an old "X-Men" issue would have done, and I think that more comic books need to find that way to stand out and grab your attention from the shelves at your local comic book shop. I also was drawn into the woman on the cover because she looks like Storm or someone out of the Spiderverse and I also tend to read mostly comic books that have strong female leads.
This first issue- this specific issue- has a story in the front of it about how this is the second pressing of the issue and they never expected to sell so many copies. It's always good to see someone like Absolute Comics Group succeed, especially since it's not one of the big two and I try and read as much as I can from "not them".
The story itself starts with the main character already in her White Widow form, standing over someone we find out is her dad and is dead. We go back through how we got to that point for most of the issue and it takes us into the life of Gabrielle Garcia, who apparently plays volleyball but also was born with a health problem that could lead to her death until her father injects her with something which gives her spider-like powers.
Ok, so, I'm not going to go there just yet but I feel like the idea of her having powers coming from a spider is a little bit... Umm... You know what? This is the first issue, I'm going to see where it goes because it seems to only open up a lot of unanswered questions (which should be answered in future issues) I enjoy the art in this quite a bit and I'm going to reserve judgment on the storyline until it unfolds a little bit more.
As a sort of spoiler, when I bought this first issue I also purchased the second one because it was also a little bit shiny and I thought this could be a series I could really get into and I had heard nothing about it. I will admit that at times the writing in this issue feels off to where if you were speaking it out loud like a character would, then it would just sound so strange and unnatural. But it might just also be something I have to get used to reading in a certain style. So while I enjoyed this issue as an introduction of sorts, I feel like the real test for this series- for White Widow- is yet to come.