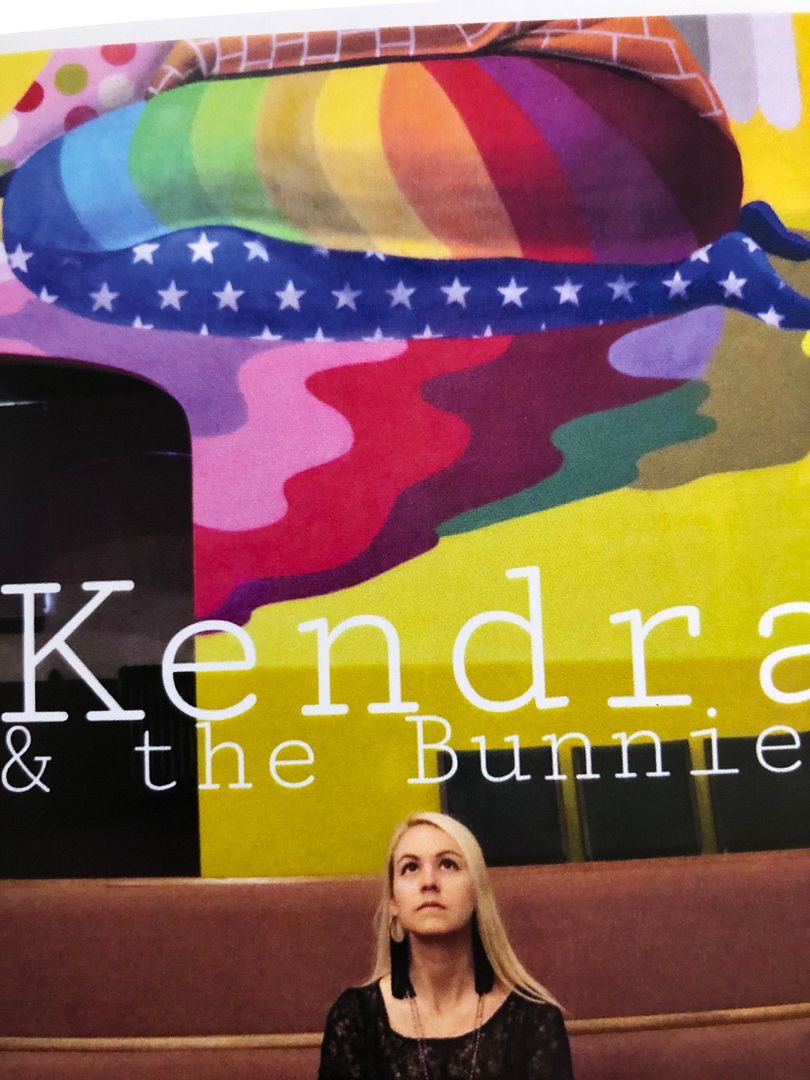 https://kenbunny.bandcamp.com/album/of-vinyl
//
Right away, going into this CD, I know I'm going to appreciate it because of the name Kendra & the Bunnies. It makes you think of Tom Petty & the Heartbreakers only in this case, this is the musical project of Kendra Muecke so it is a solo project and not a group effort (whether it be people or other furry creatures) as the name suggests. But, I mean, really, I'd rather see "Kendra & the Bunnies" on a t-shirt than a first name + last name type of deal and that just applies to all artists.
Throughout these songs you will find such a beautiful voice paired with melodic acoustics. It's a very stripped down sound, which reminds me of the "Unplugged" series, and I really miss that about music and MTV. I don't really care as much about what's on the radio these days, though some artists like a Demi Lovato or Taylor Swift I would love to see Unplugged, but I think some of the music I review would be great if the artists did an Unplugged series of some kind. In another timeline, perhaps that is my calling.
If you need comparison points I would think of names like Jewel and Alanis. It's got some folk and Americana to it, though "Figure 8" does plug in it is mostly acoustic. There is a little bit of The Cranberries in here and I am reminded of Rachel Jacobs as well, even though I think most people won't remember her (I should go back and review her old cassette and CD I have) There is just this certain way certain artists command attention.
I like to think of it as a live performance. You can have a room full of people and they can just continue talking and looking at their screens while someone gets up there and plays- even a band fully plugged in because it happens at the heaviest of metal shows for opening acts. I'm not sure if it's confidence or what but some artists just have that presence when they're on stage that makes everyone stop what they're doing and focus completely on the artist. It's all eyes on me. Kendra Muecke has that.
On "Figure 8" she sings "I love you bunny" and by "True Blue" she's singing about a figure 8 and for the first time on the album swears, which she also does later on but this just kind of kicks you out of that comfort zone and makes you realize that, yes, this is for real and what she's saying is true and not to be messed with. There is darkness, melodies and even a piano to drive in a way such as pop rock. It's really the first time- on "Speak Kesey"- when I feel like there is a full band sound.
"Estimated Time of Arrival" has these layered vocals which are really good and make me think of Fleetwood Mac. "Home 4 Champaca" is dark and dreamy acoustics while there is this snapping or clapping or tapping of the body of the guitar to keep the rhythm. I'm particularly fond of the hook: "Go ahead and play me / like the blues" and by the end, on "My Own, I'm Not There" it's stripped down to the basics of only spoken words, which even get quieter at the end though their impact remains as strong as ever.