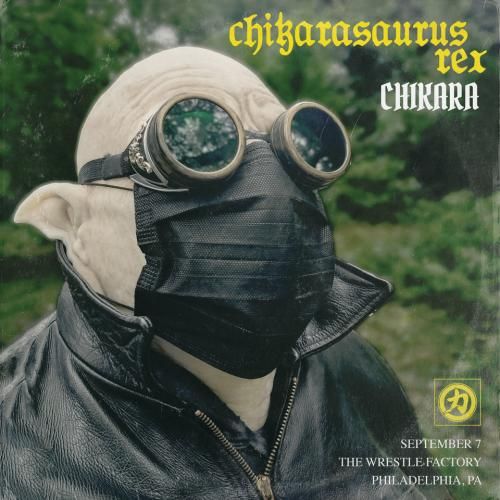 https://chikarapro.com/
//
https://www.cagematch.net/?id=1&nr=226163
//
It's been a few years since I last checked in with CHIKARA. No joke, I started watching CHIKARA back in the '00's on VHS and then they gave me a link to watch a show on their site a few years back, but streaming has certainly come a long way since then. In the past few years it has just seemed to exploded. I signed up for Independent Wrestling TV, which has a ton of great promotions (Some you will know, some you will get to know) and more wrestling than you could likely ever watch in your lifetime because they are constantly adding new content. And it's only $10 a month, so even if I only watch one event per month I feel like it's paying for itself.
I try to remember what CHIKARA was like last time I watched it. I quickly forget because I'm not as worried about the past now. I'm focused on the future. I want to actually stick with a wrestling promotion for a change. I want to be in this same place next year, watching all of the events from then until now for CHIKARA. There are many things to enjoy about CHIKARA but one of my favorites is how it's like a comic book and if you happen to pick it up at Issue # 20 and want to follow along from there, with a little help you can catch up.
The main storyline in CHIKARA right now seems to involve Ophidian leading The Crucible against the rest of CHIKARA and they have this really solid story with this of how he's been kicked out of the CHIKARA Dojo for the way he teaches, but yet some still choose to follow him (The Crucible) You could take this any number of ways: WCW vs. nWo, the old guard of wrestling vs. the new guard but simply put it is the classic battle of good vs. evil.
In the midst of this story as well we find Princess KimberLee. I remember seeing KimberLee in CHIKARA and other promotions quite a bit, then she got signed by WWE and one day she was released and that was it, right? I never really remember any followup story on why she got released or whatever, but oh well. Life goes on.
A lot of the matches on this show are short and that's okay. They really accomplish what they need to get done. The longest match happens to be my favorite though, as it's Joey Janela taking on Hallowicked. Many of The Colony are still around and then we also have Dasher Hatfield, who is the CHIKARA Grand Champion, unmasked because of his... umm... his son Boomer Hatfield and that just turned into a whole family feud.
One character that really interests me just by watching this and wanting to see him more of him is called Still Life With Apricots And Pears. Someone needs to alert me when that new t-shirt drops. For real. And that's the thing about CHIKARA: They've always known how to develop characters. See, pro wrestling will always be pro wrestling. There might be a thousand companies out there you can work for right now. But what sets your show apart? You got headlocks? Well, guess what? So do they! So that's the thing I think has always stood out about CHIKARA for me. Their in ring work is great, don't mistake that, but their characters are among the best.
Also, I will seemingly type this until someone makes it happen but this is the 20th Season of CHIKARA. By now, it seems like they should have action figures, right? CHIKARA has some of the most visually pleasing and yet also bizarre characters I've ever seen. Some wrestling companies get figures and they all look similar in their design. CHIKARA is one wrestling company I'd buy toys for because even without watching a show, they still look cool. Someone needs to make this line happen. Until then, I'll keep watching.