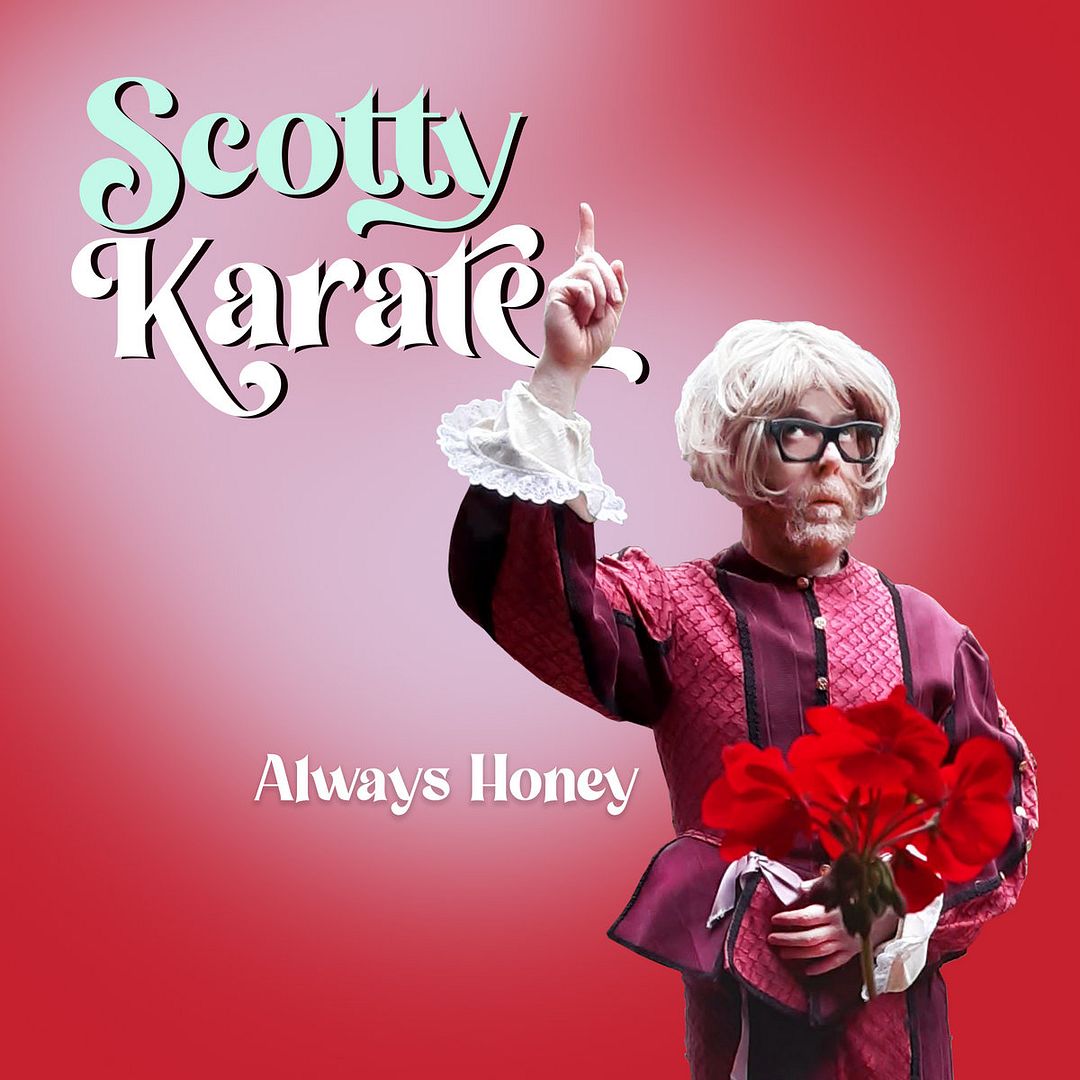 https://scottykaratemusic.bandcamp.com/album/always-honey //

When I first press play on "Always Honey" a song comes on called "Lot Lot" in which a voice and acoustic guitar bring the chorus about how to make a lot lot of people feel good good. This makes me think, right away, of this as being a folk type of song but also something you might get up and sing in front of children. I'm not sure if there is anyone out there to compare this with along those lines other than Raffi, but yes, that is what I hear in the first song every time I hear it.
The titular track comes on next and has a distorted guitar. This takes us into a group of songs which can range anywhere from rock n roll to country-ish to blues-ish. Artists like Sonny & the Sunsets, The Honorary Title, Johnny Cash and Two Gallants can be heard within these sounds by me. While "SSMM" can have this feeling of just the electric guitar and vocals, "Ruby Red" can have the same feeling of guitar and vocals though with the guitar being acoustic instead. There are other sounds in here (bass, drums) but it's just that the guitar and vocals stand out the most.
I can hear some of the Reverend Horton Heat as "He's the DD" becomes an almost blues number. For what it's worth, my favorite song on this album is "Gone It" because it is slow, dreamy and acoustic. "Icy Road" is a bit of that old fashioned rambling sound while there is also a very well done cover of "Unchained Melody", which I feel like even if you don't know is by The Righteous Brothers originally you can still recognize the song because of the overall impact it has had on music.
What I love about this album is that Scotty Karate takes this sound- such as, say, that of Johnny Cash- and just delivers it in a way where you can hear that source material still but at the end of the last song you're just left thinking about this as being a Scotty Karate sound. I have a soft spot for Johnny Cash but I also really enjoy music that is along that line of not quite exactly Buddy Holly and not quite exactly country but somewhere in between. Scotty Karate pulls it off masterfully.