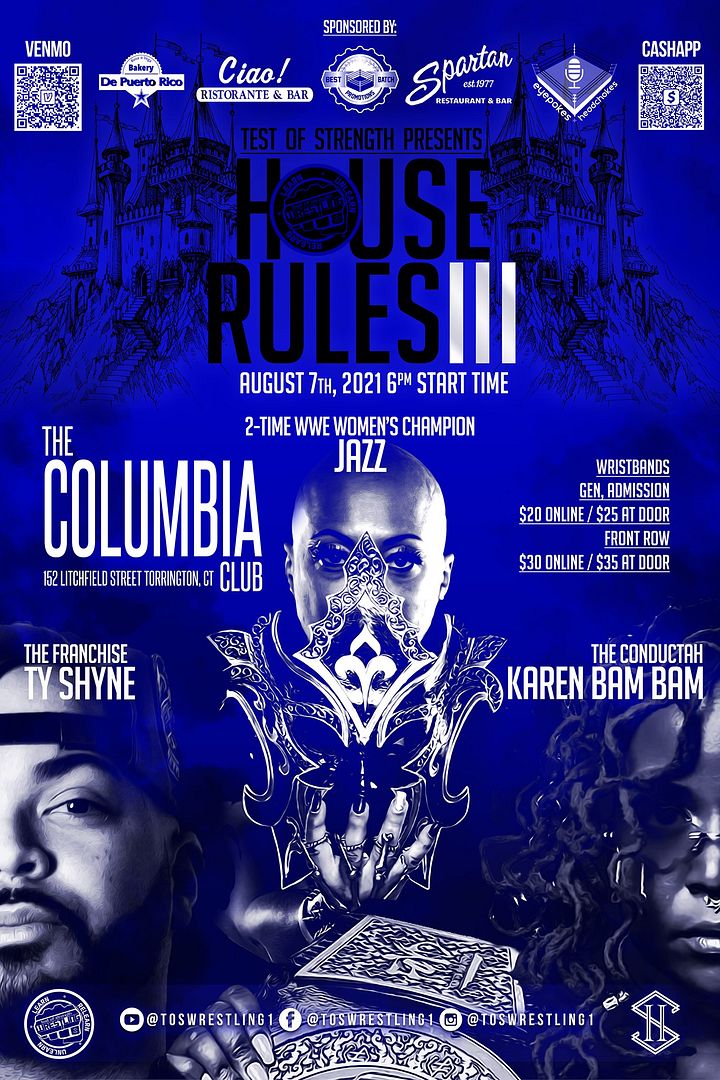 This was the third time that Jess and I went to a Test Of Strength show (but that's not why it's House Rules 3) and it was Quentin's first time coming with us. When it was announced that Jazz was going to be here I thought we would get Karen Bam Bam vs Jazz and as Quentin had seen them both at Pro Unapologetic's "Black Girl Magik" I asked him if he wanted to see them again and he said yes. In a funny coincidence of sorts, several other wrestlers Quentin has really become a fan of were also added to this show after we decided to go.
We got into Torrington a little bit early so we could get a parking spot in the lot and we did. We walked over to what I assume is the town green (?) and they have this fountain with blue water that's pretty neat. I also ended up walking around catching Pokemon, which was a nice way to pass the time until we went back around 5:30 to see about when the doors would open. When we first got there, no one was waiting outside to get in but when we got back there was already a line forming. The time from getting inside to the first match was really smooth.
I don't remember the exact match order so I'm just going to go with what I know were matches that happened. I'm not sure who answered the Bobby Ocean Open Challenge but he didn't seem like much of a threat. That guy and whoever the Jared guy was in the Six Way match are the only two wrestlers on the show I didn't know. The Six Way match was a lot of fun and I wasn't the only one confused as to who Jared was, as he came out in basic black gear and just didn't seem like he wanted to be there.
The original sixth competitor in this match was to be Hippy Dick Moon (who I missed dearly) and had he been in it, along with Becca, Kylon King, Brother Greatness, Jordyn Rowe and Dustin Waller you would've been getting a great look at the future of professional wrestling. I'd put these six in a match up against any of those other scramble matches you'll see in places like GCW and H2O and these wrestlers will just show out. I did spend a lot of this match bothering Jordyn Rowe but I also feel like that was because I couldn't yell to Brother Greatness about the last time I saw him he lost to a damn sloth.
At one point it felt like everyone had been in the match for considerable time except for Becca so I yelled "Someone tag Becca!" I might have motivated Jordyn Rowe to win with all my taunting of him, but I'm still excited to see where he goes with his title shot and how that all plays out as well with his friendship with Brother Greatness (who seemed a little bit upset that he didn't win)
I really enjoyed the match between Ichiban and SWB vs Richard E Stone and Danny Miles. Quentin actually saw both Ichiban and Danny Miles at Chaotic Wrestling and that was when he became a fan of Ichiban. I personally enjoyed how Ichiban only could say "Ichiban" and "Number One", but still used those words to convey emotions. It's everything that a wrestling character should be. And seeing the big men- SWB and Danny Miles- lock up and clash was just something special. This is what I love about Test Of Strength: you could have watched this match not knowing anyone in it and still walked away impressed.
In the battle of J Boujii vs Ryan Fraust I had to side with J Boujii. There can be different sides to the story and so maybe you're a Ryan Fraust fan but, to me, when Cold Cash broke up and TJ Howell turned his back on Ryan Fraust there was only one thing Ryan Fraust could do and that was seek revenge. If I was Ryan Fraust, I would not have settled for any match except for a match with TJ Howell. And so it makes Ryan Fraust look weak because not only is he not doing what he should, it's just that he's also playing by the rules of TJ Howell.
As someone who reads comic books a lot it's one of those classic villain moves where they try to bargain with the hero. But Batman doesn't ever say "Okay, I'll let you blow up half of Gotham as long as you promise to turn yourself in afterwards". No. He goes straight for The Joker. And so I feel like having a match with someone other than TJ Howell is just a means to wear down Ryan Fraust, possibly injure him, before he can get to TJ Howell. And that was exactly what happened. J Boujii and TJ Howell beat down Ryan Fraust and proved why he was not the smartest man for taking this match.
Every match felt like it could have been the main event so as I'm thinking about Mike Skyros vs Garrett Holiday I can only imagine this closing out the show but it didn't. These two men put each other through hell and back. It felt like neither one of them could quite outdo the other to get the win, but at some point one of them was going to have to do that one little thing which gave them the edge. Brother Greatness came out and attacked Mike Skyros to end this match early but it easily could have gone on for an hour and been a Match Of The Year contender had he not. These are just two wrestlers you need to book on your shows because they are the future as well.
Going into the TOS Title match I felt a little bitter towards Ty Shyne because I wanted to see Karen Bam Bam vs Jazz. Still, this might have been one of Karen Bam Bam's toughest challenges to date, though for the most part when it seemed like Ty Shyne had the advantage they were outside of the ring so he couldn't get the win and title change that way. As always, a great title defense by Karen Bam Bam and if Jordyn Rowe attempts to challenge her for the title he might be in for a world of pain.
One of Quentin's favorite tag teams (maybe even his favorite) is Shook Crew so seeing them go up against The Firm was nice because it assured that Shook Crew was going to be cheered and that's the way it should be. Before the match officially sort of started I told Sammy Diaz that he was about to get beaten by a goat and Bobby Jr did technically win the tag team titles at one point though the referee wouldn't acknowledge it. This was also the second time that Quentin had to come to the rescue of Bobby Jr because for some reason other people like tossing him out of the ring like it's nothing.
I really enjoyed the tag team match between Jazz & Angel Orsini vs Love, Doug & Dan DeMan. Dan DeMan was NOT dressed like Cruella and he would not answer me (nor the other fans) as to why not. Dan DeMan also did this little speech where he said that women didn't belong in his ring but they belonged in the kitchen. I'm not sure if it was more satisfying that Love, Doug threw up his hands like "Whoa, I don't agree with that" or that Jazz beat the ever-loving crap out of him after he said that.
After the match Jazz went on to tell us how Vince McMahon basically didn't give her any merchandise but she'd have an action figure soon! Every time I see Jazz I will say this: Jazz was such a huge influence on me, as a wrestling fan, in my younger years. I was 14 to 18 years old while watching ECW so to not only see Jazz out there as a woman but as a woman who was beating up men, it really helped shape me as the wrestling fan that I am today. I know others feel the same way and though she is well respected by most everyone I still don't think Jazz gets enough credit.