The way this show was presented was that the doors would open at 1pm so you could come in and drink and the wrestling wouldn't start until 3pm. This was such an interesting concept to me and I enjoyed that it felt like people were going to get drunk and rowdy before the first match so it might make for an even crazier atmosphere than what Blitzkrieg! Pro so often provides.
I hadn't considered that this show was going to be outside but it was. In 80 degree heat, sitting in the sun, I would've felt worse but we spent the prior Sunday inside the H2O Center and this wasn't nearly as bad as that. Regardless of the heat, I've come to really enjoy outside wrestling shows. Sometimes when you're inside the ring doesn't have proper lighting (you promotions know who you are) so outside the sun just does all that for you.
It was a little surprising when we got there that no one was really selling merch yet but there was a meet and greet with Tito Santana. This whole show went without an intermission as well, which I assume was done so as fans we didn't have to leave the heat to go inside and then come back out into it or just stay out in the heat for longer if inside was too busy. No intermission gave those who didn't want to buy merch the option to just leave afterwards while all of the wrestlers stuck around for at least an hour to sell their merch.
The first match saw VSK vs Aaron Rourke and it was a lot of fun because the more I see of Aaron Rourke, the more I realize (and hopefully everyone else is realizing) that Aaron Rourke isn't just someone who dresses a certain way and has that *look* about him, but he's actually really tough and can get the job done in the ring. The fact that VSK is constantly being announced as having recently appeared on Impact and AEW just makes me feel like the wrestling world is in such a great place right now because seeing wrestlers on television but then also in person at your local shows is the way it should be.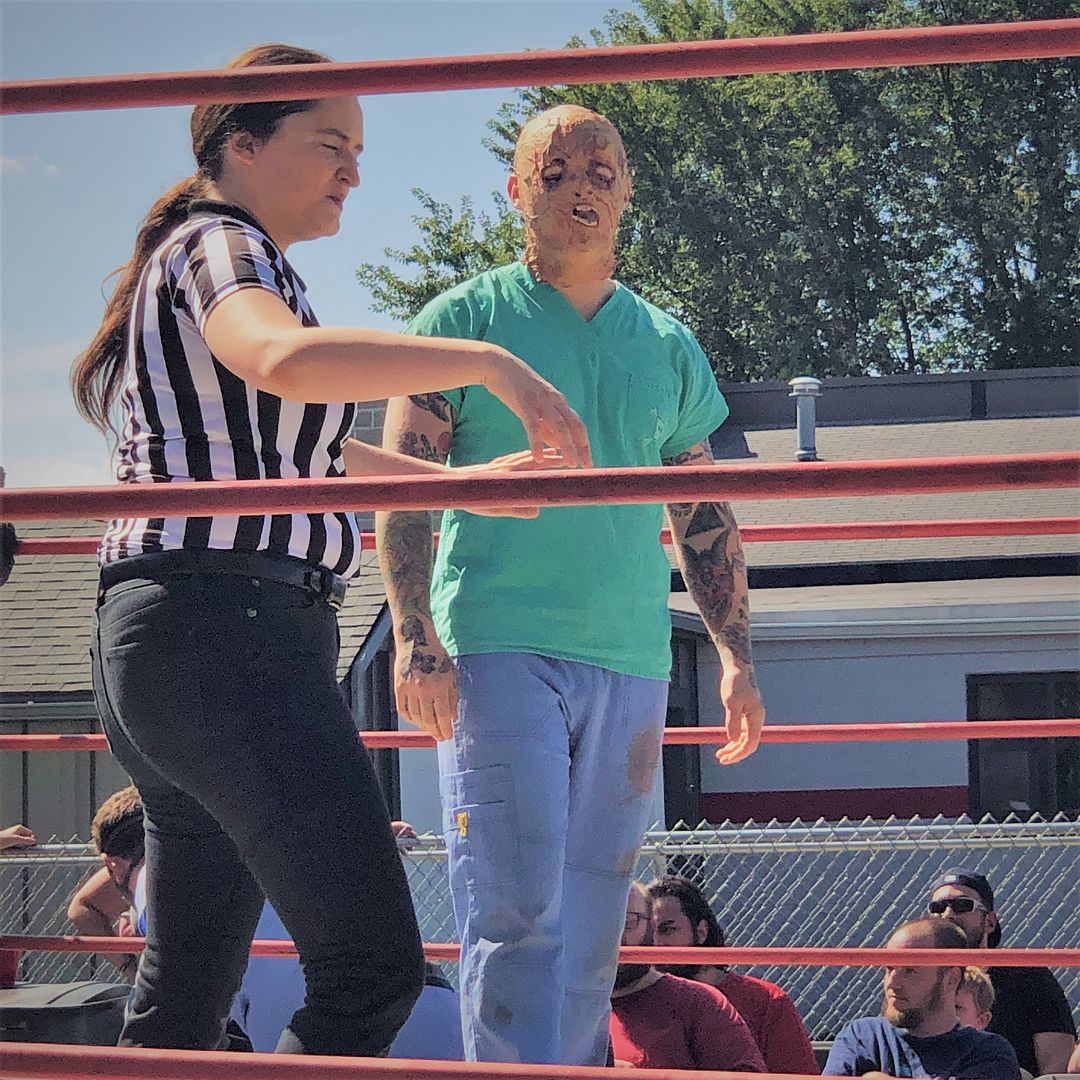 During the second match, Kennedi Copeland actually used Quentin as a weapon against Dr. Cube. I don't think this was announced as a No DQ match until the show but these two went all over and beat the hell out of each other. Even if Quentin wasn't involved, this was one of my favorite matches because I absolutely love Kennedi Copeland and the crowd was really behind her here. I've also had this part of me that has wanted to see Dr. Cube in person for quite some time, being a fan of both Kaiju Big Battel and just the odd side of wrestling.
Bryce Donovan and Mark Sterling had a match which told a story not only in the ring but outside of it, as Kirby Wackerman was ringside and the friendship between the two was tested. Bobby Orlando came out at the end of the match which shifted into the Bobby/Kirby tag match and it just all played so well on Bobby Orlando not wanting Kirby Wackerman in Shook Crew but Bryce Donovan kind of feeling like Kirby is growing on him. This could all end with Bryce Donovan helping Kirby Wackerman win the Bedlam Championship from Bobby Orlando or a swerve where Bryce ends up costing Kirby his title shot.
For those who say there isn't long term storytelling in professional wrestling any more, I suggest they follow The Shook Crew Saga. Also, Bobby Orlando and Kirby Wackerman took on a tag team which featured Eric James and I don't know a lot about Eric James but his trunks had a cassette on them so I feel like I'm about to own a lot of his merch.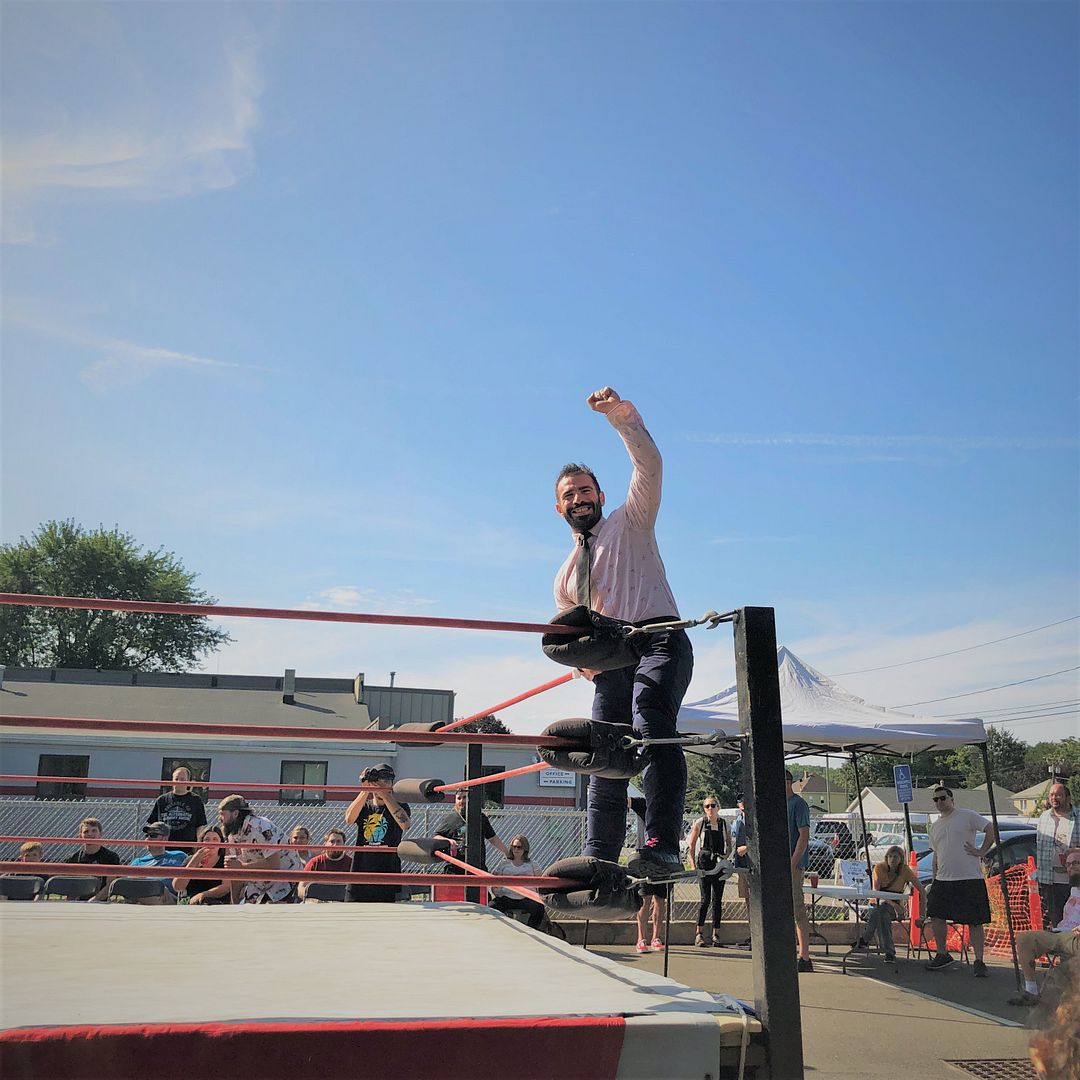 Keeping the drinking theme alive, CPA took on Big Dan Champion. I'm not sure how many fans here knew of Dan Champion, but the concept of "Lil Dan" and saying it back to him when he says "Big Dan" is really catching on. Go to your local wrestling show and you too can be part of the Lil Dan movement!
The fourway match featured a lot of individual matches that have already happened but it also made me really want to see TJ Crawford vs Travis Huckabee one on one. When Sammy Diaz came out, we were booing him and he asked us why. I told him it's because he's in The Firm and he was just like "That's fair". He was wearing his The Firm shirt to the ring, but I'm not sure if him being a heel fully translates everywhere until the match starts and he does heel things. TJ Crawford also played up the heel ways in this match so I don't know if anyone was really trying to be cheered, though Masha Slamovich seemed to get cheered out of fear.
Our semi-main event saw Stevie G, Danny Atom and Stevie Legend take on .50 Cal, Big Juicy and Jay Baker. The first time I saw .50 Cal I thought that because of the sunglasses and haircut he'd be too much like Love, Doug (and he was actually on a Blitzkrieg! show with Love, Doug) but he's really come into his own as a character and I think more wrestlers need to bring the mullet back.
Perhaps the real story of this six person tag team match though is the story of Big Juicy. When I first saw Big Juicy in Blitzkrieg! pre-pandemic, it felt like she was still sort of finding herself but now, at this show, she had chants for her and her character- who she is- it's just there and it just works so well. Big Juicy is just one of those wrestlers who is breaking out and only going to get noticed more, such as Becca and Erica Leigh have this past year or so.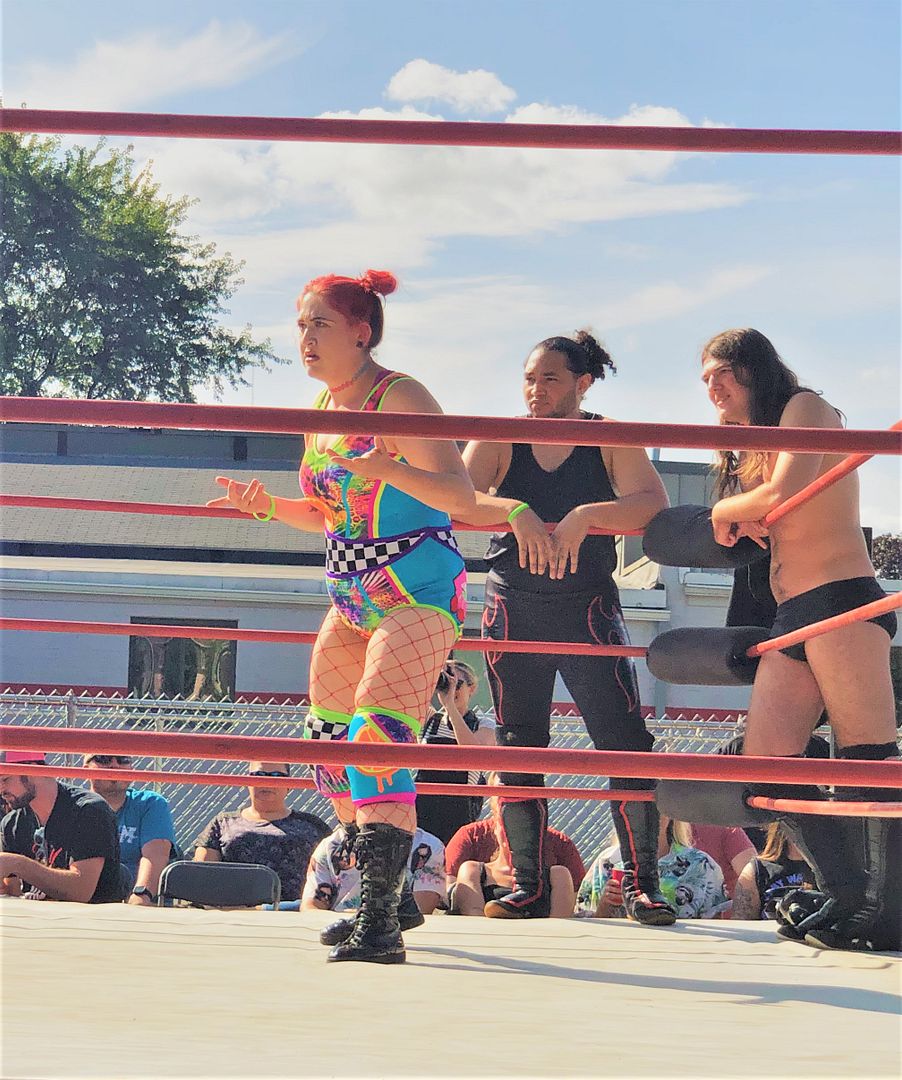 Speaking of getting noticed more, how cool is it that the main event featured two women fighting two men. Often times, my process for going to a wrestling show when it's a new promotion is this: "I want to go to this show because <this woman> is on it!", I buy tickets, then the rest of the card is revealed and there is only one women's match, usually only two women on the entire show. With Blitzkrieg! Pro, I never worry about whether or not there will be enough women on the show because Blitzkrieg! is not afraid to let the men and the women mix it up.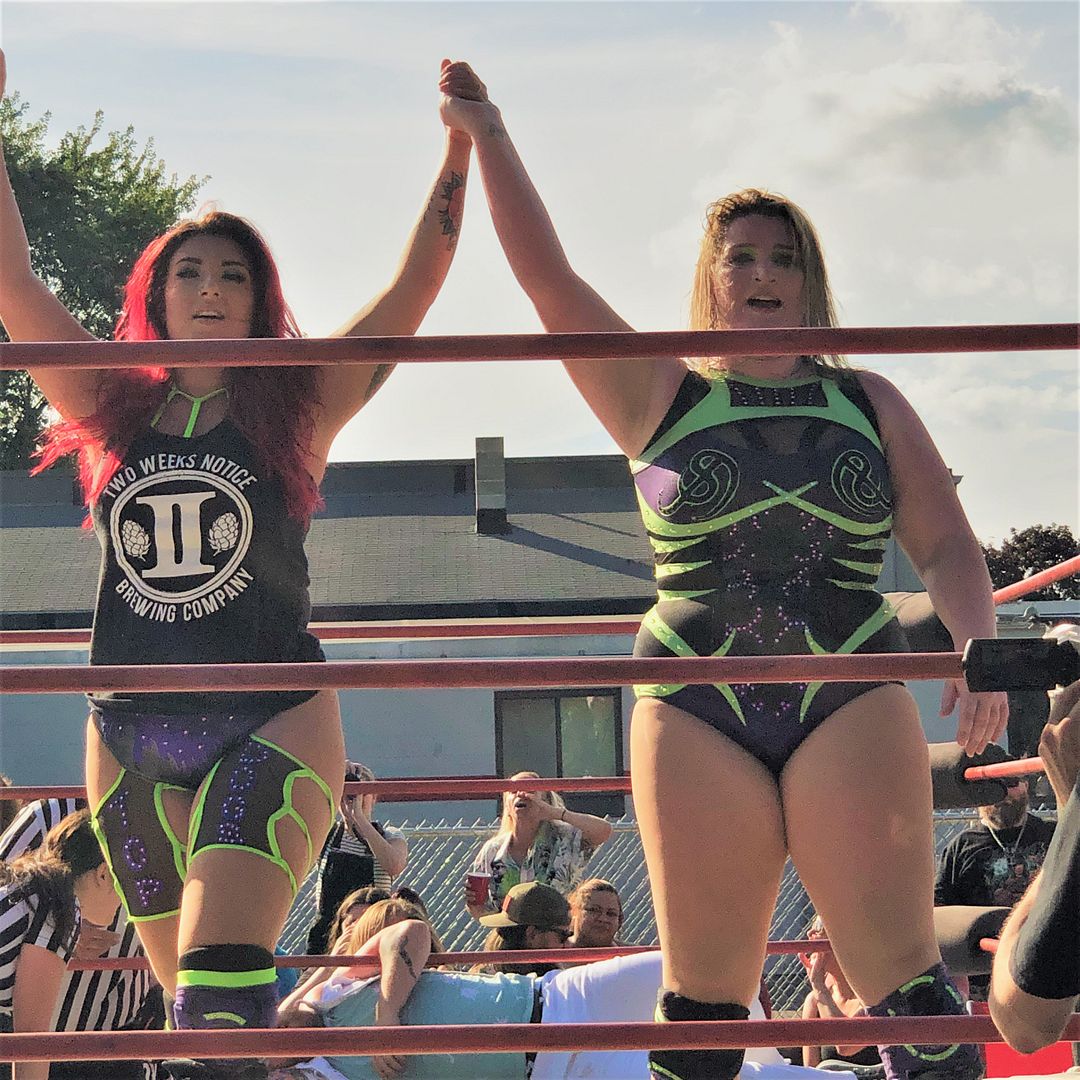 This was a really great tag team match to close the show with a huge spot involving a forklift and Leary nearly being sentenced to death by his bride-to-be. As much as there was an angle in here of "They're fighting and they're going to get married!" I also feel like Perry Von Vicious vs Davienne is a hoss fight we need to explore more down the line.
Overall this was just such a fun show and being so involved in it made you forget about the heat. I got slightly burned but not nearly as bad as I could have (I didn't bring sunscreen because I didn't know, whoops) and we stuck around for a bit afterwards because we were able to meet Dr. Cube, which felt like such a big deal to me, as an adult now but still feeling like that younger nerdy person I once was. Blitzkrieg! Pro always has a way of bringing out the best and this show was no exception.