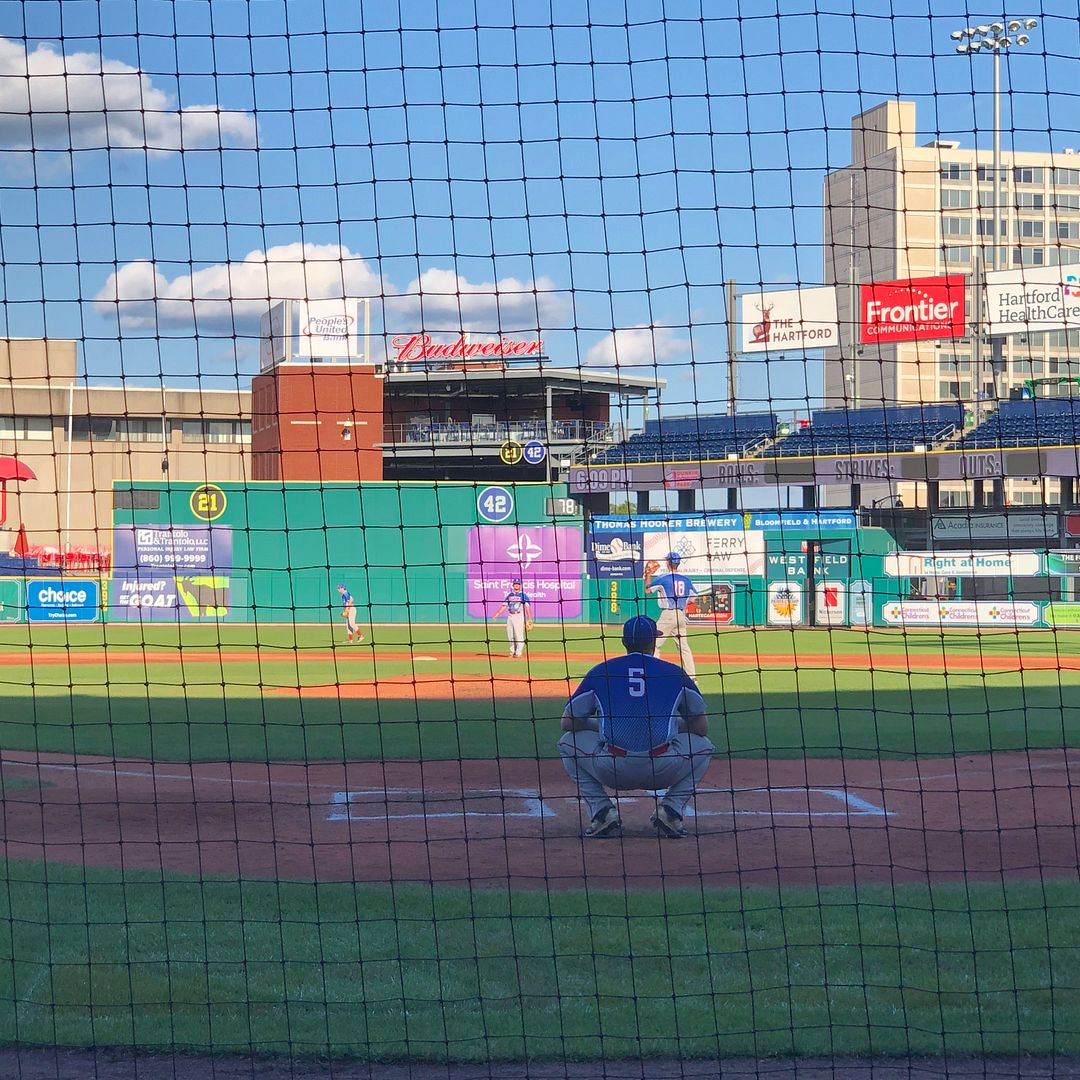 Additional photos can be found here :::
https://www.facebook.com/media/set/?vanity=raisedbycassettes&set=a.6030234527018071

Since the opening of Dunkin Donuts Park in Hartford I have been to more games there that didn't feature their home team of the Yard Goats than I have actual Yard Goats games. There isn't a particular reason for this so much as that I just don't really have the time to go to Yard Goats games (at least not this season, but next season we might try and get to one) and the baseball that I watch outside of the Yard Goats ends up there and so I feel compelled to go.
There are a total of ten teams in the GHTBL this season so it was interesting that not only did four of them get to play here but that two of those four are the newer franchises in the Hartford Colts and the Bristol Greeners. One funny note about this doubleheader was that it was stated that no half innings could begin after 7:45 (with the second game slated to start at 8) but eventually the first game just went all seven innings and the second game played until the end as well. I feel like they were initially told they had to be out by a certain time and then during the first game someone was like "Just kidding, stay until you're done playing".
While this might have been my last time seeing the Bristol Greeners this season it just made me think about how they are as a team. How do you come from another league but still don't seem to quite know how to function as a team? The best way I came up with to describe the Bristol Greeners- and this is all I'll say about them- is that they're like the team that the Harlem Globetrotters play against. If there was a Harlem Globetrotters of baseball, then the Bristol Greeners would be the team watching them spin the ball on their finger and just acting confused rather than taking it.
One of my favorite parts about this first game is that People's went up early and stayed there but also used three pitchers when they maybe didn't need to but it felt like it gave them that sense of letting more players get a chance to play at Dunkin Donuts Park. Justin Morhardt also closed out the seventh inning by walking the first three batters to load the bases and then striking out the next three batters to end the game.
Zach Nakonechny is also one to watch as he hit a two run homerun to help elevate that offense of People's. While the first game saw People's go up and stay up, making it where the Greeners had to do all the work to catch up, the second game was more back and forth. The Colts went up early and then the Jets had to work to get back to not only get the lead and win but also tie the game. It was exciting though because even with the final score of 3-2 there was still only that one run difference which could have had the Colts come back to either tie or win it.
My only personal gripe of this night was that there exists a beer which is exclusive to Dunkin Donuts Park and it is made special for the Yard Goats- I believe this is the only place they sell it- and it wasn't on sale. Last year when we came to DDP for the GHTBL they did sell me the beer so I was bummed it wasn't available but that's such a small complaint to have really. The weather was perfect and it was just an enjoyable night of baseball where you got to go into a stadium that would otherwise charge you much more for admission for only $10 and it went to charity, to help fight cancer.
I try to make it to as many GHTBL games as I can during their season but I feel like even if you're a fan of baseball and only want to go to one of their games this would be time to do it- both for the experience at Dunkin Donuts Park and also to crush cancer. The fact that the baseball is always enjoyable to watch and could potentially turn you into a new fan of the league also helps, but I feel as if there was a good turnout with more people showing up as the night went on and I expect to see even more fans next year.