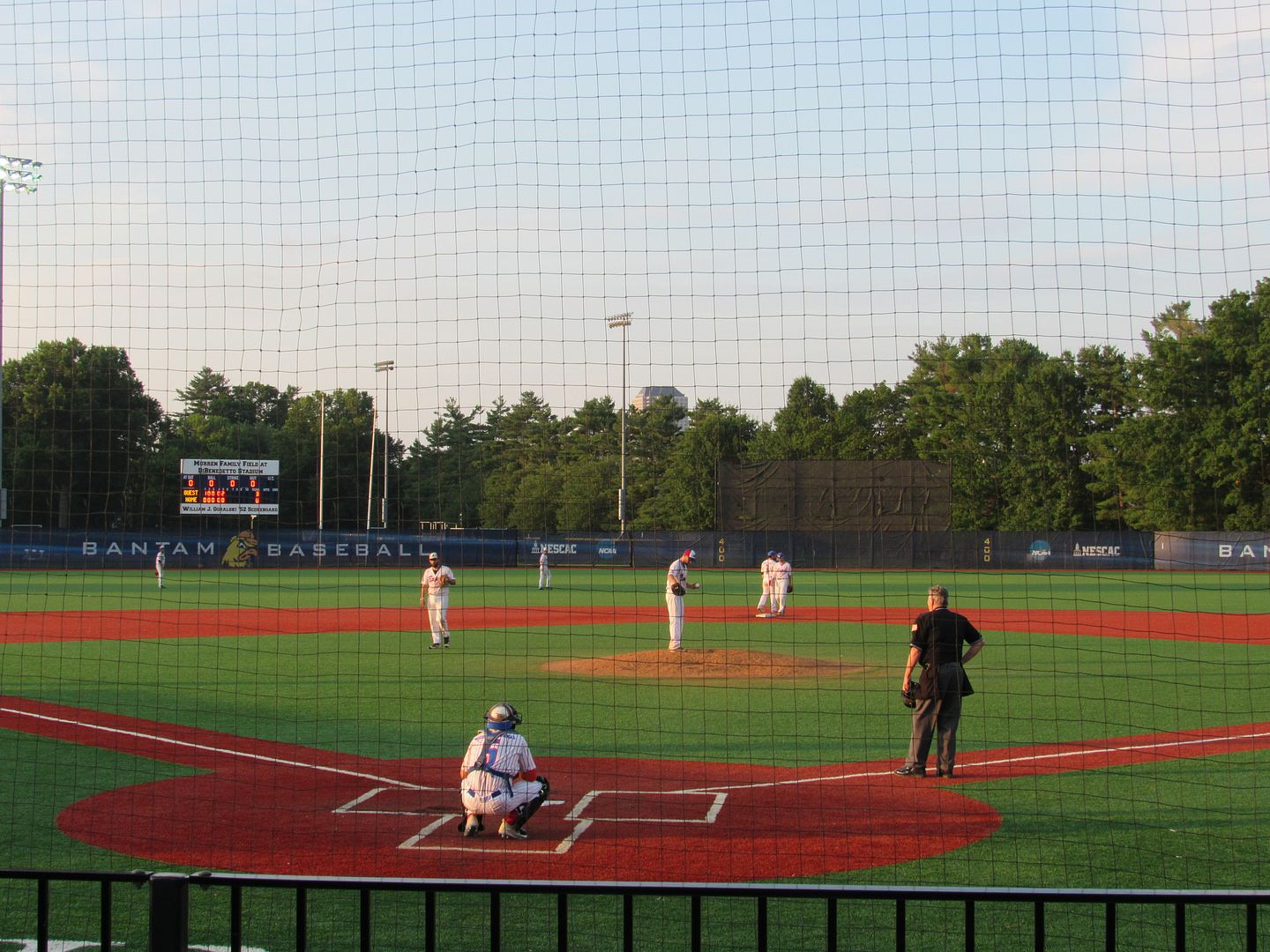 The official box score can be found here :::
https://hartfordtwilight.sportngin.com/game/show/25962615?subseason=627336
Photos can be found in a Facebook album here :::
https://www.facebook.com/raisedbycassettes/photos/?tab=album&album_id=2991098697598351
I didn't find out about this game until Monday night because my life is crazy busy right now. I knew the dates for the GHTBL tournament but didn't see who was playing who or when until my dad told me. So I asked him if he was doing anything and wanted to take a ride up to Hartford on Tuesday night and so it was decided. We were off to the playoffs. Trinity College actually has a really nice field to play on and it's somewhere I would like to see more baseball because it just seems fun all around.
Just because life is this way and I don't want to feel like this build of suspense to the end because you may or may not know the outcome already anyway, this game was won by Rainbow Graphics. The words "shocking upset" could be applied here I suppose. You have the Record Journal Expos, who finished in first place and didn't lose to the Graphics during the regular season versus the last place Rainbow Graphics. This should have been an easy win. It shouldn't have been "Will the Expos win?" but rather "How much will they win by?"
In baseball, anything can happen during any given game and that is why this tournament exists and isn't single elimination. The Expos go down to the "loser bracket" now, where they face off against Ulbrich Steel next, who has also not beaten the Expos during the regular season. This also gave us the matchup of the East Hartford Jets vs. Rainbow Graphics, which coming off of this huge win is going to be a game you'll want to see.
This game felt like it was the opposite of how it should have been. Not only should the Expos have, in theory, won by a large number but the Rainbow Graphics were putting up a lot of tough hits. They'd hit those spots that were just impossible to field and by the end, the frustration set in and the Expos began making mistakes. This felt like a game I saw earlier this season between these same two teams only with their roles reversed.
Charlie Hesseltine was on the mound for the Expos and it wasn't that he didn't have it, it was more that the Graphics were just hitting really well for some reason. At the same time though, I give credit to Mark DiTommaso for pitching a good game, but at the same time, he didn't even pitch that well it was just that the Expos bats were so quiet that it felt like it took away from his performance.
The Graphics just kept stringing together hit after hit to bring in run after run and like I keep thinking-- it just felt like what the Expos typically do. Somehow, the Graphics beat the Expos at their own game. This makes things much more interesting in this tournament now because you have to wonder if the Rainbow Graphics just got lucky on this one night or if they're going to take this momentum into the finals.
I had planned out this tournament based on the Expos winning and now it all got flipped, turned upside down. As much as I love the Expos, this is just one of those examples of why I love baseball so much: anything can happen and nothing is certain. This could have easily been one of those games that, as a fan, you skipped figuring that the Expos winning was inevitable. This game is why you need to come to all the games. And even though the Expos lost, they tend to do their best work when there are two outs, so I fully expect to see them in the finals next week still.