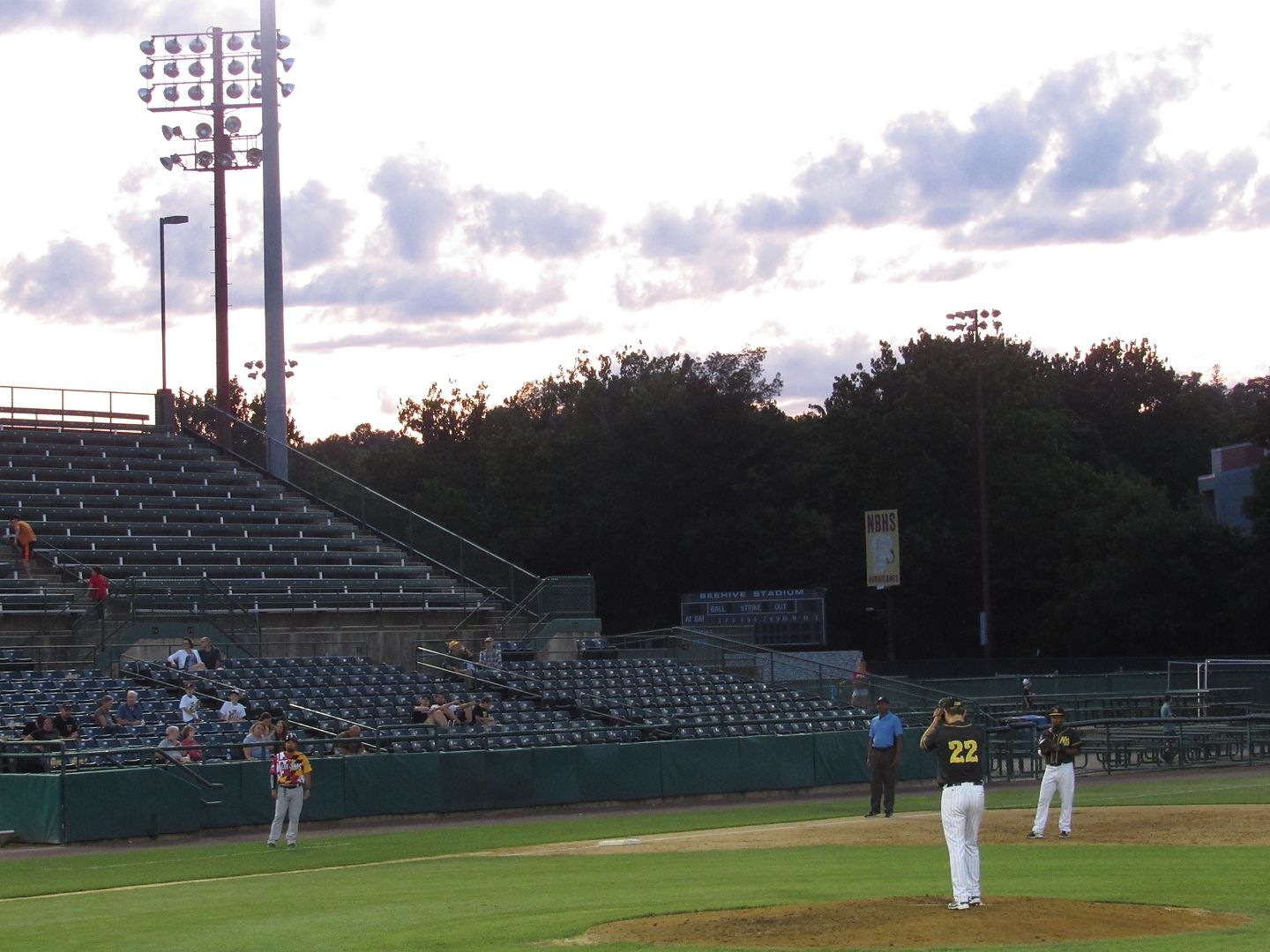 Official box score here :::
https://stats.atlanticleague.com/boxscore/?sport_id=23&season_id=2019&league_id=436&parent=league&gamepk=588611
Photos can be found in a Facebook album here :::
https://www.facebook.com/pg/raisedbycassettes/photos/?tab=album&album_id=3004624359579118
This was our third time out seeing the New Britain Bees this season but it was by far the most fun I've had at a Bees game since their first season. The Bees were doing this promotion called "Bees Bites" which was to feature tacos. Last time we were at the Bees I believe they had a similar promotion only for wings and they had all these different tables set up where you could try wings from different places for a small fee. So, I figured, for $5 you could get a bunch of tacos from different places but this was not the case.
After getting our tickets (all of the information printed on one line, which is crazy, but apparently even the Bees printer is gone for the season) we went in right after gates opened. We were literally walking up to buy tickets when they opened the gates. So as we got in there I saw one table slowly setting up tacos and thought "Nope, not sticking around for this". Again, in comparison with the wings, when we walked in there were a bunch of tables set up and already trying to get you to eat their wings. Presentation is like 95% of these things.
We walked over to the team store instead and let me tell you- it looks like a ghost town. Even Quentin pointed out: "Look! There are only two hats left!" My best guess is that since the season is coming to an end they stopped ordering new stock, but it would be quite the odd site if this was your first time at a Bees game.
This helped us move faster to our seats where we decided to camp out near the dugout so that we could get an autograph. Now, I've never done this before but I decided it was time because I think I've reached that point in my life somehow and I don't know if I'll ever do it again, but.... Back when we saw the Connecticut Twilight League at Dunkin Donuts Park I took this picture of Anthony Alicki which I really liked. So I printed it out and took it to this game with the plan for him to sign the 8x10. I've literally never done this before so it was weird for me.
It felt like everyone didn't come into the dugout until almost 6:30, some of the pitchers didn't even come out at a time when you could have asked them for autographs, but after close to an hour spent waiting Anthony Alicki finally came out. I was looking for him by number, but recognized him right away and when I called out his name he had this look of "How do you know who I am?" (always humble) After signing the photo I asked if he would take a photo with Quentin, which he did, and the last time Quentin took a photo with a player in full uniform like this it was with David Dahl.
There was this group of kids (and some adults) waiting for autographs and when they saw what I was doing, with the photo I had to get signed and the photo he took with Quentin, I think that- in their eyes- made Anthony Alicki feel like this bigger star, like they *had* to get him to sign their ball then. We didn't see Anthony Alicki pitch during this game, so while I want to see him pitch one day for the Bees I know it's just a matter of time before I see that tweet that says his contract has been purchased by MLB. Also, huge thanks to Anthony Alicki for being world class with all of this. You couldn't ask for a nicer player to be your first photo-signer.
Quentin and I went to get food and drinks after this all, so we ended up back in our seats when the top of the first was coming to an end. I thought (haha!) if we were getting food and missed the first inning it wouldn't be a big deal, but I'm glad we got back in time because the bottom of the second was quite exciting. With the bases loaded, Jonathan Galvez was at the plate and I will tell you the story now which I told my dad right before this at bat.
I've seen Jonathan Galvez play for three different teams and had him sign items for each team I've seen him play on. (The BInghamton Mets and Bridgeport Blue Fish were before the Bees, and oddly all three teams have played at New Britain Stadium) When Jonathan Galvez came into the dugout while we were waiting he seemed to kind of acknowledge us, a smile and wave, which might have just been him being nice and it might have been him recognizing us from the times I've seen him over the years. I told my dad this could be the luck he needed to hit a grandslam. The Blue Crabs pitcher was off, putting up walks already, so it seemed possible.
Then he did it. Jonathan Galvez hit a grandslam, just like I told my dad that he would. To be fair, whenever anyone is up with bases loaded I tend to say "grandslam!" but, still, this time it happened and it felt so perfect. This would not be the end of the Bees offense and the fact that they just kept putting up runs and won 13-4 just made this feel like such a fun game because even though I hadn't been following the Bees and Atlantic League as much as I should probably be, it's just fun to see the home team win, right?
At one point during the game they did the t-shirt toss and the people in front of us caught one. They were Blue Crabs fans anyway, but once they realized the shirt was a child's size medium they turned around and gave it to Quentin. So, again, thank you to them because now Quentin and I have matching Bees shirts.
When the Bees brought in reliever Jed Bradley there was this funny moment where the announcer said he was Chris Reed and then said something like "Wait-- isn't that Bradley?" and then corrected himself, all while holding down the button still for all to hear.
This wasn't quite as funny though as this woman who decided to stand in front of us for an inning or so. Now, earlier in the night, Quentin went over towards the dugout to ask Sam Gervacio for gum and some kid who works there (and is probably not much older than Quentin) told him he couldn't be near the dugout like that during the game. This "kid" also yelled at other kids who were hanging out near the dugout during the game (The players were signing during the game though so I don't know) but when this woman showed up, no one cared.
Anyway, someone in the dugout finally asked the woman if she was there to see a specific player or basically the question of, you know, "Why are you here? What do you want?" She proceeds to tell them that she works for a hospital and thinks it would be great if some of the players would stop by and see the sick children.
Now, don't get me wrong, there is nothing wrong with baseball players going to a hospital to visit sick children. Something about someone fully dressed in uniform like that is cool, even if you don't know who the player is. But my thing is... If you really work for a hospital (not saying she didn't) there are better ways to go about this. An email, perhaps. But instead she went through this awkward speech of "You know, not right now but maybe after the game or on some other day when you don't have a game". I was just glad she went back to her seats because she was literally standing right in front of me for an inning or so.
Towards the end of the game, Darren Ford hit this shot which broke his bat. The broken bat somehow made its way to this group of pitchers that had been sitting in front of us, just outside the dugout, all night. Rainy Lara gave the bat to this kid in front of us and I thought to myself "I want a broken bat!" But then I also thought, "You know, if I got a game used bat like that though, I'd rather have one from Jonathan Galvez" I was even considering going up and asking them for a bat and offering them cash.
Then Jonathan Galvez did it again. He hit a hit which broke his hat. Rainy Lara was taping the bat back together and I thought "He's fixing it. They're still going to use it" but eventually, he kind of motioned to Quentin and I, and gave the bat to us. I'm not sure how I got this connection with Jonathan Galvez for this game, but yes, it's kind of scaring me as well. Still, this was the most fun we had at a Bees game and not just because of all of the stuff we came home with that we didn't bring with us but because the game itself just felt like pure joy, watching the Bees win by just putting on an absolute clinic.