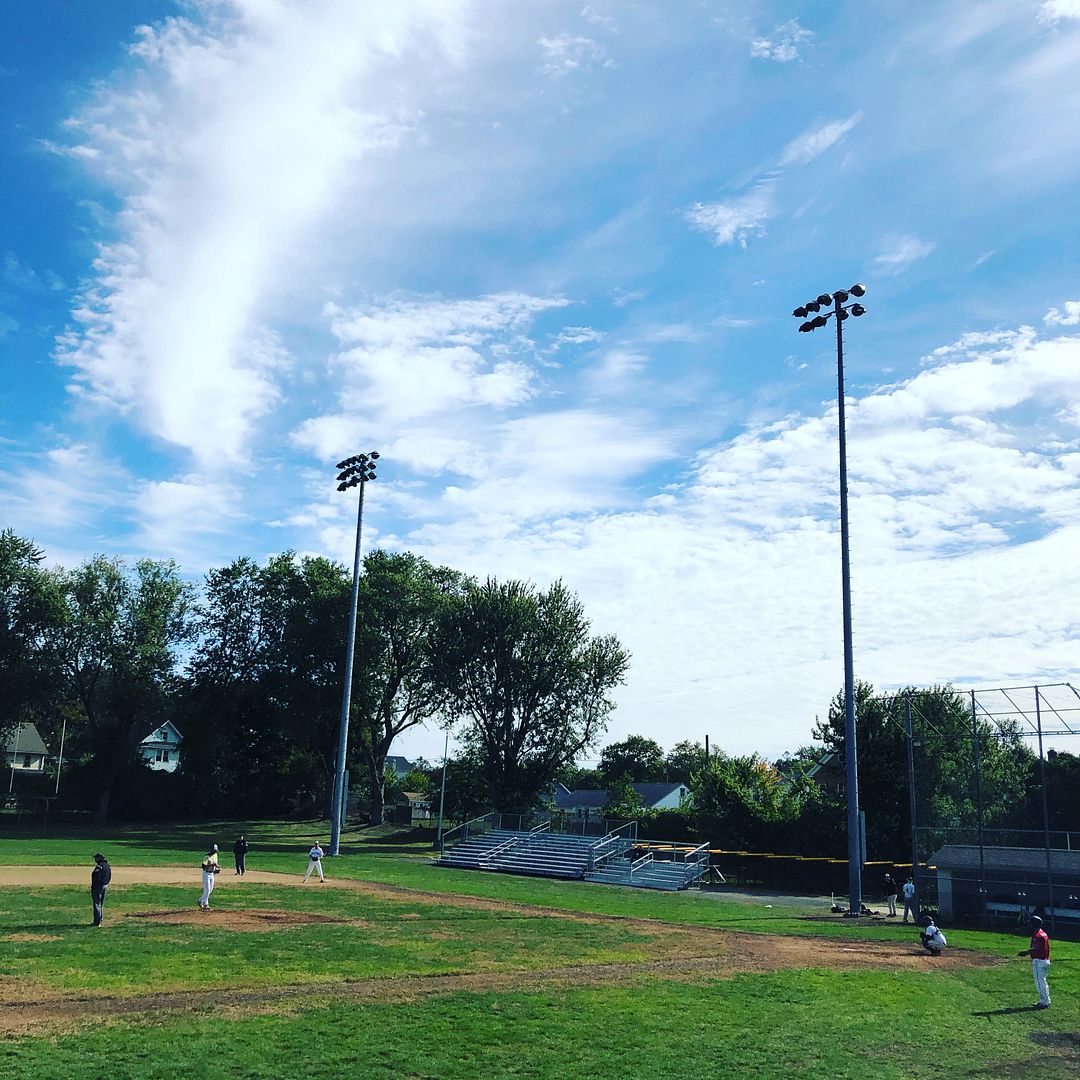 https://www.nutmegstatebaseball.org/
https://www.facebook.com/SilverCityBanditos
https://www.facebook.com/Milford-Monsters-Baseball-Team-336080543084059/
Additional photos can be found here :::
https://www.facebook.com/pg/raisedbycassettes/photos/?tab=album&album_id=4488104851231054
I didn't think I'd be back to Ceppa Field this year. I'm not sure why, but I just thought that after that last GHTBL Playoff game there that would be it until next year. Then the Banditos moved their home games from Maloney High School to here, possibly because of the kids going back to school but I can't say for sure. I also haven't seen the Banditos in about a month because they did two games in the BPT, had a week off for Labor Day and then last week their game against the Durham team was canceled. I was, among other things, attending the 70th birthday of my father, which as I type it out now does seem more important than seeing the Banditos face the number one team in the league, but hey if I ever turn 70 and someone decides to throw me a party and there's a baseball game that day let's have them overlap.
My first thoughts about this game is that it's cold. I can't explain to you, dear reader, how cold it was. I've read the box scores for MLB games and they get really into the weather, but I definitely feel like the highest I saw the weather when I checked it was 62. Now, I was in pants and a sweater so it was okay as long as the sun was hitting me. Then there was this cold breeze that would rip through and just make it at least ten degrees colder. On top of that, it has been dry. There hasn't been a lot of rain for whatever reason. So the wind began kicking up all the dirt in the infield. At one point, the umpire had to call timeout before the pitcher threw to let a little dirtstorm pass. As someone who has been to see the Banditos when it's felt like 100 degrees it was strange seeing them at this sort of polar opposite weather but, yes, that's just Connecticut for you.
The Milford Monsters went into this double header with a record of 12-3 while the Banditos were 12-4. They are in second and third place, respectively, trailing the first place Bridgeport team who is 14-3, so they are all really close up there at the top. That meant, to me, going into this that this would be a great game because not only do you have two evenly matched teams based upon their records but you have them right at the top of the league as well. Two evenly matched teams at the bottom of the league might be a fun game but it wouldn't be the same.
This was a classic pitcher's duel. The Banditos had a familiar face on their mound, I believe, from Ulbrich Steel, in Dan Livingston, while the Monsters were also just bringing the heat. Defensively, no one really seemed to make any errors and it became that proverbial chess game of who was going to break first. Both teams had runners on base at any time but got out of the inning without any damage done. It wasn't until the top of the 6th when the Monsters were able to score only one run and it was all that they needed.
One play that particularly bothered me during this game was a ball hit down third base line by Franciso Asencio. Now, you have umpires behind the pitcher and at first base but I'm sitting over on the third base side and I see that ball drop on the fair side then end up going foul and it gets called foul. I will admit that it isn't easy being an umpire and making those types of calls, so I'd let it slide, but there were at least four more balls hit to that exact same spot (and I won't say that they were all by the Monsters) and every one of them was called fair. The key is consistency. If you're going to call it one way for one player, call it that same way for every player.
I also realized about four innings into this game that the Milford Monsters have Willy Yahn on their team, something which I learned right at that moment. That would explain why after today the Gators don't have any more Sunday games perhaps. This is somehow the third team and fourth league now I've seen Willy Yahn play in. Isn't that crazy? It will be crazy when we look back at this and he's in MLB.
The first game felt like such a tough loss for the Banditos because it was a one run game that could have gone either way. Both teams were just playing that good of a game of baseball. It was something where I would forget at times how cold it was or that the wind was hitting my face and I felt like I was eating dirt because of the suspense. The second game was not the same. The second game the cold began to set in for me. I knew I needed food. I knew I needed warmth. And I was going to have to leave by 2:30-ish any way to go to the next game. The Monsters put up one run in the first inning. They were breaking Dan Livingston early, as he was pitching both games. The Monsters put up two runs in the second inning.
At this point, my uncle was here with me and I told him something like "If they put up three runs or more in the third inning, it's over and I'm leaving". He was leaving as well because he wanted to go watch football. I can't say for certain that the Banditos lost that second game, but the Monsters did put up three runs in the third inning, making it 6-0 when I left. The cold was what really got to me- as we went from being in the 60's overnight to the 40's overnight- and if I had known it was going to be this cold with the wind I would have brought more layers but next weekend it will likely feel less cold any way.