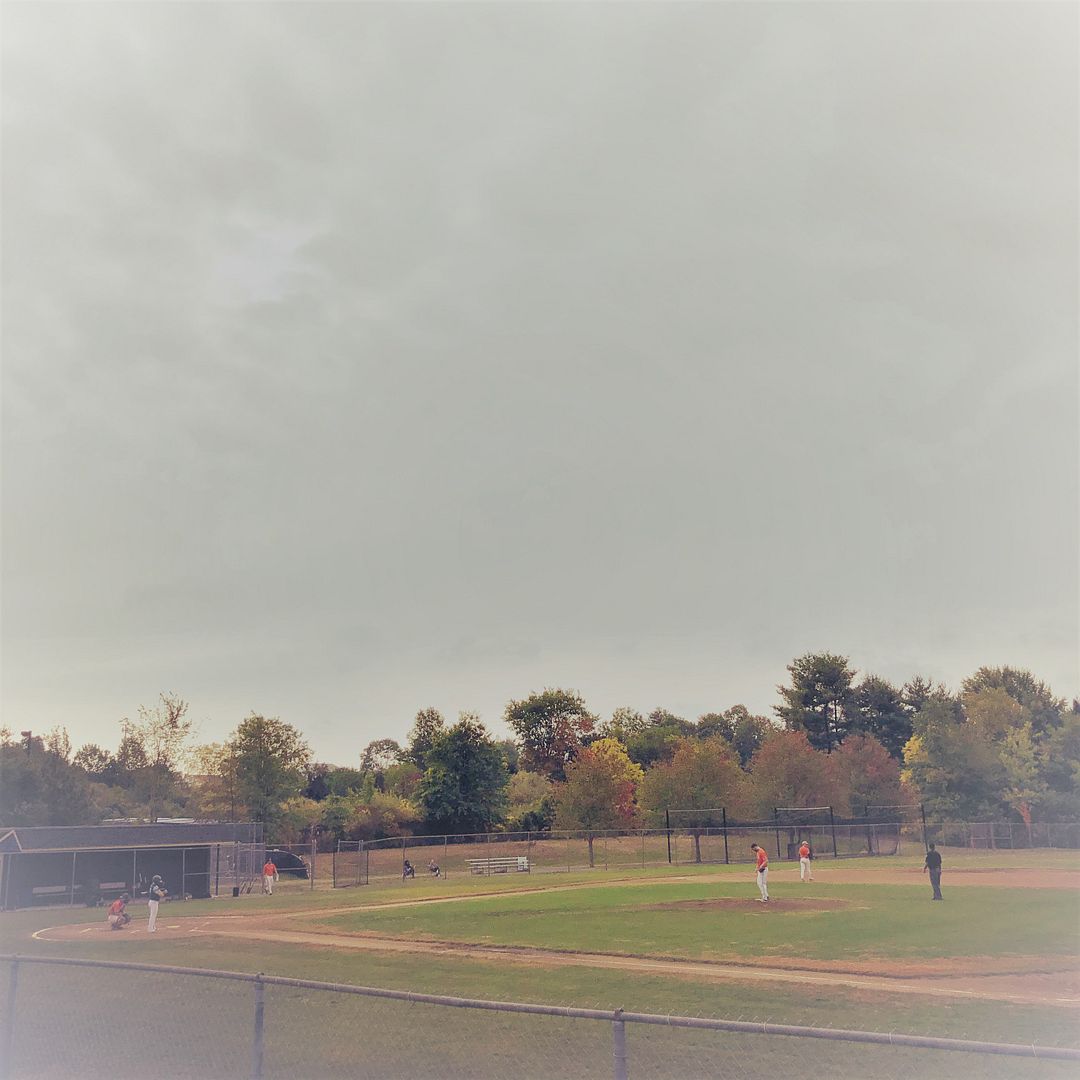 https://www.instagram.com/cflbaseball/?hl=en
https://twitter.com/ConnecticutFall
Additional photos can be found here :::
https://www.facebook.com/media/set/?vanity=raisedbycassettes&set=a.4524388150936057
What a difference a week makes. This game was at 9 am and even at that time it felt warmer out than it did all of last weekend. Newington High School is not the easiest field to find because if you go in through the high school itself you can come around a side where you're near the football field but it isn't easy to get to the baseball field from there. You have to kind of go around and despite what directions might tell you, Alumni Road is the best way to go. I've only ever been to
one baseball game in Newington
but it wasn't at the high school and I still wonder what those kids are up to now.
So far, for the Connecticut Fall League, we've seen two different Gators teams. There are the Gators who lost their first game to the pitching of Justin Morhardt and then there are the Gators who had their offense explode in the following two games (against the Millers and Crushers) which went to referee stoppage. This was a different game for the Gators because it felt like they were stifled offensively, but so were the other team. This was the pitcher's duel, so it was just a matter of who would crack first and it was a lot of fun watching this game be pitched, on the edge of your seat seeing who would not only get a run but also get that hit.
The Indians/Angels merger (from the Connecticut Twilight League) is apparently calling themselves the Orioles. I was fortunate enough to sit in the bleachers on the Gators side so I don't know what these Orioles fans are going to be like, but they seem respectable. Also, in one of those funny pieces of trivia type of deals the Orioles had Taylor Kosakowski playing first base and he had his own problems with the Vernon Orioles this season in the GHTBL, so I suppose if he can wear the Orioles uniform they can't be all bad. He also told me after the game this was a one shot deal for him, which just makes it feel even more special going to these games because you never know who may show up and play.
I do believe the Indians had Mike Lord on the mound and within the Connecticut Twilight League, as part of the Indians, he is one of their toughest pitchers. If you really think about it, Taylor Kosakowski was on this team and he was a part of the team which won the GHTBL Championship. Then you also have Indians members who won the Connecticut Twilight League Championship. Perhaps this team should have been the Yankees.
There were a lot of strikeouts during this game, but a few spots where it felt like either team could have scored as well. Bobby Chatfield (his Twitter handle says "Bob" but all the players call him "Bobby" which makes me wonder which one I should use) threw a great number of strikeouts throughout this game as well and the only reason he might not have thrown as many as Mike Lord is because the Gators used relief pitchers.
The Orioles put up their only run in the fourth inning and that would be enough. The Gators had bases loaded in both the seventh and eighth innings, so there were times where it felt possible for them to not only tie the game but perhaps pull ahead. I've seen teams resting on four or five run leads and then they end up defeated, so it's always a different type of suspense when you have a one run game and you're just waiting for that opportunity, wondering if this will be the inning where the pitcher cracks.
This brings the Gators to 2-2 on the season and this coming Saturday they will face the other Connecticut Twilight League merger team. It will be interesting to see who is on that team and how they do against the Gators as well. They took a 9-0 loss to the South Windsor Phillies (both teams went into that game 1-0, I believe) so it's going to be a 2-2 team versus a 1-1 team which will be fun to see. After that the Orioles take on the Great Barrington Millers which *might* bring us the pitching match up of Justin Morhardt vs. Mike Lord. (In a dream world though, the Orioles would have recruited Anthony Alicki and I'd see him vs. Justin Morhardt) It's definitely going to be a good Saturday for baseball at the Litchfield Community Field.