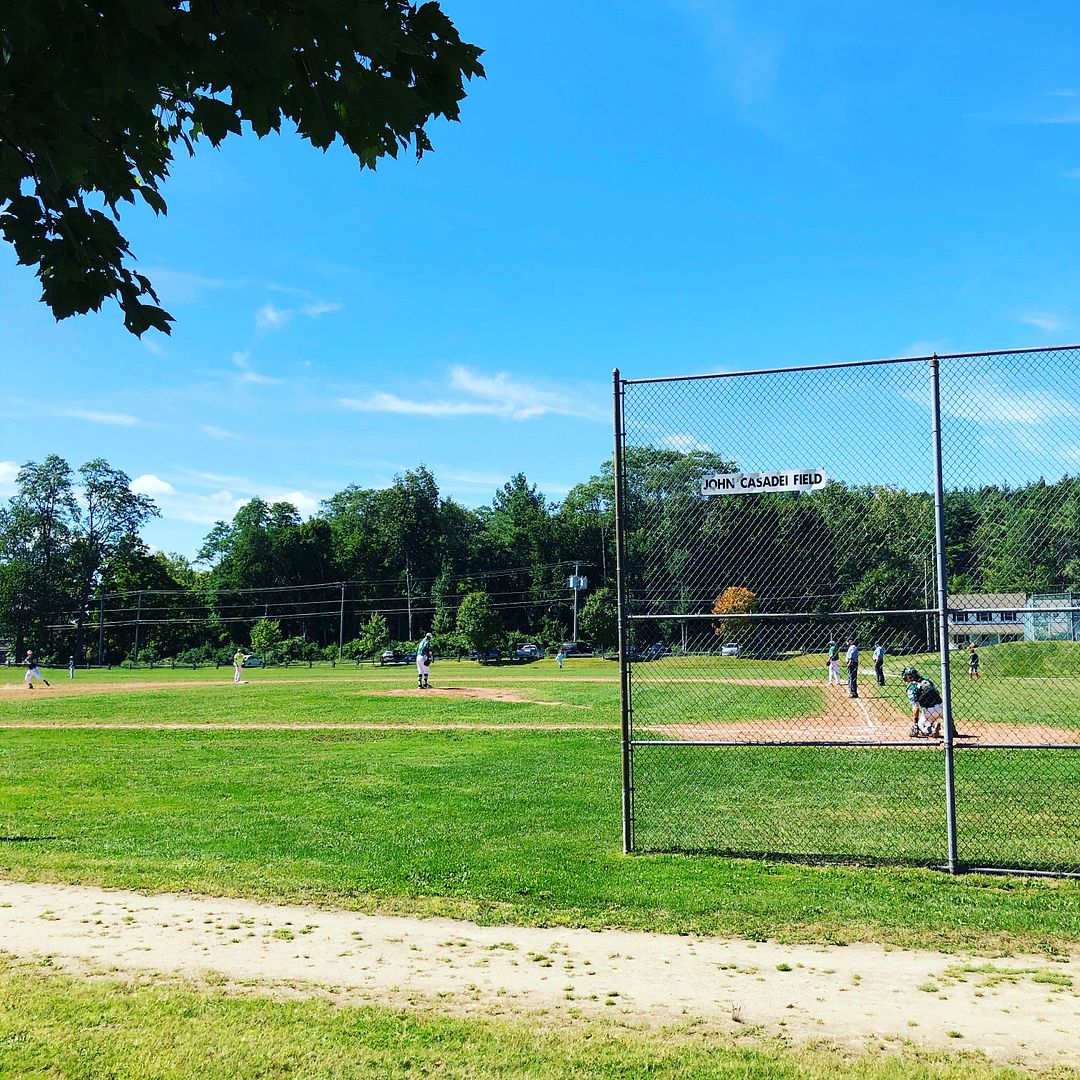 https://twitter.com/ConnecticutFall
//
https://www.instagram.com/cflbaseball/?hl=en
//
Additional photos can be found on Facebook here :::
https://www.facebook.com/pg/raisedbycassettes/photos/?tab=album&album_id=4446368648738008
Within a few weeks of summer baseball coming to an end, The Connecticut Fall League was born. Within two days of the announcement that baseball would be back, the first game was signed as this doubleheader. It's funny because I recently had a conversation with my Dad about baseball ending for the summer and wondering why they still didn't play. We'd sit outside in November for Yale football and as much as you take a chance now that it might be too cold or snow, in the summer it might be too hot or thunder. I actually did tell my Dad I wanted to see a baseball game played in the snow.
My Dad and I made the drive to Litchfield, where I don't feel like I've ever been before, and in a lot of ways it's just fun going to different places within the state in the name of baseball. If anything, the weather was a bit cold and there was a breeze which died down by the second game. It seemed like the perfect day to be outside though because it was neither too hot nor too cold, just the weather you'd want to spend the day outside in. I was still conditioned to think I'd be sweating though and was happy I didn't have to use sunscreen.
The first scoop of this game is that Willy Yahn has cut his hair. The second scoop of this game is that the Great Barrington Millers have Justin Morhardt on their team. I went into this game not knowing anything about the Millers, just wanting to see the Gators win and then when I get there and find out Justin Morhardt is pitching the first game I become conflicted. I still want to see the Gators win, but I know that seems more difficult now. Justin Morhardt said something to me like "Willy recruited me to pitch against him" and I laughed and said "I don't know if that was such a good idea".
It would turn out that it was not a good idea. Justin Morhardt would take the Millers through five scoreless innings. There were times where it felt like the Gators could score and they didn't. The first inning ended for the Gators with bases loaded. In the third inning, with runners in scoring position a shot was sent to left field and the batter made it all the way to second base- almost to third- but the runner who had made it to third held up there even though Willy Yahn was the third base coach and was seemingly waving him home. I'm not sure why that runner didn't go home and make it a 1-0 game at that point, but for a while that felt like their only chance to score and they didn't take it.
Pitching was key in this game. The Gators had Bobby Chatfield on the mound and he is a pitcher you don't really want to face either. To his credit, the Millers score their first run on a sacrifice fly to center field by Justin Morhardt. Later on in the fourth inning there was also a ball which was thrown to home, went by the catcher and that allowed a run to score from third, with a runner on second moving to third. The thing about this play was that the catcher had to leave home plate to get the ball, but then no one was really covering the base. By the time the Gators pitcher got there, it would have been a close play. It might have been best to just hold the ball.
But the Gators catcher forced off a throw and went into the infield which brought the other runner in from third, putting the Millers up 3-0 and it was all the runs they needed. This is where things get tough because even though there might not be that gap in having played baseball, it's still something where they haven't played together as a team. The Gators played throughout the Connecticut Twilight League this season but I'm 87% certain that their catcher is Max Quinn who had been playing with the Rainbow Graphics in the GHTBL. Part of these games is that feeling out process and just getting used to playing together. The pitching made it come down to who was going to crack first and a lot of who cracked was based on mistakes rather than hits given up.
In the top of the sixth inning we saw an umpire take a hit straight to the knee and go down. It's weird because a runner for the Millers was coming home- I feel he was safe- but the umpire called him out. I'm pretty sure it was the first base umpire who called him out since the "home plate" umpire was down at the pitcher's mound, but that didn't feel like the best angle for it and so often I feel like umpires forget that a tie goes to the runner. I don't know why the umpires don't go behind the plate. This umpire was about as close to the pitcher as he'd be to the catcher and he'd be in less risk of danger by being back there. But it's something we'll look back at one day and just remember as a sign of the times.
For the game of this double header the Millers pitching just fell apart. The Gators scored two runs on a HBP and walk. The first pitcher for the Millers was just putting everyone on base. It was a mess. I don't think that the Millers were prepared to play two games today, at least not in terms of having pitchers on hand. In the bottom of the second, Willy Yahn was walked, stole second, stole third and then came home on a passed ball. It's not the type of thing you see every day but it's fun when you can see it.
To their credit as well, the Gators had great pitching for the second game. I felt like the second game was a lot like the first game except the one thing which was different was that there was no Justin Morhardt. That lack of solid pitching for the Millers was what cost them Game 2. This game also ended after only four and a half innings because if you're up by eight or more after five innings they call the game- a sort of mercy rule. I'm not sure what would have happened if the Gators had two more at bats.
The Connecticut Fall League is born out of players from The Connecticut Twilight League, the Greater Hartford Twilight League and various other summer leagues come together to really just pick and choose the best talent from those leagues to all come together and play against each other. This historic opening day is just an example of how crazy that is because you have Justin Morhardt pitching against Willy Yahn and when they played together in the GHTBL they were teammates! I definitely think this is going to be a lot of fun and I feel like it's going to be filled with the best collection of baseball players in Connecticut and around.