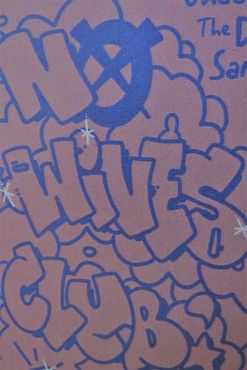 https://handsolorecords.bandcamp.com/album/no-wives-club
If you are familiar with the music of Hand'Solo Records because of me then you should also be no stranger to The Dirty Sample. This sound is definitely one of hip hop and it reminds me of ialive to the point where I'd like to see Hand'Solo crossover with Darko The Super and his group of rap friends at some point. There are some definite influences here of R&B as well and that just makes me think of Us3.
There is a line in here about giving up partying to focus on creating art and making money and as such I think that is why this cassette is titled "No Wives Club". It can be difficult to think about how to create art when you're married so I can understand this. I also appreciate that this cassette isn't afraid to just pull out a line like: "I get my sister to punch the gap in your teeth" while "S.D.M.F." drops wrestling references to The Rock.
My favorite line on this cassette though is: "can't give me nothing unless it's wealth". The guest all kill it on here, especially Shay Faded. If you're purchasing this as a cassette as opposed to just listening to the digital you get the instrumentals on the flip side and that just shows how musically creative this whole thing is. It all ends on an audio clip that says: "Are you falling in love with me? / I don't know what love is" and that feels rather appropriate.