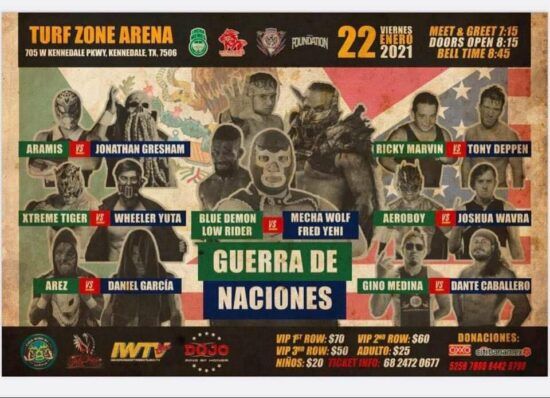 https://twitter.com/LuchaMemes

Since the early 2000's I've been a fan of lucha libre so when I saw this show being promoted on Twitter (mostly via Tony Deppen and Joshua Wavra) and how well it mixed up the masked wrestlers with those from the United States I knew I had to watch it. This just feels like a dream card in a lot of ways and it has both lucha libre and pure wrestling within these matches. Oddly, I've been watching mostly deathmatch wrestling lately and these matches didn't even really get hardcore but I still loved them all just the same.
This show was taped in Texas and from what I can piece together based on the one dude doing commentary, the actual commentary of it was added in after it aired. This is strange to me only because there were several instances of "If this is being taped and not live commentary, why not edit that out?" The commentary wasn't terrible but it was fairly standard. At one point he even said he was just kind of brought into the studio without any notes and it showed. This show felt like it needed two people doing commentary to play off of each other and, well, just someone who wasn't constantly coughing during the time of COVID-19.
The action started with Daniel Garcia taking on Arez and I recently saw Red Death on an ICW NHB show so it was cool seeing him again in a different setting. This match was another example of having to come close to killing Daniel Garcia in order to defeat him, which is what Arez did. Arez has been around for a while and I really enjoy him- I feel like he is a lucha star we don't hear so much about. Daniel Garcia, as far as I know, is working in the NXT brand but I haven't seen him on the Hulu replay yet.
Aeroboy took on Joshua Wavra for the second match and the guy on commentary calling Wavra "he" really bothered me, probably more than it should have, but damn dude did you do any prep for this gig? Aside from the fact that this show should be uploaded to IWTV again with different (better) commentary, Aeroboy and Joshua Wavra still had a great match. I expected this one to be more high flying but there was actually a lot of ground work in that pure wrestling way which caught me off guard but, still, I felt it added a whole other level to the match and the way that I look at both of these wrestlers.
On a side note (and I debated typing this because it feels like I'm spending most of this review bashing commentary) there was a moment where a young fan in the audience said something to Joshua Wavra, to which Wavra replied "In my dreams you don't exist". I didn't catch what the fan said but I think it was something to the affect that Joshua Wavra could only win "in your dreams". The commentary guy then said something like "Why is Joshua Wavra thinking about little kids- or no little kids- in their dreams?" and the whole situation just wasn't inappropriate until the guy doing commentary took it there. I don't know anything about the guy doing commentary but this whole showing didn't make me a fan of him.
Gino Medina vs. Eric Martin might have been the worst match on this card, which does say quite a bit because it still wasn't a bad match. I'd never heard of Eric Martin before, but I do hope to see more from both of these competitors. Tony Deppen took on Ricky Marvin in what could have easily been the main event. Deppen argued with a young fan and this was quite possibly the most hardcore of the matches on this show since Ricky Marvin sent Tony Deppen flying into the chairs.
For some reason, the Laredo Kid vs. Black Taurus match didn't have commentary and the way things had been going during this show I don't see that as a bad thing. Black Taurus recently debuted in Impact Wrestling as part of Decay while Laredo Kid recently lost the title he did have here during this match to Lio Rush. Aramis and Jonathan Gresham had a match worth going out of your way to see while Wheeler Yuta and Extreme Tiger made me aware that the outside of the ring area was dirt as they had it all over their backs. During the earlier match with Laredo Kid, the camera zoomed in on the championship and I wondered what was in the ring.
In the main event Blue Demon Jr and Low Rider took on Mecha Wolf and Fred Yehi. I watched this show on President's Day in the morning. Later on that night, I watched the latest episode of ROH TV live on FITE TV and it featured Tony Deppen, Fred Yehi, Jonathan Gresham and Wheeler Yuta in matches. Isn't that a sort of crazy coincidence? Just goes to show you who four of the best wrestlers in the world are right now, though I'm a fan of all of the wrestlers on this card.
Overall you've got eight matches on here- every single one of them a main event on some other show somewhere- and this has already become one of my favorite events from 2021 because of the mix of lucha libre and pure wrestling. In some ways, it could feel like a ROH vs. AAA show, but these wrestlers coming from so many different promotions just makes it so much bigger than that. I'm not sure why this promotion is called Lucha Memes but they have my attention.