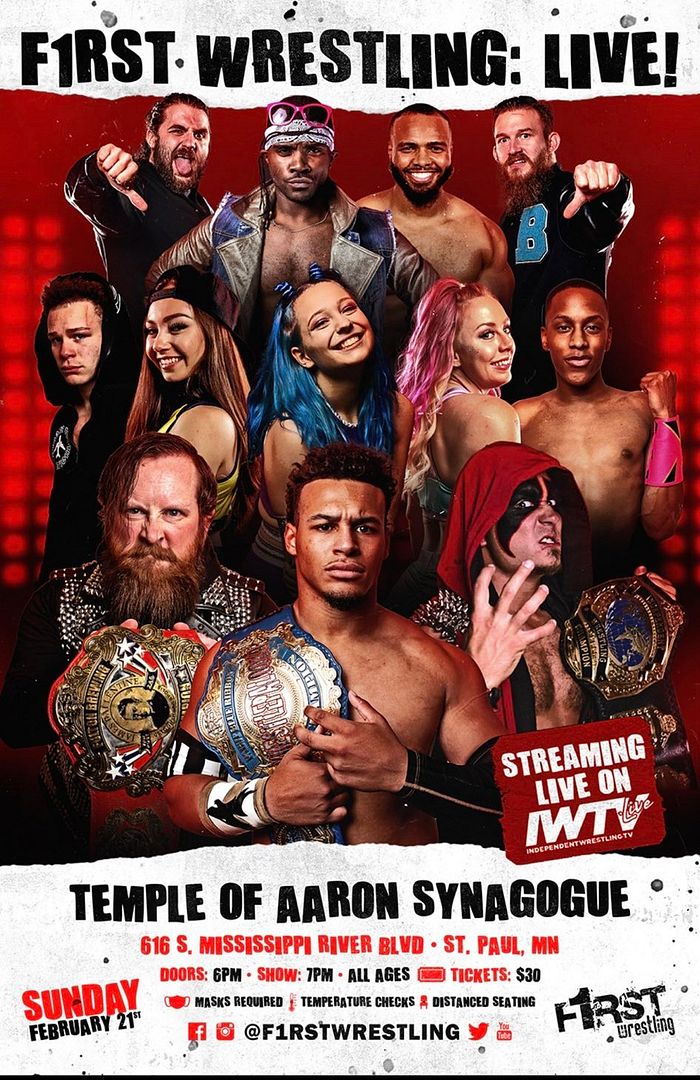 On Sunday, February 21st, F1RST Wrestling was highlighted on IWTV with a doubleheader of shows. This was my introduction to F1RST Wrestling but not all of the wrestlers who were on the cards. The big attraction going into these shows as well was the IWTV Independent Wrestling Champion WARHORSE defending his title for the first time in a while against JDX. I was, admittedly, tuning in just to see WARHORSE but I also was interested in what else F1RST had to offer because it could mean seeing more of wrestlers I already know or finding out about new wrestlers to like.
The first show- the whole thing- kicked off with JDX in a singles match against Rylie Jackson. I wasn't sure how this match was going to happen because in just a few hours after this JDX would be facing WARHORSE for the title, so it wouldn't make sense for JDX to lose, right? If JDX lost, would Rylie Jackson then get the title shot against WARHORSE? It would have been a nice touch to have some little stipulation like that- like maybe have Rylie Jackson cut a promo about how he should have the title shot not JDX and then it leads to this match with the title shot on the line but whatever. It was a fine match for what it was.
I recognized Frontman Jah-C right away from Twitter but this was my first time seeing him wrestle. In fact, the next match also featured three competitors I didn't recognize: Brandon Gore, Kal Creed and Kyle Pro. I know that promotions like to do scramble matches to get a bunch of people on the show and maybe introduce us to a whole lot of new talent at once (And four isn't even the worst because promotions will do six and eight person scrambles) but to me they're always just confusing. Watching two wrestlers you don't know is enough for me. When you add in two more (or more on top of that) it becomes a matter of "who is who again" and that really can take away from the match.
Billie Starkz- who is one of the wrestlers I have seen prior to this show- went up against Skye Blue, who is new to me. These two wrestled to a double count out which seemed like kind of a bogus ending until we fast forward to the second show. Filing under "names I see on social media but people I haven't seen wrestle before" is Don't Die Miles. He actually took on and defeated Gary Jay, who I'm rather familiar with. It's funny because when he first came out I thought I heard that "Into The Spiderverse" song and then when I thought about it for a minute it just clicked, like, "That's perfect!"
I feel like I've seen Devon Monroe before but right now can only honestly say that it is a name I know. The Carver is just this... kind of like Leatherface gimmick but not and it's just somewhat terrifying. The match came to an end when The Carver put a plastic bag over the head of Devon Monroe- literally trying to kill him- and the ref called for the bell to stop it. Funny story, over in ICW NHB, using a plastic bag like that isn't exactly illegal so seeing The Carver make the trip to ICW NHB one day would be a crossover I could get behind.
The main event of the first show saw The Besties In The World team up with WARHORSE to take on Arik Cannon and Top Flight. The only wrestlers in this match I hadn't seen before were Top Flight though I know they had a match recently on AEW that was a big deal. I honestly hadn't seen Arik Cannon wrestle since he had a mohawk and since then it's just been seeing him on Twitter warn other promotions about scammers when it comes to booking and then those promotions not listening or maybe just scamming the fans. (It's okay, it's okay, they've been quiet for a while)
Random Thought coming out of the first show: I just purchased this action figure size version of the IWTV Independent Wrestling Championship (available now on Shop IWTV dot com!) and then WARHORSE comes out and it has a white strap now. Wtf.
The second show really probably helped define the individual wrestlers a little bit more, though also seeing them for a second time can also have that effect on you. We opened with Don't Die Miles taking on Brandon Gore. Brandon Gore was in that scramble on the first show and he's the guy who kind of reminded me of Daniel Garcia. Don't Die Miles is still the man and I loved seeing him pick up wins on both of these shows. I'll continue to watch F1RST or wherever books Don't Die Miles. Let's go!!
Kal Creed defeated Kyle Pro in the second match and these are basically two guys I couldn't pick out of a crowd. Kyle Pro is also a pretty bad name, all things considered. What Kenny Amateur taken or something? I mean, we get it, you get paid to wrestle which makes you a pro. It's one of those things like when MC Hammer described why he dropped the MC from his name. Also, wrestling promotions tend to be named things like ___ Pro, so it makes him seem more like a wrestling promotion than a wrestler. I'm just not sold on the name.
I somewhat remembered Rylie Jackson from the first show but it didn't matter because he got to be killed by The Carver. If nothing else, The Carver is one of the most interesting wrestlers going in all of professional wrestling right now as after the match he pulled out a body bag for Rylie Jackson. Too many wrestlers (not just on this show but in general) look the same and The Carver is just doing such a great job of standing out based on his appearance and on top of that he's just this true terror inside the ring to back it up.
Arik Cannon vs. Devon Monroe vs. Gary Jay vs. Frontman Jah-C ended in a double pin which is kind of like a tie I guess. Post match Arik Cannon said he'd give Devon Monroe a one on one match for the title he holds, so we've got that coming up at some point. In the co-main event Billie Starkz defeated Skye Blue, which makes up for the fact that they went to a double count out on the first show. It's one of those things where I was mad then but now I'm happy. I don't think of this as a rematch but rather a continuation.
WARHORSE defeated JDX in the second of three main events and I'm not sure what's next for WARHORSE, as this was his first title defense this year I believe, but I'm sure JDX is now on the radar of a lot more people. I'm not sure what promotion it was for but I have an idea (I don't want to say though in case I'm wrong) but before the pandemic hit and everything there was a show in this area- the east coast- where JDX was going to come in and wrestle. But I think it didn't happen because of the pandemic. So I do want to see JDX on the east coast one day, live and in person. He has skills.
The final match of it all saw Top Flight defeat The Besties In The World, arguably two of the top tag teams in all of professional wrestling today. If you ever want to see an example of some perfect tag team wrestling, just study this tape. Ultimately, I feel like there are a few little things here and there about the show that I criticized but overall it was still a solid show and worth going out of your way to see for the talent which was on it. I'll definitely be checking out the upcoming F1RST shows on IWTV.