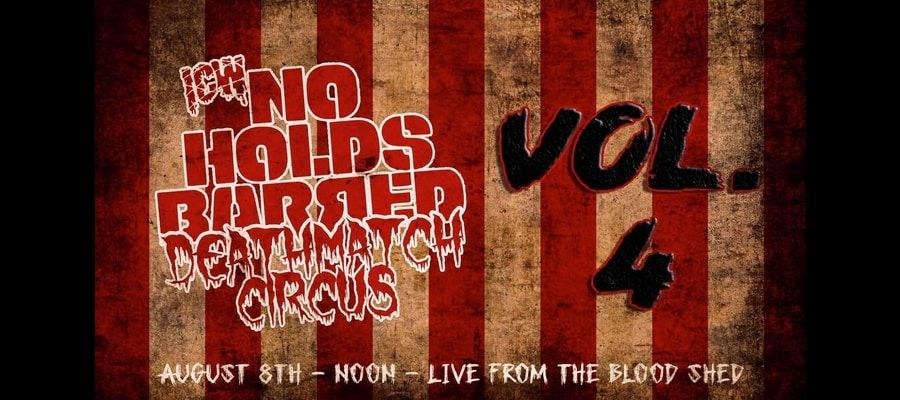 Following the night before in the Pit, ICW fans in attendance (and at home watching live on IWTV) were treated to two shows on this day. It's kind of great that between a Friday night and Saturday night you could watch three shows from ICW and just kind of forget about the world for a little bit. I also need Larry Legend to follow me around everywhere I go because are always wearing their masks and not covering their noses. I just imagine Larry Legend walking around, dressed like a ringmaster and shouting at those people through a bullhorn.
There's an old saying about books- and it comes from Charles Bukowski- and it's about how if someone asks you what your best book is you should always say your most recent one because if you say it's the second one you wrote then why write five others after that (and, I know, some authors do) I feel like these No Holds Barred shows have that idea of being better every time I watch one only it's odd because the ones before it weren't exactly bad either. You just don't think ICW can find a way to out do themselves from the last card and yet they somehow do.
Case in point, this show started off with two wrestlers from Volume 1 in a match I didn't know I needed to see until they booked it: Mance Warner vs. Tony Deppen. As I sit here typing this now, in January, I'm not sure what's going on with Ol' Mancer. I haven't seen him in MLW for a while so I'm not sure if he's signing with another company or just playing it safe during the pandemic. Either way, this was a great match and you really need to go out of your way to see every match with either of these guys in it, but this is just such an amazing way to kick off this show.
Dale Patricks returned to take on Reed Bentley. I keep seeing Dale Patricks name now on IWTV and I think that's a good thing. It's something about him getting his due. Brandon Kirk did another one of those things where he took to the ring to not really call out anyone but still Jimmy Lloyd came out and defeated him. It's always fun seeing Brandon Kirk get his ass kicked. In a Taipei Death Match, Eric Ryan defeated Eddy Only due to referee stoppage, which I feel was justified as Eddy Only was just unable to continue.
In a related but odd turn of events, Alex Ocean defeated Alex Colon (The battle of the Alexes!) when the referee called for the bell. Alex Colon was bloody everywhere and he was just losing a ton of blood. They said he was taken to a hospital and would miss the night show so you know it was pretty bad. It's just weird to me- it doesn't sit right- that Alex Ocean was the better Alex in this match.
SHLAK and Casanova Valentine had the match of the night. It was as violent as you could hope for complete with SHLAK taking pieces of broken glass, putting them into a plastic bag and then putting that bag over Casanova Valentine's head. Not only did that make it so that Valentine couldn't breathe, it made it so that was little breath he could catch was filled with shattered glass. This is the type of stuff that people who don't like/understand death match wrestling will be afraid of, but it's some of the stuff I tend to enjoy the most.
John Wayne Murdoch and AKIRA had a hell of a match in the main event, which left both of them bloody and beaten. After the fact there was this group stare down and it's always fun to hear fans chant "Fuck Ohio". I've never been to Ohio, but wrestling has made me think it is not the place that I want to go to for whatever reason.
What I love about these ICW shows is that I always think about how pro wrestling has to have champions and so you kind of all fight for a prize. There aren't championships on these cards and the participants just seem to be doing it for bragging rights. But if there was a championship, you have that idea that nearly anyone on this card could hold it-- a "No Holds Barred Title" or something. (Well, except maybe Eddy Only and Brandon Kirk) There's just so much talent on these ICW shows- so many characters- it really does feel like one of the best wrestling promotions going today and I feel like that is because it is.