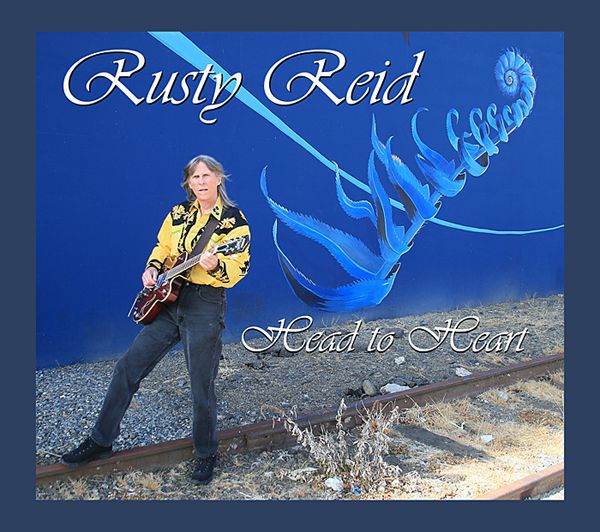 Once in a generation comes along a musician such as Rusty Reid. There are the names you'll recognize from the past who have few peers: Johnny Cash, Tom Petty and Bob Dylan for example, but there also exists this underground of musicians who have this extensive catalog of amazing songs but perhaps are not on the radio or just not as widely known.
"Head to Heart" begins with an intro type of song which has trippy vibes like Pink Floyd and then simply says "Let's go". Between names like Tom Petty and Neil Young, Rusty Reid also puts his own take on this sound. There is a driving to it, like those highwayman songs, but at the same time it feels like that Get Up Kids album "Walking On A Wire". While it might seem easy enough to paint this one as Americana, there is also this dreamy quality to it, like "That Thing You Do!"
The guitar work here is first class and when you listen to the lyrics you'll find that the theme of this album seems to be about happiness, specifically the pursuit of it. "The universe does not give guarantees / Just a shot at finding happiness" is an example of this, and a more true and bold statement has perhaps never been made before. "The Meaning Of Life" gets really dreamy, like Buddy Holly floating on clouds, and then the titular track reminds me of Duncan Sheik with the acoustics.
On that title track you'll also hear the line which makes the album title: "The longest journey is from head to heart" This seems kind of simple in its delivery. The head is the brain, the thinking part of things, and the heart is your emotions and as such would be happiness. But it can be much more complex than that, as many great minds have written about how sometimes rather than trying to find something to make you happy you should find a way to be happy with what you have.
Along with these deep lyrics that will keep you pondering happiness, "Ancient Stones" takes on more those rock n roll vibes while "To Find Me" has this great guitar part which sounds almost like a lullaby. "I Went Searching" has these funky beats and reminds me of something more from the late 1980's/early 1990's like Depeche Mode or just something from the radio and MTV around that same era.
"Eldorado" can feel like the soundtrack to a movie with hints of Urge Overkill and it just goes to show how diverse this album can be while also sticking to that pure form of rock music. Spanning all of time and yet settling on none all the same, Rusty Reid creates music that won't be thought of in the future as being from the year 2019 or the "2010's" but rather, these songs are simply timeless.