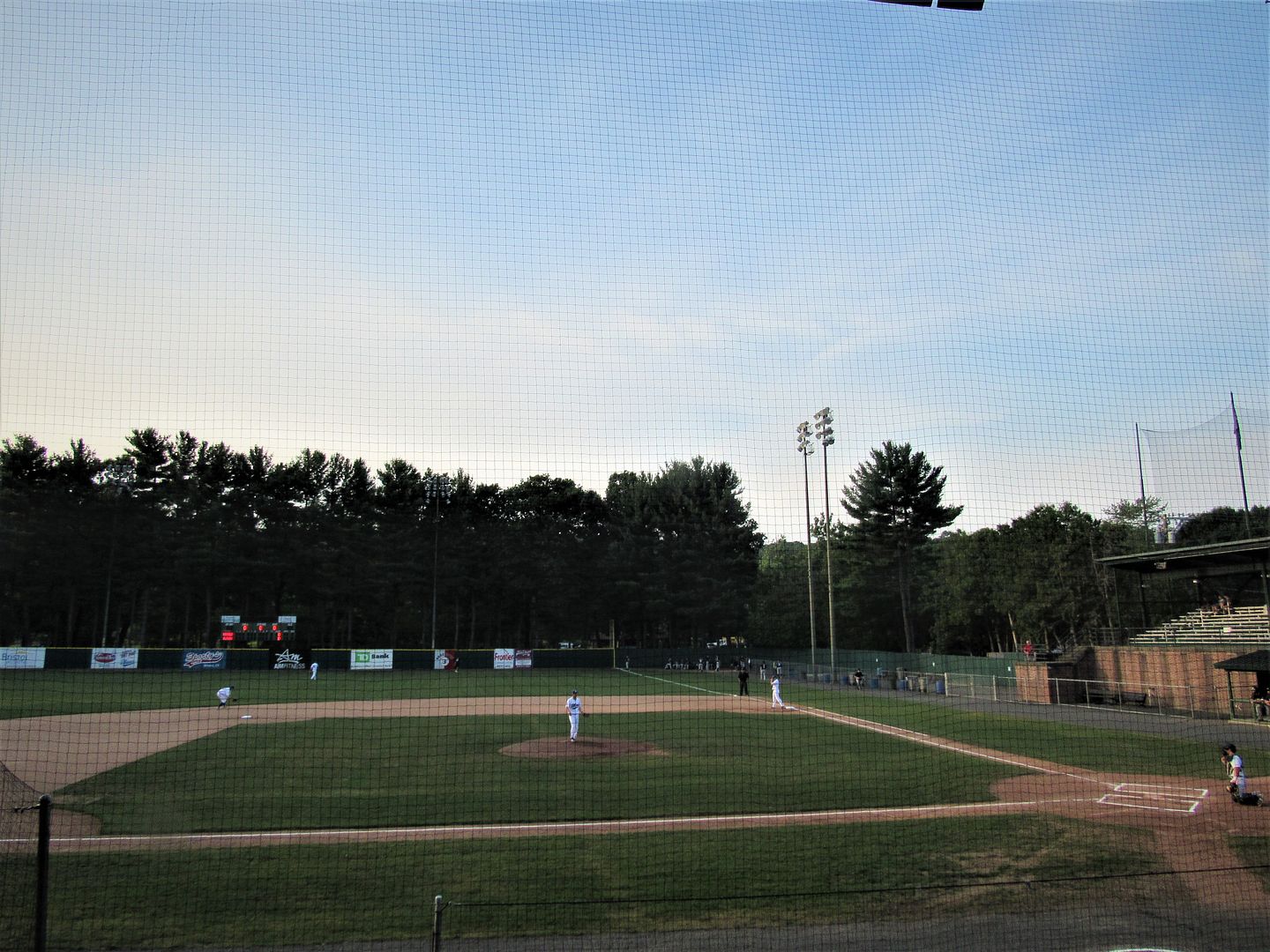 Official Box Score here :::
http://worcester_fcbl.wttbaseball.pointstreak.com/boxscore.html?gameid=512940
//
Additional Photos can be found in a Facebook Album here :::
https://www.facebook.com/pg/raisedbycassettes/photos/?tab=album&album_id=2948099255231629
It's a scorcher out. We're at the start of a heatwave and going to baseball seems like a good idea. I can't stop sweating and I feel worse for the players because they're in uniforms, on the field in the direct sunlight (I am at least in some sort of shade) This was our third Bristol Blues game overall and our second time seeing the Blues take on the Worcester Bravehearts. In the future, we do plan on going to Worcester to see the Blues play on the road.
I don't remember the Bravehearts scoring in the top of the first, but the Blues had a game. Brandon Miller hit a homerun- the first time we saw a Blues player hit a homerun at Muzzy Field I believe. But the big story is that the seven innings pitched by Mark Faello just made him feel untouchable. This felt like a pitcher's game because the Blues offense relied on a HBP, walks and a ball which went past the catcher (wild pitch) had a run score as well. It was one of those key games where things were tight and these slight errors made all the difference.
Here are a few things about the game that didn't have to do with baseball, but rather the experience:
When we got to Muzzy Field, we had to buy our tickets at the box office. A group showed up right in front of us and were there for a birthday party, apparently. There were two employees inside the box, two windows, and yet they couldn't open up another window and sell us tickets but rather made us stand there- in the sun- for twenty minutes which felt like hours. Ok. No problem. Waiting in line is part of life and it's not like we missed part of the game or anything. One of the employees handed the party in front of us a stack of tickets, saying that there were twenty there in total, but when we got up there all we got were hand stamps and told "We're not doing printed tickets tonight" Please, do not insult my intelligence.
We had been sitting in our seats for nearly twenty-five minutes when this couple showed up and decided to sit right in front of us when there were plenty of empty seats around. They eventually moved over (I think because Quentin kicked them) but people- why do you do this? Another family sat directly behind us and the kids were kicking me all game. If you have the space, move over. Are we not civilized?
Also, a small child a few rows behind us threw up at one point during the game and that will always stay with me now for some reason. Like, "We saw the Blues play the Bravehearts twice. Once they lost and the other time that kid threw up".
After the game they did fireworks and as such they turned off all of the lights except the for the ones directly over the stands. This created mass swarms of bugs going to those few specific lights and, yeah, the fireworks were a good show so long as you didn't mind feeling like you were in some kind of damn plague to see them.
Overall this was a good game. We got these Icee Pops to stay cool and eventually it wasn't quite as hot, especially once the sun went down. The baseball was what mattered most and it was a competitive game. At any point, you felt like the Bravehearts could have come back and won it- because they weren't ever really that far out of it- but they just couldn't seem to do it on this night. Perhaps they miss their two players from Dartmouth.
Now we are 1-2 seeing the Blues and hopefully next season when we return to see them at historic Muzzy Field they will win more times than lose. Yes, this is our last Blues game at Muzzy Field for the season, but we broke the losing streak of seeing them so this is hopefully some sort of momentum they can ride into next summer.