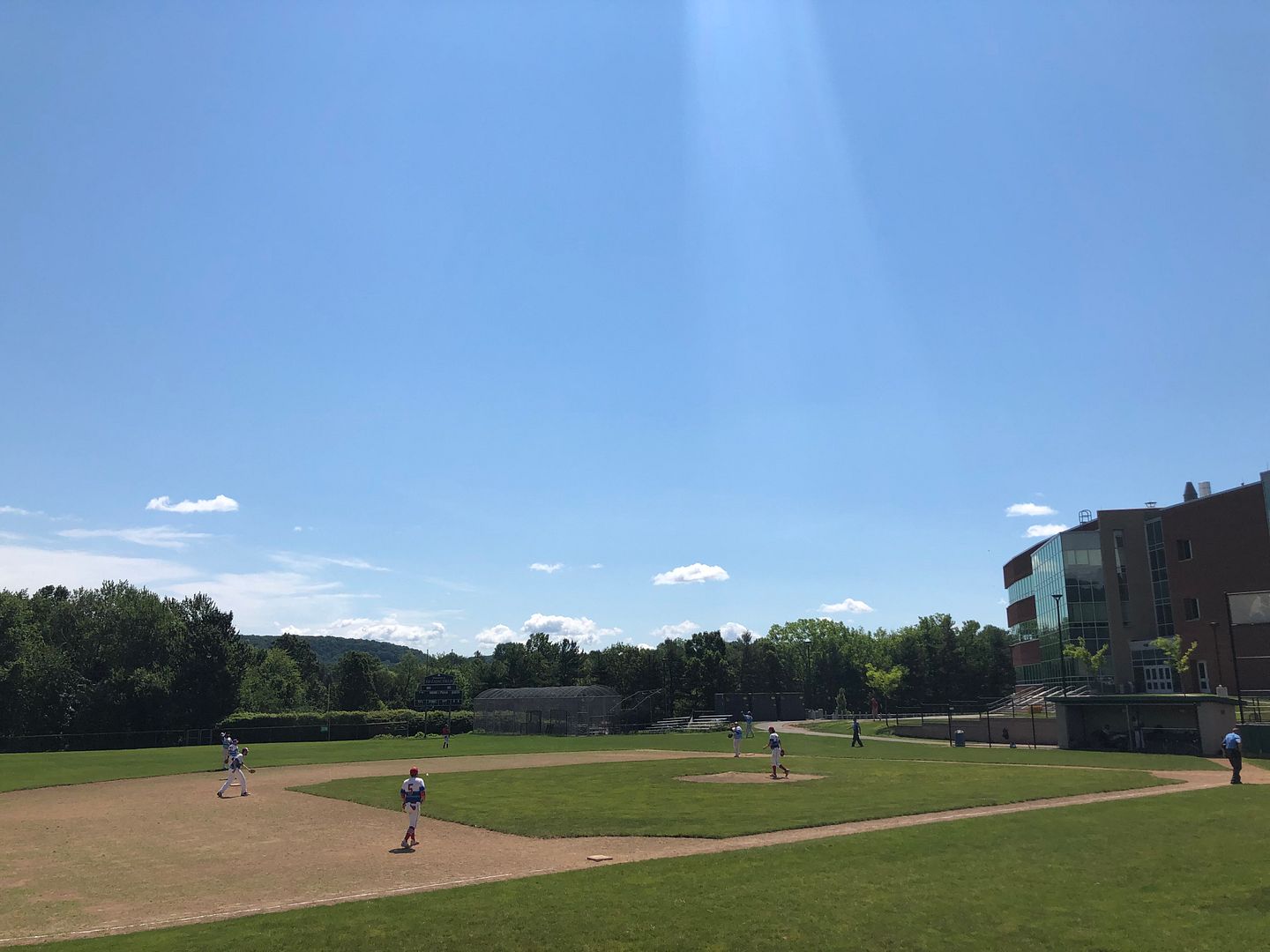 More photos from this game can be found in the Facebook album here :::
Thanks to the GHTBL, I found out about this baseball league in Connecticut called Nutmeg State Baseball League and they play exclusively on Sundays. This is great for me because I am off on Sundays and rarely have anything to do because writing about music is secondary during baseball season. Both Hector Gonzalez and Will Kszywanos play for the Silver City Banditos and since the first home game they played was the weekend I found out about them I had to go.
I got to Maloney High School around 10 am and I used to live across from it, the only time I had been there to see baseball before was for the GHTBL. The game started at 10:05 and I might jump around with this a bit but there were many factors in play here during this game. For one thing, the weather. Thunderstorms had been predicted for the entire weekend and the day before we only saw a slight sprinkle of rain. Well, during this first game of the doubleheader I felt some light rain, then it got heavier and then it just... went away.
Much like the GHTBL and most leagues where you are not charged admission, there was no scoreboard in effect so you had to follow along yourself. By browsing the NSBL site I hadn't really found a lot of information about the teams and such, it seems more casual... there are no rosters, no scores/results... so when I say this game ended 10-8 with a Monsters victory it is left only to my ability to add while taking photos, texting, avoiding weather, etc. etc.
The Silver City Banditos came out hot and had a huge seven run inning. They scored another run in the third and the Monsters answered with a run of their own in the top of the 4th. This is when I'm texting "It's 8-1. This is crazy" But it only got crazier from there. The Monsters put up three runs in the 5th. And then they put up six runs in the 6th to seal their victory. It was a comeback for the ages and this is why someone older and wiser than me once said "It ain't over... til it's over".
Through the weather and the hits, the fact that I had been at baseball for a solid six and a half hours the previous day, knowing I had to clean and prepare for the coming week (and what July holds for me RE: baseball) I didn't stick around for the second game of the double header. As much as I wanted to, I decided I need to be an adult to some extent for the weekend and clean my damn bathtub.
But this gave me a thought. Imagine a player for the Silver City Banditos. A Hector Gonzalez, if you will. Someone who also happens to play for the Record-Journal Expos. Imagine him playing this first game at 10 am. Then another game. If the second game also went two and a half hours, he'd be there until at least 3 pm. Then imagine he has a game with the RJ Expos that night (which I believe he did but it got postponed) Imagine that day of baseball. Shadowing someone to write about such a day is the type of gonzo journalism I was born to live.
I won't be able to return to Maloney until the end of July to see the SIlver CIty Banditos again. Every Sunday from now until then is filled with baseball, most of it GHTBL related. But I must say I really wish that the Silver City Banditos had a team store on the NSBL website, like the Stratford Owls do. I really want to rep Meriden in a baseball way because it's not just where I can go see baseball the closest-- it's where I'm from. It's where I live.