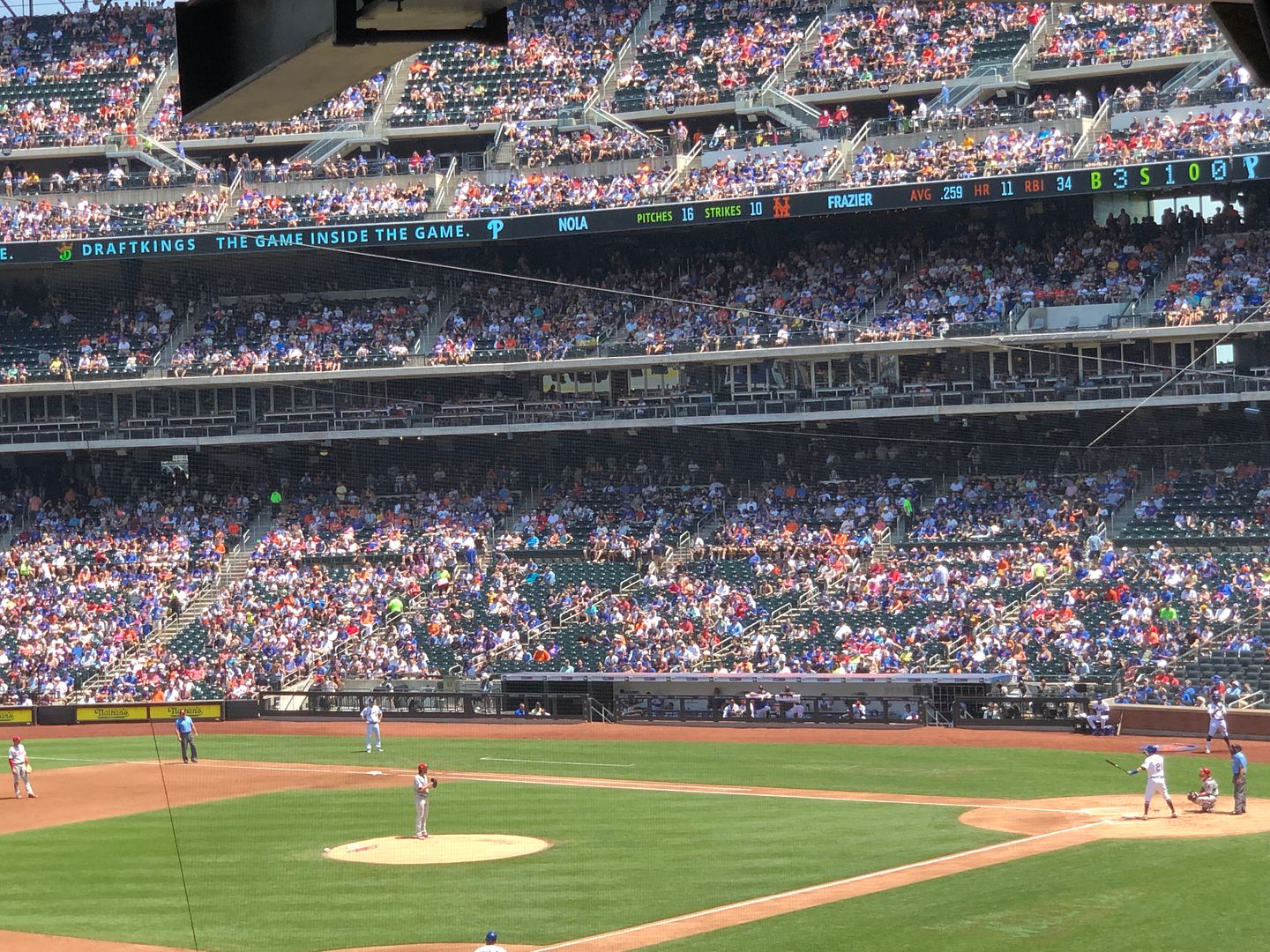 Official Box Score :::
https://www.mlb.com/gameday/phillies-vs-mets/2019/07/07/566032#game_state=final,lock_state=final,game_tab=box,game=566032
Photos can be found in a Facebook album by clicking here :::
https://www.facebook.com/pg/raisedbycassettes/photos/?tab=album&album_id=2910838935624328
On Sunday, we headed to Citi Field for the first time to see the Mets take on the Phillies, partly due to the fact that it was Marvel Super Hero Day and going to this game meant getting a sweet Spider-Man bobblehead. This was clearly something which I needed to do since it combined two of my favorite things: the Mets and Spider-Man. I have only been to one other Mets game in my life and it was as a kid, with my dad. Not to date myself, but it was also at Shea Stadium, which is why this was also my first time at Citi Field.
We got to Citi Field with about a half an hour until they opened gates so we found a lined, hoped for the best and stood in it. There was a line for fast entrance- if you had 20 or more tickets for the season or some such deal- and it allowed you to get in 20 minutes early. I saw people using it 5 minutes before the gates opened and wondered what the deal was. Since the Mets website is crazy I bought tickets on StubHub and as such my first great encounter happened right inside.
Me: So I don't get a print out of the tickets or anything?
TIckettaker: Nope.
Me: I just have to show anyone who asks me my phone every time they ask to see my tickets?
Tickettaker: Yup.
Me: Well, that's annoying.
It's also worth noting that before we went in we were searched with a metal detector wand deal, like at an airport, and as I wondered to myself why they were searching Quentin as well I realized that putting your bombs on a small child *was* in fact the perfect cover. Had I opened my mouth I'd probably still be in Mets jail.
I had a plan to find three things at Citi Field to purchase and I came home with two of them so I feel pretty good about that. First off, I wanted some sort of pin to put on my camera bag. Quentin helped me pick one out, so I have that now. I also wanted some kind of plush toy for Mr. Met since we have plush toys for many, many mascots and, well, we found a rather large one and he is now sitting on the couch next to me. The third thing I wanted was a seat cushion and the one they had was nice but it wasn't $30 nice.
We also managed to buy this hat that you put together with what look like but aren't Legos. Quentin wanted it and my theory is even if we only go to Citi FIeld once a year and drop a hundred dollars, so be it. It's not like we're going there and buying new things (or things we could find at Walmart) every week or every month. It was one of the few times I didn't look at price tags and just bought.
For those following along at home, the Phillies put up four runs in the first inning- going through their entire batting order- and that was pretty much the end of the game for the Mets. I know that it doesn't really seem like a lot of runs- four runs isn't the worst to come back from- but Aaron Nola was pitching a no hitter for a lot of this game as well.
Fun Tip: Even when you're at Citi Field, the MLB At Bat app still sends you updates.
I feel like we spent more time walking around Citi Field, seeing Spider-Man and other such sites than we did actually paying attention to the baseball once the first inning came and went. I was actually also much more excited for this game as it went on because it was a possible no hitter for Aaron Nola.
As time went on though, Quentin grew hungry and after a two run homerun by the Phillies in the top of the 6th we had seen enough. It was time for us to leave and find a McDonald's.
Now, I didn't have a bad time at this game overall. My dad and son both seemed to enjoy themselves throughout the time we spent there as well and nothing crazy happened like sitting in traffic for four hours. But- and I say but- I must say that something about this game just felt off to me. Yes, I go to a lot of baseball games that bring in less than 1000 fans, but even when I go to the Yard Goats their games are sold out and it just doesn't feel the same as Citi Field.
The thing about Citi Field is that you look at the stands and they're mostly full of people, right, easily 2/3 or so full. Then you go out into the concourse and it's just people to people. You can't extend your arm without hitting some New Yawker. On Friday, at the Bristol Blues I sent Quentin to the bathroom by himself and he was cool. At Citi Field it would be very, very easy to get lost in the sea of people that are constantly moving around you. My best way to describe it would be the word "busy" and that's not always a good thing.
Next season I'll look at the promotions. Maybe there will be something I feel like we have to do. I know my dad and Quentin will both be down with going there again in another year. But for me, for right now, I'm okay with not seeing Citi Field again for a while. This has also made me rethink my idea of wanting to visit every MLB ballpark because it just seems too crowded. Perhaps if your team doesn't draw a lot of fans I will come to you, but yeah, I'm going to stick with baseball on a smaller scale, though this was one of those memories we'll cherish forever.