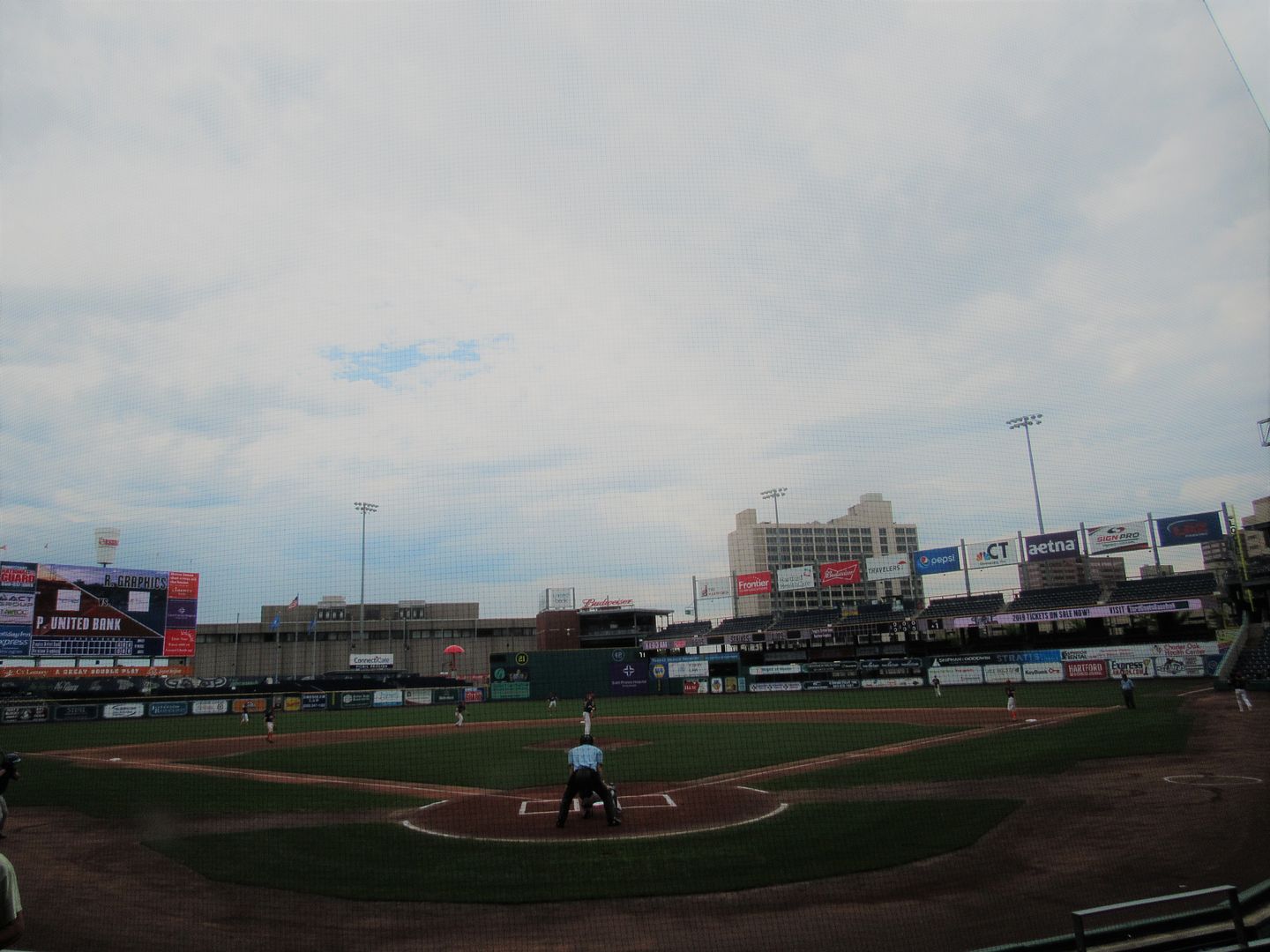 For the time that Dunkin Donuts Park has been around, this was only my fourth time here. It's a really nice play to watch baseball, tickets aren't too crazy expensive and it's right off the highway so it's not difficult to get to or park. I feel like I should spend more time here seeing the Yard Goats but I also wish they had that final season Rock Cats team vibe still as well.
The Uber man dropped me off around 9:30 am and there was no one to be found. Some yellow-shirted employees opened the doors eventually, but when players from the Rainbow Graphics showed up they were told that even they couldn't get in until 10. So, for twenty minutes or so I sat outside the stadium, hanging out with Rainbow Graphics. I should've brought my recorder and did some group interview to kill time, but yeah, hindsight and all that.
Once I got into Dunkin Donuts Park I paid the $10- because I don't like MS- and I picked up an orange bat I had ordered prior to this game. Long story short: Ever since I found out about this game, and that the players would have orange bats I kept saying (on social media) "I want an orange bat" I figured that since MS4MS is a charity, money talks and eventually the MS4MS people responded to me on Facebook, I made a charitable donation and then carried around the orange bat for a while, like a child I felt weird about taking to the bathroom with me.
The first game of the day saw People's United Bank taking on Rainbow Graphics. Now, if you don't follow the GHTBL, you might not know that these are two rather different teams. The first time I saw Rainbow Graphics they were 0-8 and even though they have since gained some wins they still don't boast the best record. People's, however, was in second place above the Vernon Orioles at one point and came close to defeating the Expos last Sunday at Hardball For Heroes. This felt like an unfair match up because PUB is so very good and Rainbow Graphics are just... not as good.
At the end of the game, the scoreboard said it was 17-0 and I didn't know if it was stopped in the sixth due to time, the mercy rule or a little bit of both. PUB player Anthony Redamonti was really having a game and though the players probably felt this much more closely than I did, there were just innings when you wondered if the Graphics could ever get out of it. This is why I was thinking maybe mercy rule, but yeah, there were some deep shot homeruns here and when that GHTBL All-Star team is assembled... I think they could defeat the Yard Goats.
Official Box Score here :::
https://hartfordtwilight.sportngin.com/game/show/25513992?subseason=564508&referrer=4591725
In between games I had to eat and they took maybe twenty minutes. I spent the first ten or fifteen minutes of the first game behind home plate in the direct sun and then moved to shade. I actually moved around from side to side during this game to take pictures- and throughout the day- which was fun, but I also spent some time up at this table on the third base side. Nearing the end of the first game, none other than Peter Barrows himself came over and sat not too far from me. That wasone of those "I should talk to him, but I don't want to bother him" moments.
Ulbrich Steel took on Mallove's Jewelers in the second game, which was a much more equal match up as both teams had their own strong qualities. It's funny because much like PUB, I actually like Ulbrich Steel so long as they're not playing against the Expos (Meriden represent) and since Will Musson was their starting pitcher I had to hope for them to win.
I moved at one point to the first base side, which was the Jeweler's dugout side, and there was this group of three or four guys behind me who kept yelling at the umpires and were upset about calls. You could see someone was clearly tagged out and they'd be crying and saying "He was obviously safe" No. He was obviously out. So, since I didn't want people to think I was with them or making that ruckus I had to move to the third base side. But it's all part of the game, right-- the crowds?
Ulbrich Steel put runs up early as Wes Ulbrich hit a two run homerun with an orange bat. Yes, I have a photo of Wes Ulbrich with said bat and then him coming home right as that homerun happened, so that's kind of cool. I must say it was the luck of the orange bat. Wes Ulbrich also had this great leaping catch at third base. The Jewelers would battle back but once Ulbrich put up two runs in the third it was game over. This game also ended after six innings, which I think was due to time more than anything else. I don't think anyone ever expected that first game to last so long, but in some other alternate universe it's still being played.
Official Box Score here :::
https://hartfordtwilight.sportngin.com/game/show/25513993?subseason=564508&referrer=4591729
The third game (and my final game of the day) was the one which I came to see. First place Record-Journal Expos took on second place Vernon Orioles. This was such a key game because both teams are the best in the league. Almost two weeks before this game, I saw the Expos defeat then second place PUB (and then once the Orioles took over second place I'd see the Expos play PUB again last Sunday at Hardball For Heroes) but this game just felt bigger. Also, the anxiety/fear that comes with baseball is such a good feeling. I don't miss it when I saw the previous games and was hoping for teams to win but wouldn't be upset if they didn't. But yes, those emotions have you invested and they make the game that much more serious-- that much more edge of your seat.
Back when I wanted an orange bat, I had emailed Sam Greenberg of MS4MS and asked if the bat would be game used. I like the bat in itself, sure, but if it's not used in the game which it was made for is it really a bat at all? I was told the bat would not be game used and that the players all had their own bats they would keep, so I discussed it with coach / pitcher / sometimes right fielder Charlie Hesseltine to ask him if all his players had bats and they'd want to use mine. It's a complicated tale of raising money to obtain the bats (or just putting down the donation yourself, if as a player you wanted one) so the Expos used my orange bat in this game and I must say it got some good hits.
If you've ever wanted to see Charlie Hesseltine pitch (which you should) what better place to see him pitch than at Dunkin Donuts Park? This was such a game. Jason Sullivan and Jack Rich hit back to back triples. In the fifth with runners on first and third, no outs, Charlie Hesseltine struck out the next three batters to get out of the inning. It was just something of magic. It was a chess game the entire time and as my camera battery faded it didn't matter because I was on the edge of my seat. This is what baseball should be.
I'm still not sure how to feel about this game. It was called for time after six innings or so and the score was tied 4-4. It could still be going on somewhere else I'm sure, but this was just one of those games where the teams were so evenly matched you could watch them play all day. There is no official box score on the GHTBL site as I type this- the date has been erased from the schedule (?)- but I know what I saw.
My uncle told me that the Record Journal (the newspaper) said that this broke the winning streak for the Expos. Sure, it might not have been a win, but it wasn't a loss either. And the fact that it ended in a tie was based more on time than anything else. Had it been anywhere else at any other time (Except maybe Hardball For Heroes) it wouldn't have ended in a tie. There would have been a winner. So, I prefer not to think of it as a win or a loss or a tie but rather as a pause, a to be continued.
During the Expos-Orioles game the East Hartford Jets began sitting around me, which was strange. I wanted to stay to see them play the Phillies but it was already 6 pm, I wouldn't be home until 6:30 and I have such a week ahead of me. The Phillies are the only GHTBL team I haven't seen this season, but they are still going to play the Expos this week before the season ends, so I used that and my no longer wanting to be in the heat as reason to leave. Oh, and my camera. I have two batteries and they both died. If I had some battery life left, I might have stayed to take pictures for a couple innings.
All in all, this was a great day for baseball (if you weren't the Rainbow Graphics) and there was a lot of money raised for a great cause. My dad (who only this year retired) spent most of his time working to cure MS, so it kind of hits home to me as a charity and even though I know I'm on the homestretch of my baseball viewing season, I'm going to take the time to stop and enjoy every moment of it. The GHTBL has really helped me to do that.