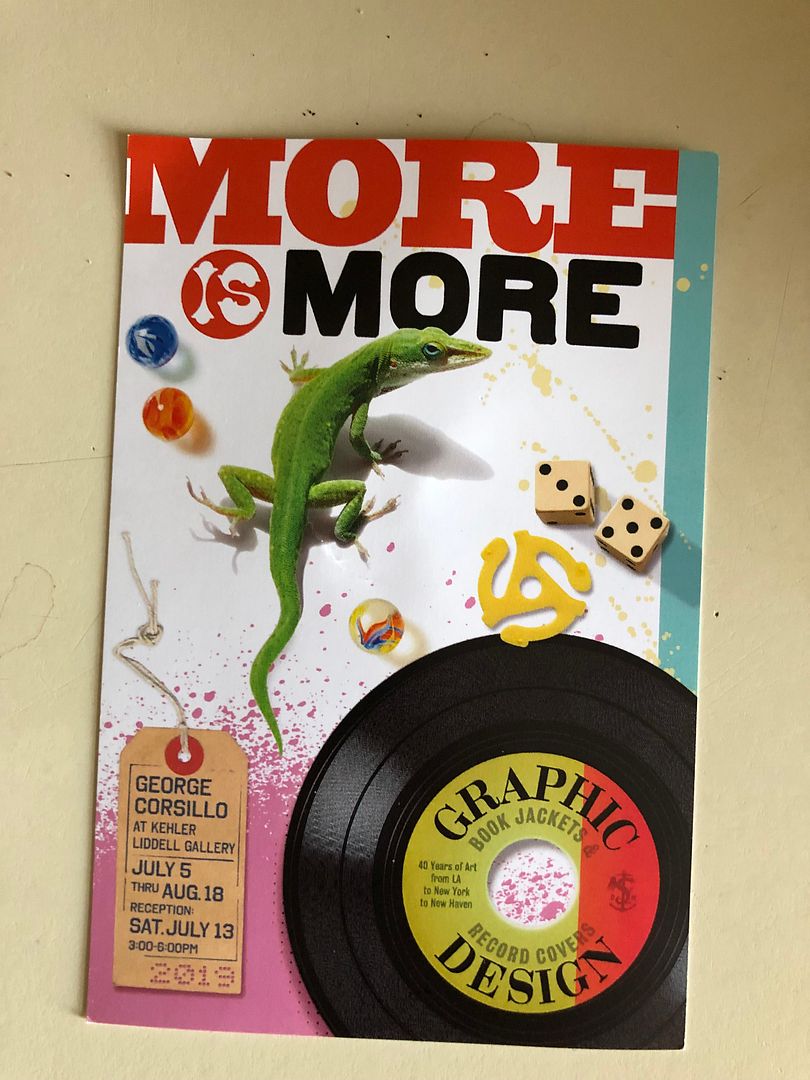 Friday while at work I was reading the Daily Nutmeg email I get (shout out to them) and this was the featured story. I was impressed that someone- George Corsillo- had created artwork for album covers, spanning back decades, as well as book covers and even Doonesbury. I looked into the event and decided some time on Friday afternoon that we should go.
Of course going to New Haven is a trip within itself with all that there is to do. I've been looking for what feels like way too long for a stadium seat cushion so that when I go to baseball games with metal bleachers and football at the Yale Bowl I can sit more comfortably. Sometimes, after a few hours, my butt hurts. I'd been looking on the internet, at Dick's and even at Citi Field and couldn't find one that was the quality and price I liked. A few months back at Campus Customs I seemed to recall seeing one that was the quality I wanted and I thought it was only $15 - $20 so I figured we could go pick that up as well.
At our first stop- Campus Customs- I found the stadium seat cushions and they were actually only $9.99! For the quality this is such a great deal. I got a larger one for me and a smaller one for Quentin. We then went to the Barnes and Noble on Broadway because it's one of my favorite Barnes and Noble stores. I found this cool off white snapback Yale hat with a wooden brown colored brim on clearance so I had to buy it for the upcoming football season.
Quentin also got a book at Barnes and Noble- Spider-Man Swings Through Europe!- which I might have bought even if he didn't want it. After lunch at Yorkside Pizza (which is great food and right near the once great Toad's Place, but the question of "What happened to Toad's Place" is another story I suppose) we drove over to Kehler Liddell, which is in Westville, a part of New Haven we typically pass through after Yale games. From what I read/thought the opening was at 3 pm and as such that was when the talk would be, but once we got there we found out there wouldn't be a talk until 5 pm and that was too late for us to stay for unfortunately.
Going through and seeing the various works of George Corsillo, and just knowing that it was all created by one person is truly amazing. I picked up an Exhibition Guide and there are a total of 81 pieces on display. From The Velvet Underground to Andy Warhol to Carrie Fisher to Dolly Parton it just spans so many different genres, so many different artists and so much time in the culture of this country.
My favorite piece is perhaps the cover of Less Than Zero, a book which I own and didn't even realize he had done the artwork for, the same person who did the artwork for the cover to the "Grease" soundtrack LP! I tried to prompt Quentin into asking the artist some questions but he wasn't into it. I had pointed George Corsillo out to my dad, so he went over and started talking to him instead. Sitting there on a bench with Quentin, listening to my dad talk with George Corsillo, almost interviewing him to some extent, as they discussed topics such as Johnny Cash, I just realized how wonderful life can be sometimes and these are the moments to live for.