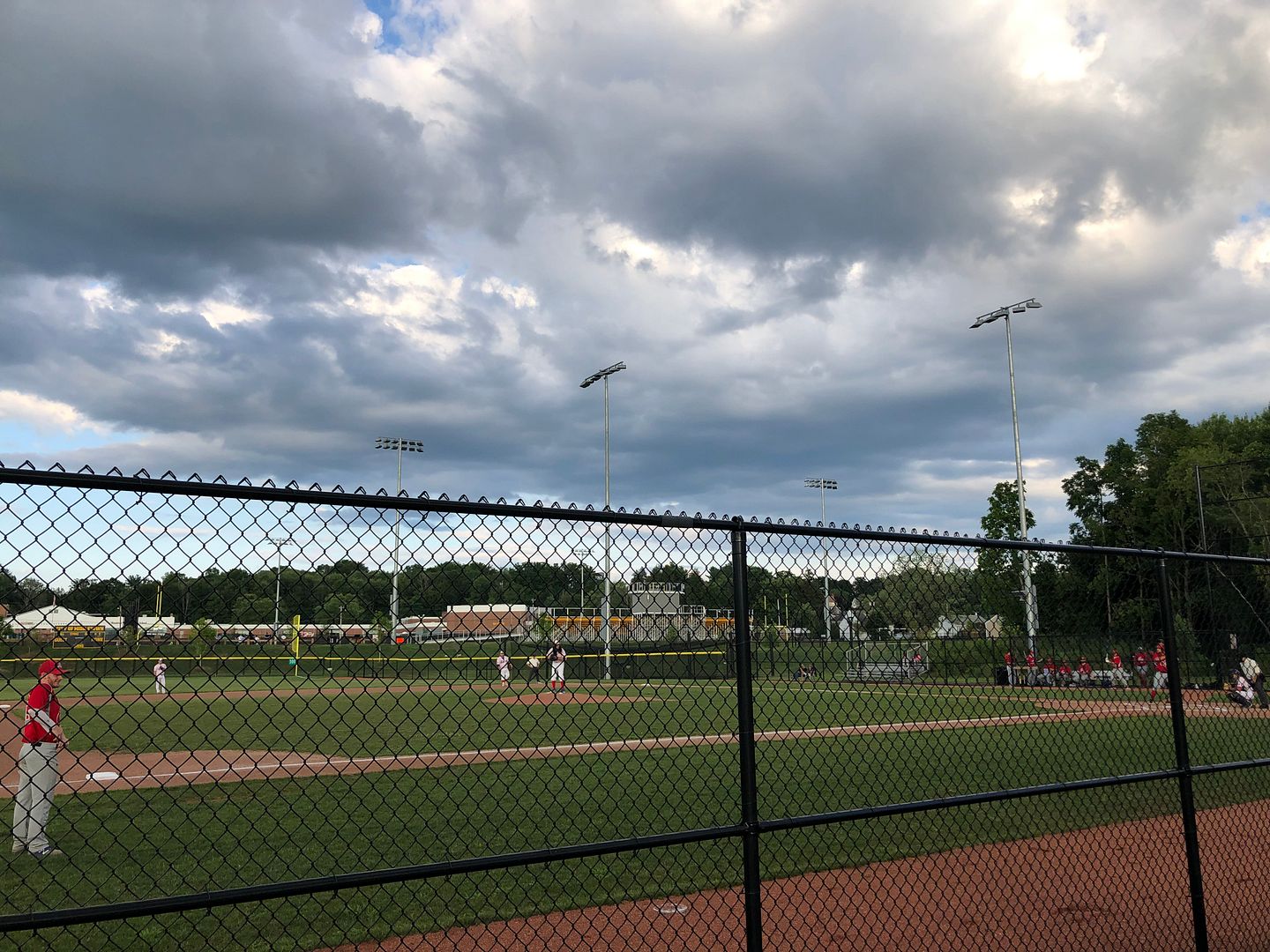 The official box score for this game can be found here :::
https://hartfordtwilight.sportngin.com/game/show/25513977?subseason=564508&referrer=4591727
More photos can be found in a Facebook album here :::
https://www.facebook.com/pg/raisedbycassettes/photos/?tab=album&album_id=2956330357741852
When you Google "Buzzy Levin Field" and "Pat Kidney FIeld" the same directions are given. This was my first time at this sports complex in Middletown and I must say that it was very nice. Next to the baseball field was another field where they were constantly playing softball- which got loud- there was basketball near by and up in the distance behind right field at one point I could see this group of youths dancing in unison. It was quite the scene. The only thing I didn't like about this field is that no matter where you were, you were outside of a fence that made it feel like a cage.
Look, I understand that the fence was there to keep the baseballs inside so the players didn't have to run as far to get them and also so that they didn't go into cars or people (The fence saved me more than once, though a fly ball did bounce off the roof of a car in the parking lot during the game) but something about watching through the fence made this feel like an MMA fight. Two teams enter- only one team exits. Who will survive and what will be left of them?
I made it to this game right around 7 pm and it had just started when I sat down in these metal bleachers. I decided this was not ideal for taking pictures so I got up to stand by the fence. For a while, I was holding my camera over the fence to take photos until I realized I could also take photos by angling the camera through the holes in the fence. There was a scoreboard, but I still kept score on my phone as well.
The Jewelers put up one run in the first inning and it was the only run they'd put up until the final inning. It was weird how well balanced this game was with the pitching and offense, both teams putting up hits here and there, sometimes getting into scoring position but just not being able to score. We went into the sixth inning around 8 pm and I when I say that the first five innings of this game felt as long as the final two I am not trying to be funny- it really did feel and appear that way in real time.
Nick Foell pitched a great game for the Expos. He only gave up one run but got out of a lot of tough spots and it's just this reminder of how good the pitching is for the Expos. Likewise, Christian Budzik pitched quite the game for the Jewelers, up until the end there. Sean Rivera pitched for a little bit and then Tanner Raymond (who is a new addition to the team) closed it out and managed to get the win after pitching only 2/3 of an inning.
What happened next... What unfolded in these final two innings is to be a story for the ages. The Legend of the GHTBL, if you will. In the sixth inning, Jack Rich made it to second base. A huge double by A.J. Hendrickson (who was catching tonight) brought Jason Sullivan home, making the game tied 1-1. When the sixth inning ended, I thought maybe the Expos would get out of the top of the 7th unharmed and then walk it off. No one could have predicted what would have happened next. No one.
In the top of the 7th, pitcher Christian Budzik came home and was called safe when the umpire said he moved to avoid the tag but from where I was the pitcher (at that time it was Tanner Raymond) was clearly in front of the plate so I'm not sure how that was possible. This put the Jewelers up 2-1. Then this huge shot by Mike Motyka went to left field. It dropped- from what I saw- foul and everyone else thought it was foul because all of the Jewelers players acted how you would on a foul ball not a fair ball. The umpires called it fair, everyone started running and the Jewelers were up 4-1. I was coming up with ideas in my mind of how to say the Expos could never be counted out, like "The Expos always find a way" but those were quickly turned to ideas of the Expos breaking their winning streak and taking their second loss of the season.
While we were in the bottom of the second with two outs (two outs no less!) Jack Rich comes up as the Expos put together a string of runners on base (some of them were walked there) and hits a huge double that drops deep into center and clears the bases. Just like that, it was a tie ballgame. This didn't feel like real life. It felt like someone writing a movie about the Expos where they comeback and win it in the end.
Now, when Jack Rich hit that ball I was watching it to see if it was going over the fence. A grandslam would've been the walkoff right there. When I looked back towards the pitching mound, the Jewelers pitcher Christian Budzik was spewing obscenities, looking like he was ready to fight the entire Expos team for some reason. I don't know what happened exactly or why, but I do know this: When the Jewelers scored (on plays which were questionable to me) the Jewelers celebrated and the Expos didn't try to fight them.
Yes, the umpires were making poor calls all night in terms of balls and strikes but that worked both ways. Also, the way that Jack RIch hit that ball... what are you going to blame that on? Poor umpires? There's no excuses for that. It was a great hit, a clutch hit and that's part of baseball. I just wish the Jewelers were as gracious in their losing (Though at this point they were just tied) as they were expressive in their winning (or at least getting runs on the board)
Needless to say, Christian Budzik was taken off the field by the much larger umpire who was holding him back. I'm not sure if it was one of those things where he got so worked up he had to leave the game or if he simply got ejected, but either way he pitched a heck of a game and you want to leave on your own terms, being applauded and not dragged out kicking and screaming.
There was a bit of a delay with everything going on and we all had to kind of take a moment to catch our collective breath. Mike Motyka came in to pitch for the Jewelers. He just happened to be facing A.J. Hendrickson. One pitch later, A.J. Hendrickson walked off the game with a deep shot to center field. As an Expos' fan, as a player, you couldn't ask to write a better comeback story. A.J. Hendrickson truly had a game tonight and since I don't know if anyone else will do it, he gets my MVP of the Game award. And, of course, after the game you know I walked out to center field and got that homerun ball.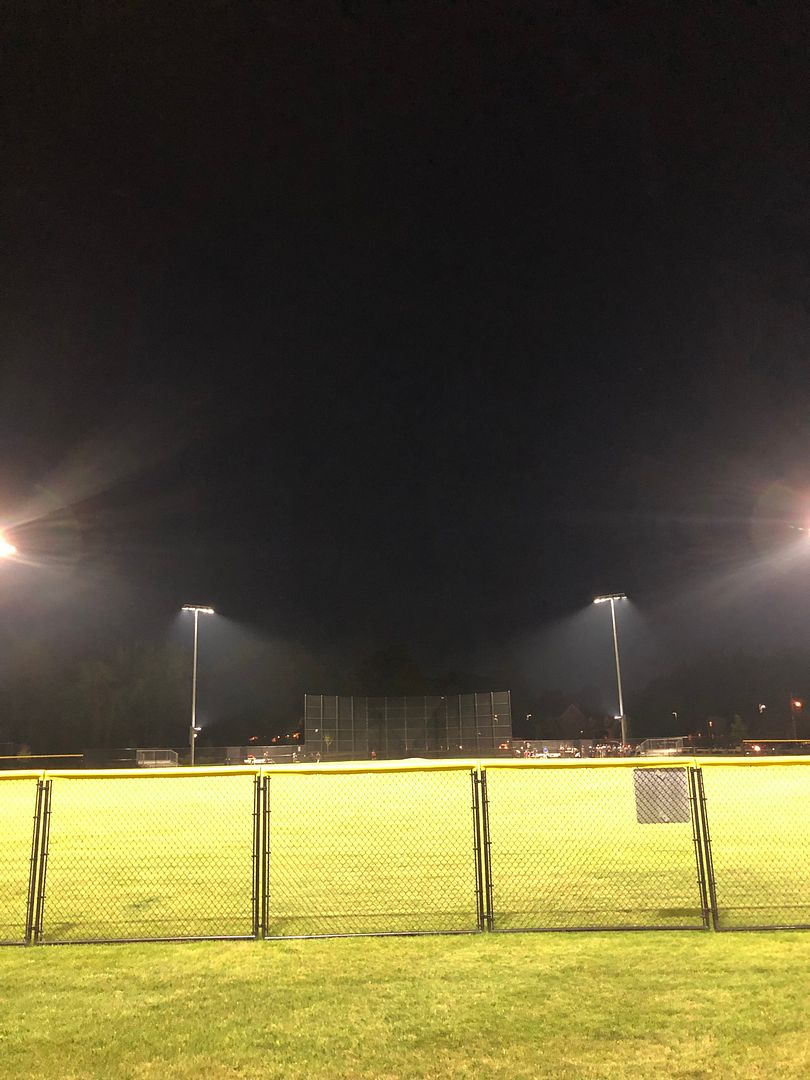 View from where game winning homerun landed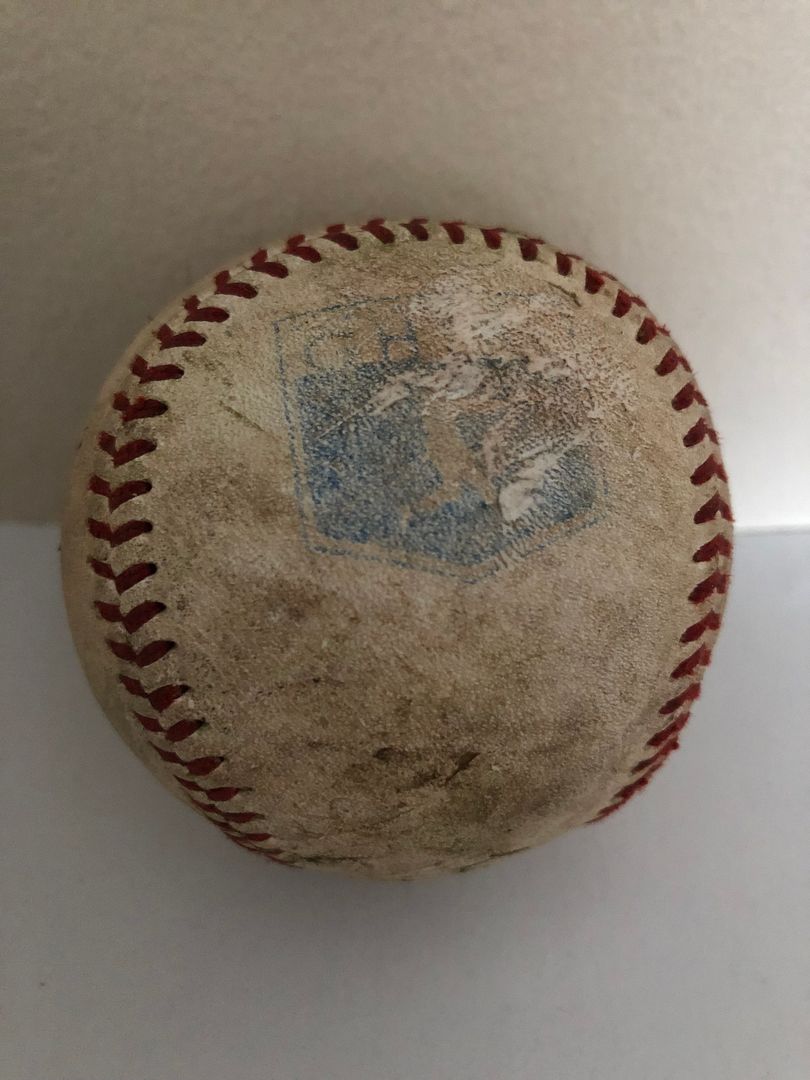 Game Winning Ball
GHTBL after dark