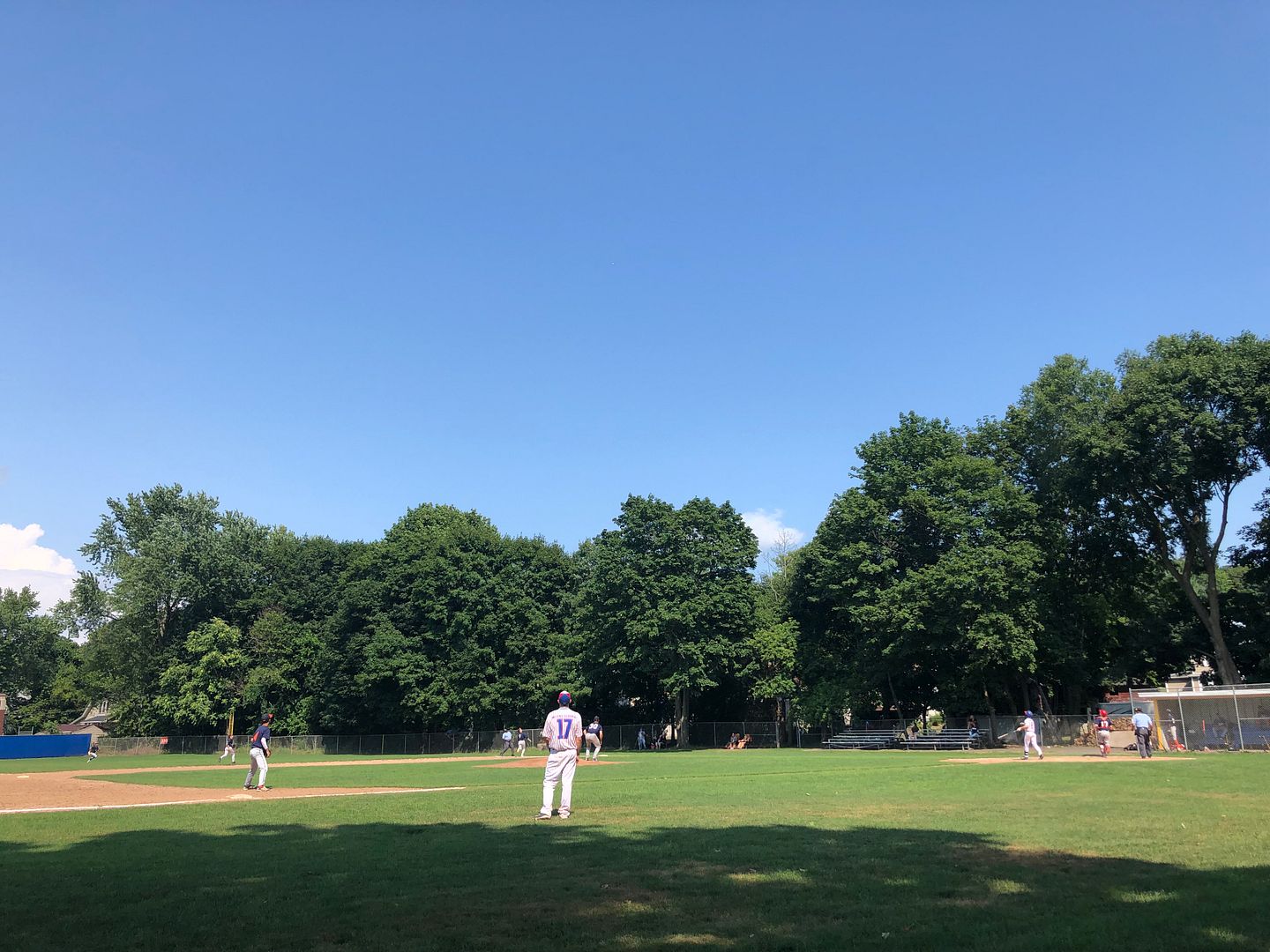 Official Box Score here :::
https://hartfordtwilight.sportngin.com/game/show/25885118?subseason=564508&referrer=4591727
Photos can be found in a Facebook album here :::
https://www.facebook.com/pg/raisedbycassettes/photos/?tab=album&album_id=2966881336686754
The last time I saw the Expos they lost to the Phillies and the last time I saw the East Hartford Jets they were sitting behind me at Dunkin Donuts Park. I didn't see the Jets get the win at Dunkin Donuts Park last week, but at Palmer Field they almost beat the Vernon Orioles and that's not easy to do. I have seen the Expos vs. Jets before this season and the Expos won and as this was supposed to be a game played in Jets turf (like West Side Story) they were the home team even though we were in Meriden. So, sometimes rain can be good if it brings a game closer to me.
Right when I got to Legion Field I saw a lot of cars in the parking lot and they appeared to be having some sort of party. It was what they called "Big Daddy's Bash" and so parking was terrible but the game was still on. Before the game started, Quentin took the orange bat to get signed by the Expos and then took some BP with Joey Gulino. Ultimately, we ended up having to go to the bathroom before the game started as well, which put us inside the Legion building which was full of bikers and... Well, have you ever seen "Pee Wee's Big Adventure"? It was like a scene out of that film.
James Kukucka is that one pitcher everyone knows from the Jets but he did not start this game. He started the game I saw at Ceppa Field earlier this season as well as the game at Palmer Field (Hardball For Heroes) but this game had Taylor Kosakowski on the mound for the Jets. For the Expos? Charlie Hesseltine. I'm not sure how he does it, but I felt like he was striking out two batters every inning. The Jets probably felt that way too because they weren't getting a lot of hits throughout the game.
One of the things that I like about all of the baseball that I follow, and especially with the Expos, is that it seems like there are always these stories that you just can't make up. Sometimes you see a baseball game and it's about the baseball and sometimes there are other things in play. Even the game on Wednesday had that suspense not every game has. This game though had the party next door.
I was rather worried about someone hitting a foul ball over there because their music was loud and so a "Head's up!" might not have been heard and the last thing we need is a bunch of bikers fighting a bunch of baseball players. Somehow, no one hit a foul ball over there on Saturday afternoon, though they did Friday night. The music was mostly classic rock like the types of things you'd hear on a classic rock station, so I knew all of the songs and then they'd throw in that song that was country but also felt like classic rock and one time I even heard Johnny Cash.
Even though I thought the music might distract the players, it somehow seemed to motivate the Expos. When you're at Dunkin Donuts Park and the music is blasted right into the field, yeah, it's loud and makes it hard to focus, but with this as a background more than in your face I think it somehow worked. At one point, the party next door announced a raffle and one of the prizes was a gun.
They also announced it was Wizzer's birthday (They might have said "Wizard", but a) what are the odds of a biker being a wizard ((Side Note: Someone make that a comic book)) and b) "Wizzer" is just funnier) and so everyone kind of sang Happy Birthday to him and someone had a mic and put out a few lines of it but didn't quite lead the whole song. Sometimes I feel like these games are wild hallucinations but if I was on drugs like Hunter S. Thompson I don't know if that would make the experience better or worse (At this game I probably would've been really paranoid)
Another thing I forgot to mention about Legion Field is that airplanes constantly fly over it and that's kind of neat. The Expos went on the board early in the second inning and then had a big third inning. Kyle Hartenstein hit a solo homerun to start things off, while Will Kszywanos cleared the bases with a double for a four run inning. This forced a pitching change for the Jets. The Expos would continue to score but it wouldn't be until the bottom of the 6th when the Jets finally put up three runs, two of them on a double by Jeff Criscuolo.
Though the Jets went through several pitching changes (I believe they used three pitchers) Charlie Hesseltine pitched a complete game and was still striking out the Jets right up until the last batter. Somehow, the biker bash ended at the same time as the baseball game- not sure how they planned that one- and I'm not sure if I'll ever see another baseball game that has a similar party going on in the background but at least now if I do I can say "This is my second time..."