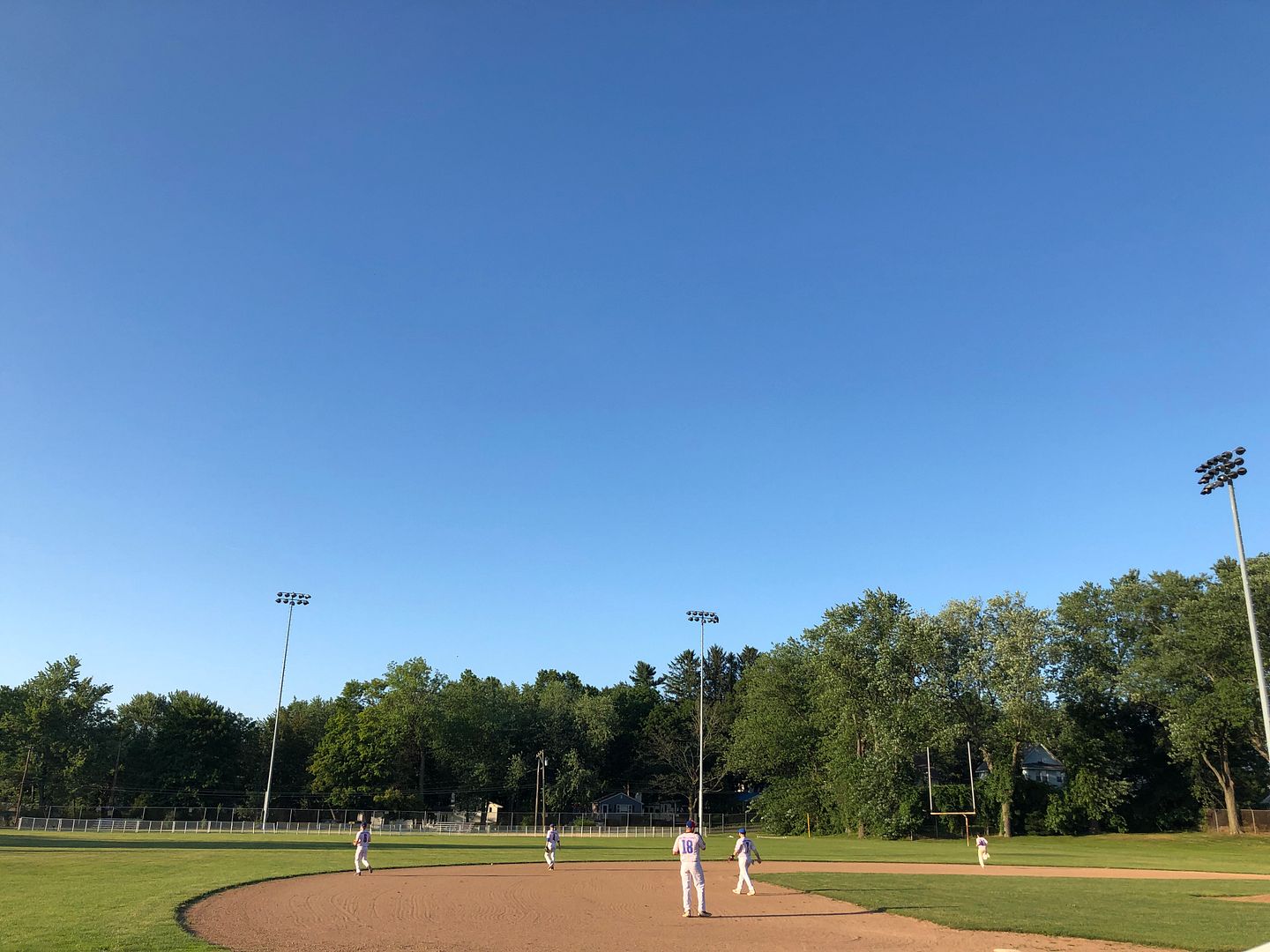 When the official box score is up, I will update this link as such :::
https://hartfordtwilight.sportngin.com/game/show/25513968?subseason=564508&referrer=4591727
More photos can be found in a Facebook album located here :::
https://www.facebook.com/pg/raisedbycassettes/photos/?tab=album&album_id=2913553905352831
After a week off for the 4th of July, the GHTBL returned to Ceppa Field where the Record Journal Expos hosted the People's United Bank. This game was actually quite interesting on paper because you had the first and second place teams in the GHTBL battling it out. I felt like that would make it quite competitive and it really did. At no point throughout this game did I really think it was over, unlike the night before when the Phillies took an early 4-0 lead and I just felt at that point that the Mets would never comeback and win it, though they obviously could have.
This was my fifth Expos game at Ceppa Field and I knew that at some point during this week I would see Charlie Hesseltine pitch, I just didn't think it would be tonight. Seeing Charlie Hesseltine pitch is something I think every fan of baseball should experience at least once in their lifetime. Throughout the game he just never seemed to lose his steam and since he pitched a complete seven innings you would think by the end someone would be thinking of bringing in a relief pitcher but instead he was still dishing out strikeouts.
With this being a 3-1 game, I think there came a point in it where the tide really turned and the Expos won it. After putting up two runs in the bottom of the first, the Expos added on another run in the fourth to keep it 3-0 for most of the game. Even during this very season I have seen the Expos down by several runs only to come back and walk it off. Three runs is not a large lead and this could have been the case for PUB but their offense was just no match for the best pitching in the GHTBL.
In the top of the 6th inning one of the PUB players hit a double over the fence in right field. The umpires and Expos players out there all saw it land and bounce over the fence. Many of the PUB players thought this was a homerun, however, and this lead to what I feel like really just took the wind out of the sails of the team. Had that been a two run homerun, the game would've been much closer and maybe the PUB could have started some sort of momentum to muster a comeback.
Now, even though I go see the Expos at Ceppa FIeld and it is their home turf, I still just love baseball and feel I am impartial. From where I sit, I cannot see that far into the outfield to see whether or not the ball bounced or shot over the fence. In situations like that, you have to trust the judgment of the umpires. That is why they are there. But the third base coach for the PUB was not too happy about it, saying several times he saw it go over the fence. He also went on this rant for no real reason with Jason Sullivan about how their team was missing all of their best players. No one likes excuses.
To perhaps prove the umpires weren't biased, there was a play where first baseman Will Kszywanos ran towards the stands to catch a ball, caught it and then was told that it didn't count because he was out of play. If you dive three or four rows into the stands in the majors and catch a ball it can count as an out still. Maybe that would've been the distance of twenty rows deep- I don't know- but the fact that he was able to get there and make the catch just proves it should've been an out. But, I don't make the rules.
This was just such a solid game to start off the week for the Expos and I'm always amazed that I'm watching baseball in the GHTBL where they don't charge you admission and, yet, I paid more than I'd care to admit for MLB tickets the day before to a game which was not nearly as exciting. After the game, I met Charlie Hesseltine and he sold me a ticket to the GHTBL Hardball for Heroes event, which comes up this Sunday and I think anyone reading this should go to Palmer Field for that.
Also, Charlie Hesseltine answered my quest for a new GHTBL logo baseball and, again, thank you for that. These kinds of things are priceless to me. The Expos play again tonight- I'm leaving in about an hour as I sit here typing this- and then again Thursday night, so three games at Ceppa Field this week coupled with the Hardball for Heroes event on Sunday just makes me feel like this is going to be such a great week for GHTBL action. I fully expect to see A.J. Hendrickson pitch one night this week- probably tonight- but the idea of a third unknown pitcher is also appealing to me for the days to come.