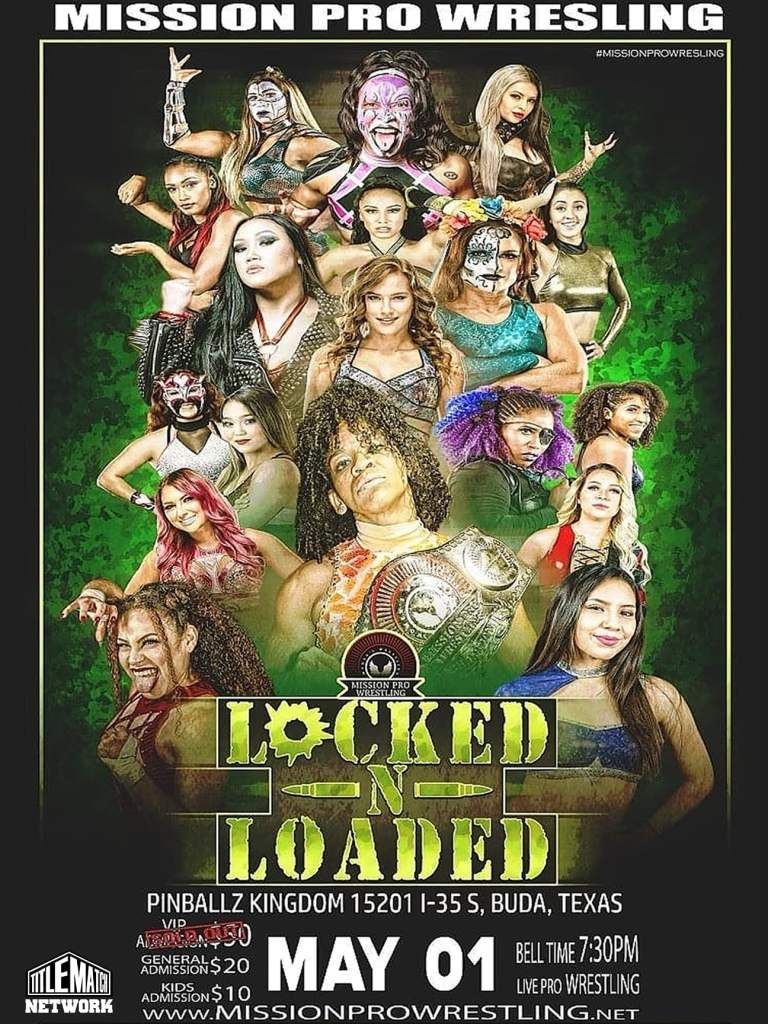 https://titlematchnetwork.com/

https://www.missionprowrestling.net/

This was not only my first time seeing Mission Pro Wrestling but it was also my first time watching anything on Title Match Network. I will say, first off, that someone at Title Match Network needs to work on their "run time" of events. Prior to streaming this one it says it is approximately two hours but it comes up at two hours and forty four minutes- so really closer to three hours. I just only really have IWTV as my other wrestling streaming site and they don't tell me how long an event is before I click play and so I don't know if it's worse to have no info or the wrong info.
I actually meant to check out the Mission Pro Wrestling show prior to this one- "Empty Promises"- but then I got a little bit busy and ended up jumping on board here instead. I will, however, go back and watch "Empty Promises" still because that's one of the benefits of Title Match Network: not only can you watch the new shows, you can go back and watch the past shows as well. So I'm really excited about how much content is on Title Match Network and how much of it focuses on women's wrestling. I wouldn't say that I'll be using Title Match Network just for Mission Pro Wrestling, but paying that $9.99/month for MPW is definitely worth it.
What I like about "Locked N Loaded" is that it features women that I know, women I've only heard about and women that I've never heard of before. This show also had that build where, if you can believe it or not, each match got better as the show went on. Things started off with The WOAD defeating Alejandra The Lion. I've heard of Alejandra The Lion before but I've never seen either of these women actually wrestle. This was a fun match that made me a fan of both these ladies and I look forward to seeing more of both of them in the future.
The second match saw Dulce Tormenta defeat Jazmin Allure. I've heard of Jazmin Allure before but I'm not sure I've seen her wrestle. This was also my first time hearing about Dulce Tormenta but if you ask me to watch a woman wrestle in a mask like they (mostly) do in AAA then I'm all for it. I will always have a soft spot for lucha libre and for luchadors, but especially for luchadoras. Rache Chanel took on Leila Grey in the third match and I'm just now getting into the AEW YouTube shows but I think Rache Chanel has been on those.
To me, the first three matches were the opening type of matches that make you get hyped for the show but it's that slow uphill build, like a rollercoaster ride. Now we're just at that top point and we're going to go down fast, hands up and screaming with excitement. This was when the show really took off for me. This was when I started recognizing the women and really got into the matches. This started with a triple threat between Masha Slamovich (who I adore), Viva Van (who I don't know) and Vipress (who I've seen around, such as on CWFH, and enjoy) Let's be fair. Masha Slamovich won this match. Masha had Viva Van defeated and Vipress just slithered in to steal the victory.
The match I really was watching this show for- the reason why I'm going to pay Title Match Network $9.99/month now- is Holidead vs. Jennacide. They compared this one to a zombie vs a cyborg and it wasn't far from the truth. This was a Falls Count Anywhere match and these two women left it all out there, all the energy spent and left inside that ring. At the end of the match I feel like Jennacide kind of won with a... I don't want to say quick count, but I just don't feel like Holidead was defeated. And commentary said that they thought Holidead was surprised or something but she just seemed like she wasn't done yet.
Jennacide and Holidead have fought each other before (I can track down that match and watch that show now) but this could be them leading to a third match. I think since Holidead didn't quite seem defeated- she still seemed like she had some gas in the tank there- we should go for a Last Woman Standing Match, yeah? That's something I think everyone would like to see.
I've heard about Madi Wrenkowski and Tesha Price both from the AEW YouTube shows but this was my first time seeing them wrestle. I actually liked Tesha Price and I hope to see more of her in wrestling in general. Raychell Rose (who holds gold somewhere I believe) defeated Rok-C. I know Rok-C because she comes from the school of Booker T, so I've seen her matches before but this was my first time seeing Raychell Rose wrestle and I was impressed. This was a great match between these two and it was hard to follow Jennacide-Holidead, but they're doing it.
Part one of the main event saw Alex Gracia defeat Marti Belle. I've only read about Alex Gracia, but to me, Marti Belle is a star. As commentary pointed out (and commentary was just great throughout this whole show, I tip my cowboy hat to them) Marti Belle was in the first ever Mae Young Classic. She's been in Impact Wrestling. She's really got this name value that not many other wrestlers have. But Marti Belle is a star because I was watching Hulu some time ago and I saw this commercial and Marti Belle was in it. And I know that makes Marti Belle a star because when I saw it my first thought was "That's Marti Belle!" and not "Wow, that looks a lot like Marti Belle, I wonder if it is"
Being able to have that presence where I can see you outside of a wrestling setting and still recognize you like that is just one of the reasons why someone can be a star. I like to call it "The Elvis Factor" because Elvis Presley was just so unreal in the way that he always looked Photoshopped into photos. A lot of wrestlers within WWE and what not have that star power and Marti Belle has it as well. Not sure why Marti Belle isn't tearing it up in WWE right now, but hey, their loss is Mission Pro's gain, right?
Prior to the main event match there was an in ring segment where David LeGreca came out and Thunder Rosa beat him up. Look, I don't know the history here but I know that as a fan and as someone who is living with technology in the year 2021: there are too many damn podcasts. I actually have the word "podcast" muted on Twitter. So seeing a podcast guy get beat up by Thunder Rosa is something I will always cheer for. Thunder Rosa is also out there having some of the best matches of her career in AEW, if you were wondering about her and how I watched NWA to see her- and Marti Belle- but without them I haven't really watched NWA as much.
The main event of this show saw La Rosa Negra defeat Red Velvet in an open challenge for the MPW Title. Admittedly, I feel like I have to have seen a LA Rosa Negra match before now but I don't recall one. I know Red Velvet has been tearing it up in AEW. Seeing these two is some kind of dream match for someone and if you want to know why La Rosa Negra is the MPW Champion, well, this match would definitely show you why.
One thing I can understand about wrestling- as a fan- is that it can be overwhelming sometimes. There is a lot of wrestling out there and a lot of wrestlers as well. It can be difficult to get into something new. I feel like a lot of wrestling is just this moving train and you're waiting for the right moment to jump on. Is "Locked N Loaded" the best show to start your MPW experience? For me it was. I know it makes me want to go back and watch previous MPW shows but you're never going to be able to go back and start with one of those anyway, so why not dive in right now at the present.
Aside from this show- and again I stand firm in my belief that paying $9.99/month for one MPW show is well worth it- there is a new show from Hurricane Pro Wrestling on here which I want to watch, Ladies Night Out is on here (and I've been meaning to check out that Wrestlemania weekend show they did) and then there's also this VIP Wrestling show with Lio Rush, ACH, JTG vs. Homicide, Chris Dickinson and so many others so I want to watch that as well. So, really, for me if you can watch five shows a month you'll pay about two dollars per show and that justifies having Title Match Network. But as I keep typing Title Match Network feels to me like it's Mission Pro Wrestling and so much more.