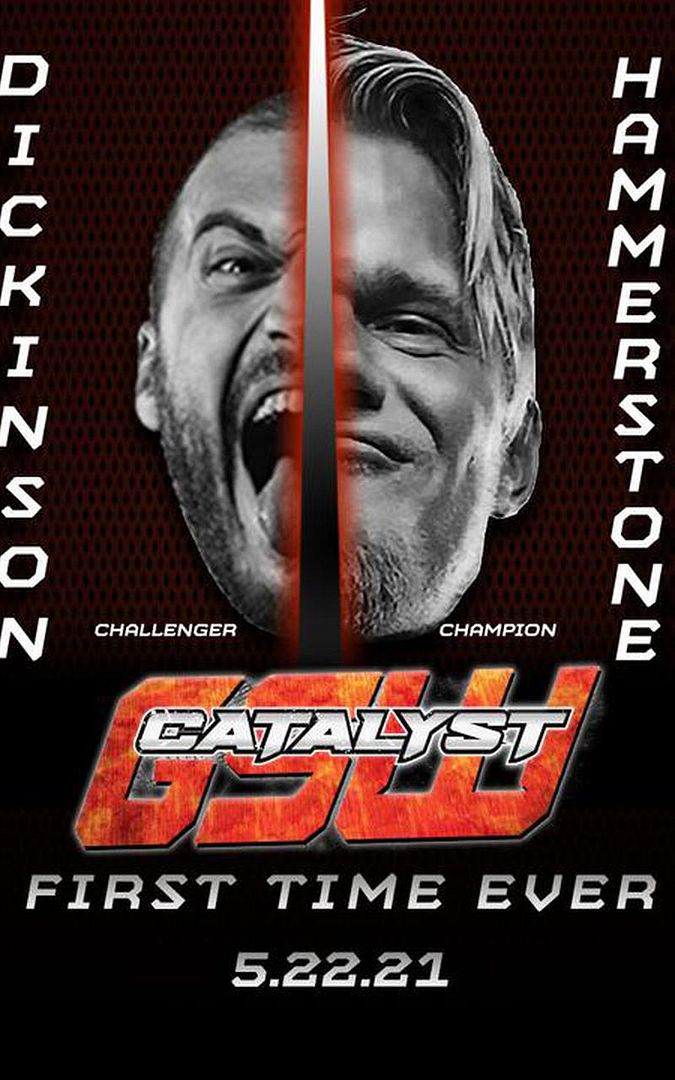 A short while before Global Syndicate Wrestling held their first show- Inception- I saw a poster for it on Instagram. This made me order the PPV but then after watching it my thought was that if they come back to New Jersey at a time when I can see them I will do so. I will say this any time anyone mentions this show but the women's tournament really sold me on this show. Four matches and eight of the best wrestlers in the world today. We were just at this Knights Of Columbus two weeks prior for Pro Wrestling Magic and so it felt nice to be back.
The way the directions send us we drive by the Knights Of Columbus before we can find street parking so we saw people still waiting outside. This had us go to the nearby 7-Eleven to use their bathroom. Quentin also got a hot dog and a plush Spongebob. They have this Pop Vinyl Slushie I saw on Twitter but it wasn't at 7-Eleven. As we're leaving 7-Eleven, a vehicle comes in and I see Hammerstone himself get out and walk across the parking lot. I roll down my window and yell "HAMMERSTONE!" and he gives me the peace sign.
Once we found parking and made it back to the venue we were able to go right in. They gave us these cool lanyards that have a VIP pass looking deal on it and I think that's a nice touch that more wrestling promotions should consider doing. Just from the perspective of a promotion, if you have a fan who is posting selfies on social media during the show or photos with the wrestlers then that lanyard is there like a little advertisement and reminder of what show it is. I think it's neat as a collector and as memorabilia but from a business stand point it's also great marketing.
This show was pretty bonkers. Traxx came out first and no one knew who he was. Then Smiley came out and was playing the good guy so he got cheers. I've seen Smiley in Pro Wrestling Magic and Invictus and both times he's played the heel, but I like him-- I like his character and all. So I was glad that during this match I was able to not only see Smiley as a surprise but also cheer for him. Jared Silberkleit getting spiked by Smiley was also the first huge pop of the night from the crowd.
What I liked about Catalyst- and this just made sense to do- was that they had a women's tournament match, then a non-tournament match and they just alternated them throughout the night. We had no idea who was coming out other than the first match because that news broke on Twitter earlier. When Allysin Kay got into the ring and the ref asked "Are you ready?" Allysin Kay responded with "No, I'm putting my jacket up" (something to that effect) and Quentin started laughing. He said that was his favorite part of the show so far and that had him watching the match carefully, instantly becoming a fan of Allysin Kay.
After the match and win by Allysin Kay, The Hyan was attacked by Masha Slamovich. There was this one guy in a GSW shirt and I swear he works for the promotion but he kept walking back and forth in front of me because I was cheering for Masha and clapping. I get it. Masha Slamovich is supposed to be a heel. But at the same time, GSW didn't put her in their women's tournament, so she has every right to be upset. Also, when she said she was going to show up and cause trouble rather than book a match GSW banned her from the building. As a fan, I wanted to see her wrestle so wouldn't that make the GSW more of a heel authority?
But then you get into the grey area of professional wrestling. This is what I love about professional wrestling right now and what GSW specifically is doing. Fans can say that Masha Slamovich didn't go about this the right way, that she should have played by the rules and they can boo her. Or they can see it like I do. And, to me, things in life aren't always black and white, good and bad, face and heel, you know? So why should wrestling have to be face and heel? Why can't you be presented with a story such as Masha Slamovich vs. GSW and be allowed to pick your own side, since I feel like both sides are somewhat justified. It's just nice to see something not feel so one dimensional though, don't get me wrong I also love when wrestling is one dimensional and it's easy to boo a heel. (More on that later)
In a four way match to crown the first ever GSW Dream Openweight Champion, Wrecking Ball Legursky defeated Donovan, Richard Holliday and Tyson Maddux. There was a match to get into this match which Wrecking Ball won. I thought that if Wrecking Ball didn't win that match then maybe he could challenge Jacob Fatu and earn an MLW Title shot, but him getting into this match and winning this title seems like a better plan now that it's played out. You cannot deny how over Wrecking Ball is with the crowd and I hope this title just pushes him to that next level where everyone sees him the same way that these Northeast crowds see him.
I'm never sure how things come across on television versus when you're there live but at the start of the Vicious Vicki-Holidead match a rowdy fan yelled something about how Vicki was going to kill Holidead to which Holidead replied and told that fan to stop drinking, which got a pop from the crowd. These two had a great match and I just think and wish that Holidead won. Apparently Vicki's finisher is a roll up because it's the only move I've seen her use to win when she doesn't cheat, but it's still kind of cheap.
I was counting matches in my head, realizing we were at about the halfway point of the show, and so my mind went to "Well, when intermission hits everyone is going to run to the bathroom so let's go now and beat the line!" Quentin had to go too so it worked out. We actually the entire tag team match right before intermission though. When I got home some time on Sunday I saw this tweet going around about how you're not supposed to take photos of yourself (as a wrestler) with a rival or with fans at a restaurant or whatever. Just basically someone out of touch with wrestling in the year 2021.
So, to somewhat upset this person who tweeted (doubt they'll see it) and just break kayfabe because why not I saw Masha Slamovich in the hallway near the exit. I kind of waved to her and then asked "Am I allowed to talk to you?" because I knew she was banned so I didn't know what the rules were. But, alas, I stood there in conversation with her until intermission. And to break kayfabe one step further (oops) she mentioned something about if she should sell merch during intermission and I said "You have merch? You should sell me merch right now!" and so she did.
It's kind of funny because if I found out that someone was able to buy Masha Slamovich merch and I missed out because she didn't set up at a table during intermission I would be upset. But since I feel like she sold merch only to me on this night it makes me feel special because she is my favorite wrestler currently as I just enjoy seeing her everywhere she goes and brings her particular brand of violence and mayhem.
During intermission the first wrestler we made our way toward was Allysin Kay. Allysin Kay has a foam hand with Pinkies Up and as soon as Quentin saw it he said he had to have it so that solved the question of what merch to buy from her. We took a picture and then every photo after that also had the foam Pinkies Up hand in it, which is kind of funny because if we went to Allysin Kay last that wouldn't have happened.
When we went to see Holidead there was the fan from earlier over there talking to her again, just seeming like he wanted to start shit. Holidead said she was going to chop him and I said I'd pay $10 to see that. The fan said he'd only do it for 20% and that just seemed like his way of admitting he was scared and no matter what the price was I don't think he was really going to let it happen, which was unfortunate because he was fairly annoying. I bought a new Holidead shirt though and now I have two different shirts for her, something I can't really say about a lot of other wrestlers.
I need to say this now at this point. If you're a wrestler and you don't sell merch or come out with the fans, it's cool. I respect it. You do you. But the fact that Allysin Kay and Holidead were out there the whole time from intermission on, selling merch and taking pictures just feels like what it's all about. I mean, you make x amount of money as a wrestler for your booking, right. But you can bring in more than that by also selling the merch. On top of that, you take a picture with a fan and someone on Twitter sees it and says "Hey, this fan met Holidead at that show, I'm going to go to the show near me that she's on so I can meet Holidead too!" It just feels like win-win all around. But with COVID-19 and fans being creepy I can understand why someone might not set up merch just the same.
I went over to talk with Wrecking Ball Legursky and then Smiley was near him so I was kind of talking with Smiley too. Quentin had the Pinkies Up foam hand and Smiley stole it from him so they were kind of playing together while I was talking with Wrecking Ball, which I thought was funny. One day, Quentin will take that photo with Smiley but they were coming back from intermission so they made us all move. We bought a Wrecking Ball shirt though, as Quentin fits into an adult size small now apparently, and also took a photo with him because Quentin likes holding the championships and Wrecking Ball is for the kids.
Back from intermission and we started hot with Deonna Purrazzo vs Jordan Blade. I love how much I've seen Jordan Blade in such a short period of time and she's one of those wrestlers that I think when people see her style and what she brings inside that ring they're just going to fall in love with her too. Deonna Purrazzo got the win here but it was such a great submission-based wrestling match. Even in defeat, Jordan Blade looked good.
Jacob Fatu came out next and he didn't have an opponent. This made me remember that before intermission, Davey Richards also came out and basically set up an open challenge for the next show. Prior to the show starting, Davey Richards walked right past me and I said "Welcome back, Davey!" and he fist bumped me and said "Thanks". That's a moment no one can ever take away from me.
I had my ideas about who could answer the open challenge of sorts by Jacob Fatu but I didn't think Matt Cross was going to be the one. This was that hard-hitting of Jacob Fatu and the dude is big but just moves like poetry. It's crazy to see live because it just doesn't seem real. For real, after the show I bought an 8x10 and took a photo with Jacob Fatu and told him of all the World Champions, all those champions, he is my favorite and he is the best. I just don't see any of them being able to do what he does and for how long he has done it for. Jacob Fatu is just something special and if you're not watching him yet now is the best time to tap in.
In the final match in the first round of the women's tournament Trish Adora defeated Kimber Lee. This was a match where I felt like they were just beating the hell out of each other. What I want to say about this match applies to really all of the matches in the tournament. Sometimes, with tournaments, you feel like the first round matches are kind of lighter and they don't go as hard for whatever, they kind of build up to the finals. But all eight of these women were fighting like it was the finals. This is the way it should be because if you lose you're out but just the intensity of the four first round matches was on another level and it makes extremely hyped up for the next round.
The main event saw Hammerstone successfully defend the title against Chris Dickinson in a hard fought match up. The crowd seemed to be on the side of Chris Dickinson and this was one of my favorite Hammerstone matches to date. After the match, Hammerstone was attacked by Big Trouble Ben, Man Crush Monday and Steve Maclin. So there was an autograph signing earlier in the day which had both Deonna Purrazzo and Steve Maclin on it. I thought this could mean Steve Maclin coming out to face Jacob Fatu, but him going straight for the champ also seems like it could be interesting.
I know when someone is released from WWE the fans are either "Well, he sucked anyway" and they get upset when they seem them pop up in other promotions or they feel like "Such a waste of talent they're going to be huge in AEW", but there seems to be no in between. I feel like Steve Maclin is someone who was wasted by WWE. They could have put him in any number of roles that they didn't and tried to see if it was sink or swim. What I liked about Steve Maclin the first time I heard about him in NXT is that he's a veteran. WWE has their whole "Tribute To The Troops" deal, I mean, what better way to support the troops then give a veteran a shot.
I'm not really sure how the rest of the internet feels and I don't really care. Not reading dirt sheets keeps me happy and avoiding negativity on Twitter also keeps me healthy. But I'm actually really excited to see what Steve Maclin does not just in GSW but in wrestling in general now. This is his time to put up or shut up and I think he's going to show a lot of people that he has what it takes and WWE made a mistake by releasing him. I don't often say that about WWE releases because I tend not to care about WWE, but I think Steve Maclin is going to be one of those names you hear this summer in just such a huge way.
What I love about professional wrestling right now is that you can go see a promotion like Global Syndicate Wrestling and have a different experience than if you see Pro Wrestling Magic or WWR+/Beyond or Invictus or Blitzkrieg! Pro. There are a lot of great wrestlers out there right now and I don't mind seeing them in different match ups (you'll notice the same names coming up in a lot of my live reviews and that's on purpose) To me, GSW has that feeling of highlighting names people outside of the Northeast might not know but also bringing in the big names like Jacob Fatu. That just makes it such a great time to be a wrestling fan.