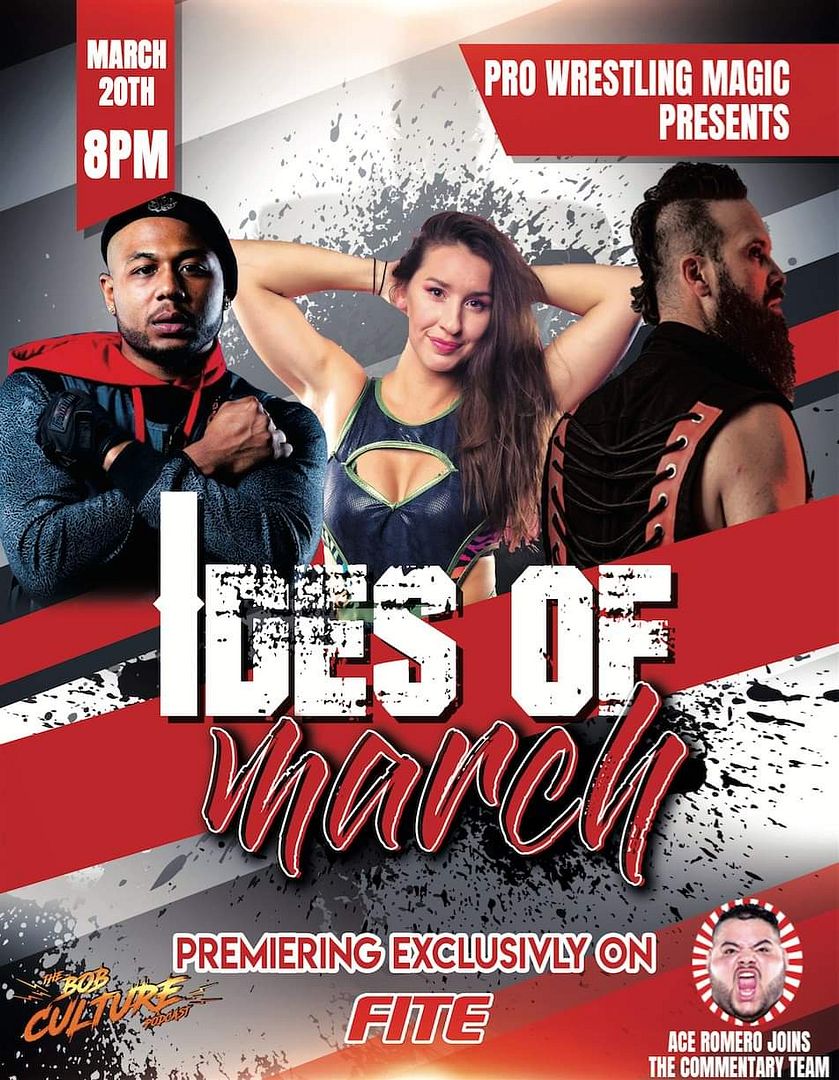 Order the replay here ::: https://www.fite.tv/watch/pro-wrestling-magic-ides-of-march/2p8ya/
This was my second time watching Pro Wrestling Magic on FITE TV and once again when I purchased the event they gave me a dollar credit. I think the way that FITE does that is fun because it's kind of like when you buy so many shows you'll get one for free, sort of a frequent customer special, and it kind of rewards you for watching. Though, not to play spoiler, but I'm cashing in my credits for The Collective weekend coming up.
There are several stories going into this, which is what I like most about Pro Wrestling Magic perhaps: In just the one show I watched before this I am already invested in their characters and they seem to have a sense of purpose. Yes, I enjoy putting on a wrestling show and seeing two wrestlers I recognize have a match and then seemingly disappear for months, but to have that quality which makes you want to come back for the next episode not just to see Wrestler A vs. Wrestler B because you think it will be a good match but because there are stories you want to see resolved as well.
"The Ides Of March" opened up strong with Darius Carter defending the Dark Arts Championship against Erica Leigh. Pre-match, Darius Carter is being interviewed about his win over Billy Dixon and gets upset because he is asked about Erica Leigh. Erica Leigh comes out and asks Darius Carter why he had to get involved in that match between her and Jordan Blade because it didn't even involve him- and that's a good point. This really makes you feel like Erica Leigh is justified in wanting her revenge against Darius Carter and you really want to see her beat him.
The thing about the Dark Arts Championship is that Darius Carter picked the rules for it. There are five rounds and you only get one rope break. As was pointed out on commentary during the match, this does seem to favor Darius Carter (which is likely why he chose it) because rather than actually defending his title all he has to do is survive. This was a strong match with too many underhanded tactics by Darius Carter (such as not stopping at the end of a round) and I truly believe someone is going to have to be able to play Darius Carter's game better than him in order to take that title and I'm not sure anyone can do that.
We went right into another title match with JGeorge taking on Sebastian Cage. While I've seen Sebastian Cage in [redacted[ I feel like he's simply playing the character of champion here, while JGeorge has this whole Hollywood thing going on where he sits in a director's chair and turns his matches into his own little movies. This was a nice match and it really helped develop the character of JGeorge.
A flashback to Sonya Strong vs. Jordynne Grace for the vacant women's championship had Jordynne Grace coming out to The Offspring (and not old Offspring either) and then we got to see a little bit more of John Tella. Perhaps the sleeper match of the night saw Everett Cross taking on Matt Vertigo. From the few matches I've seen of Matt Vertigo, specifically in [also redacted], I feel like he has that factor which is going to make him a big star some day. I'm really glad he's appearing in Pro Wrestling Magic.
Billy Dixon picked up a win over Steve Peña and it was good to see Billy Dixon back on the winning track. Wrecking Ball Legursky and Adam Payne successfully defended the tag team titles in a wild brawl. Before the fight though (It was really more of a fight than a match) Wrecking Ball and Adam Payne were ordering from the bar and Adam Payne made fun of Wrecking Ball for ordering Dr. Pepper and even asked him if he was a commie. Why does drinking Dr. Pepper make you a commie? This also felt surreal, as I look back at it now, because this was Saturday night and on Sunday night I got to hear Necro Butcher spew a Communist Manifesto about flowers and hammers (Yes, really)
I did wonder with the promotion of this show and the poster and everything why Erica Leigh vs. Darius Carter would start things off as opposed to main event, but when it came time for that last match it was The Meadowlands Monster defending the Pro Wrestling Magic Championship against Saieve Al Sabah and it became clear that this match was the main event for a reason. I was first introduced to The Meadowlands Monster at the last show, but I've always been a fan of the characters in wrestling. In some ways he reminds me of The Carver, for example. This match is just one of those matches you need to go out of your way to see.
There was no DQ so these two battled outside of the ring a lot. They also were in the ring showing off what they could do as well. This match really just had everything in it that makes a wrestling match special which made me feel like, yes, it should be in the main event spot but it also is a title match and it lived up to that as well. If you're a fan of professional wrestling, this match is worth the price alone for this show. Luckily for you, there is also a lot of other great wrestling which just makes what Pro Wrestling Magic is doing can't miss.