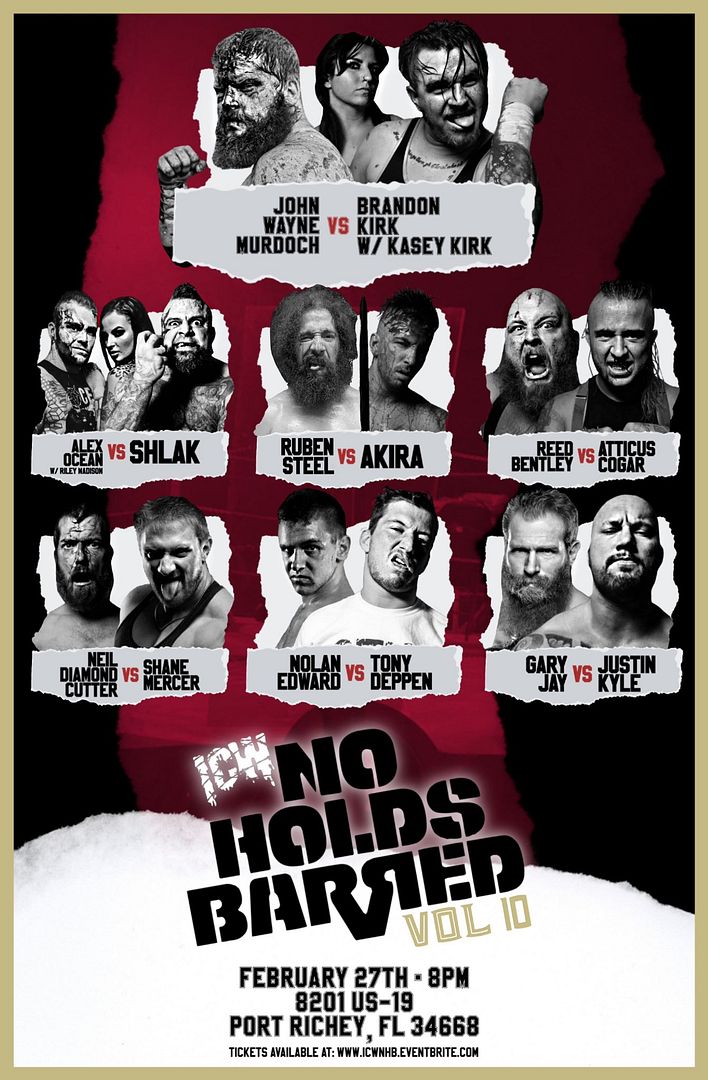 https://www.icwnoholdsbarred.com/

It's night time now and ICW NHB is outside with a ring and everything. Before we get into the action, I would just like to say to the fan who decided to bring a whistle with him to this show: You are not Bill Alphonso and I hope one day Fonzie shows up at one of these shows and slaps you in the face causing you to choke on that whistle. It was rather annoying.
The show opened hot with Tony Deppen vs. Nolan Edward. Tony Deppen always opens these shows, like "Follow this" and I love it. This match perhaps was distracted though by a "fan" in the crowd who got into it with Tony Deppen. At one point, the fan first started by saying something like "Hey, Tony, does your boyfriend like your shorts?", you know, something homophobic. Tony Deppen replied saying he was married and then it broke down into being about them being ugly and I just wish the fan either got thrown out or beaten up. Post match, Tony Deppen confronted the fan- who looked like an adult baby- and I just wish that fan was thrown out after that but I don't think we're so lucky.
Justin Kyle came out next to take on Gary Jay in one of those Bam Bam Bigelow vs. Spike Dudley types of matches. Justin Kyle is a killer and Gary Jay often looks like he's about to die. The so-called fans were still yelling stupid things but I think they were a bit more afraid of Justin Kyle. As Ruben Steel somehow got the win over AKIRA, who is now 0-2 on the day, I'm left wondering what happened between ICW NHB and Casanova Valentine. Why isn't he here? Has he been replaced by Ruben Steel? I need the inside scoop.
I don't want to talk about Alex Ocean but SHLAK did nearly kill him. This was just a beating by SHLAK and I enjoyed it. After the match though, Alex Ocean came back into the ring to help Riley Madison and some of the fans were chanting "whore" (and someone on Twitter even said one of the fans had kids with him) It's 2021. There are things which were done in the late 1990's in ECW that simply cannot be done today. But I think being stuck in the past says a lot more about you as a person than it does anyone you are directing these weak attempts at insults at.
As I recall, Shane Mercer made his main event debut at Volume 9 taking on John Wayne Murdoch. Prior to that, he defeated Daniel Garcia inside the pit. But tonight his victim ws Neil Diamond Cutter, who really just took such a beating. I'm really hoping that one day though we get that Shane Mercer vs. Justin Kyle dream match of sorts. Let these two guys just beat the shit out of each other please.
Atticus Cogar went 2-0 today as he somehow ended the undefeated streak of Reed Bentley. I'm glad I'm not the first one to say it, as Twitter asked what was the point of the undefeated streak of Reed Bentley if it wasn't going to one day lead to him versus John Wayne Murdoch. This was an odd match but also it made me notice how much 44OH have been absent recently. Where are Eric Ryan and Eddy Only??
In the main event we saw Brandon Kirk get beaten up by John Wayne Murdoch and at least JWM winning this match felt right. With a win over AKIRA but then a loss now to JWM, I'm not sure where Brandon Kirk goes from here. The next time ICW NHB is on IWTV is April 8th, 9th and 10th, for Volume 11, Battle of the Tough Guys and Volume 12. This is going to be a crazy weekend and so far for Volume 11 it has been announced that Dan Maff will vs. Calvin Tankman. But now I am somewhat sad I have watched these live because I have to wait so long for the next show.