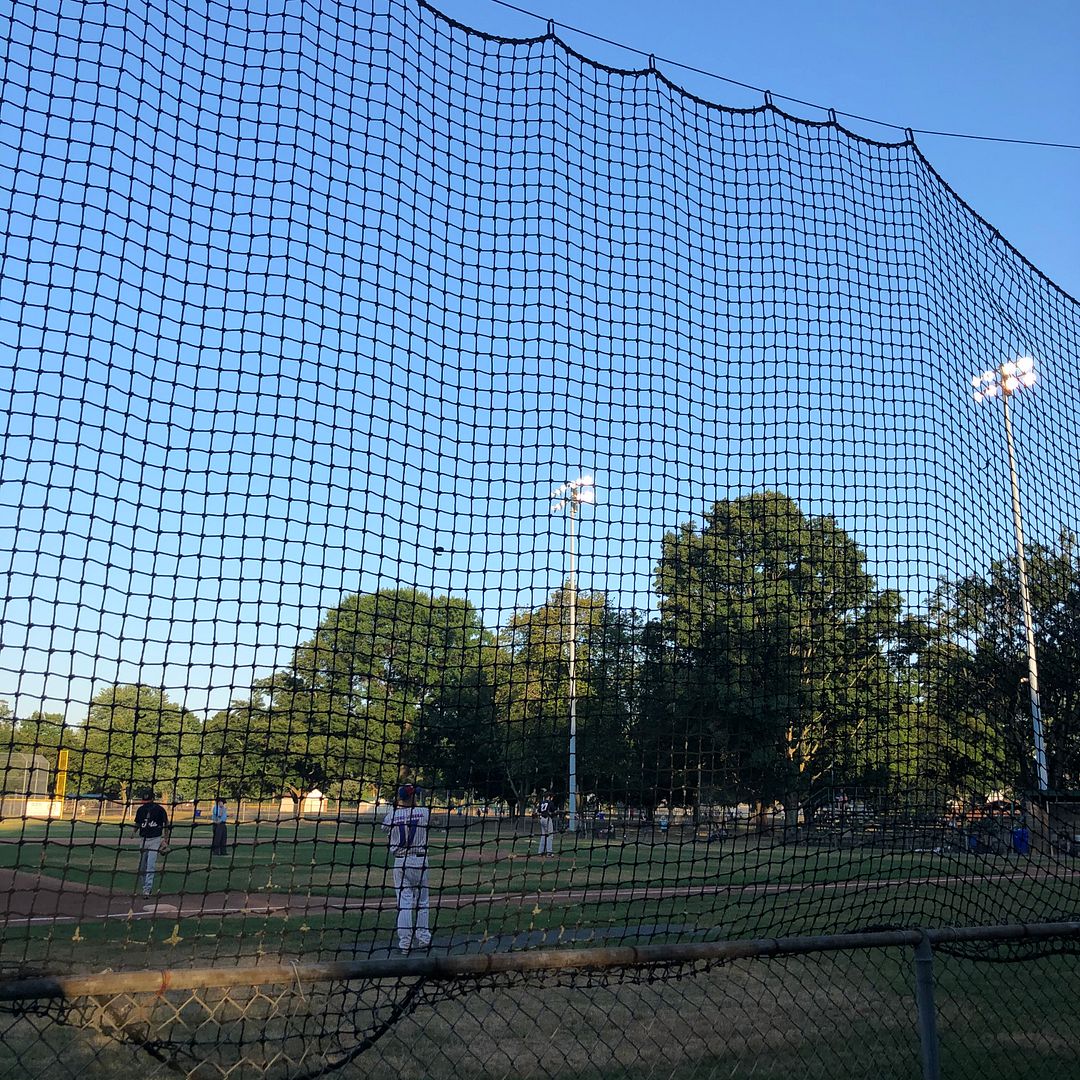 https://ghtbl.org/
https://hartfordtwilight.sportngin.com/game/show/28627665?subseason=688919
Additional photos can be found here :::
https://www.facebook.com/pg/raisedbycassettes/photos/?tab=album&album_id=4214791465229062
On the night before this game, leaving South Windsor, we somehow went through East Hartford, which seemed to set the tone for this game. This wasn't a difficult field to find but there was netting around a lot of it, some volleyball and basketball courts around it as well, but at least there were bleachers which made it feel like a step up from the night before in South Windsor.
When I saw Jonathan Walter batting first for the Expos I knew this game was going to be different. Not only did the Expos have Elliot Good playing second base for this game, they had Mike Bonaiuto pitching for them as well. The pitching of Mike Bonaiuto was enough to keep the Jets at bay for four innings, as neither team scored for the first four innings of this game, making it feel like we were going to go into extra innings at 0-0. Though the Expos kept Mike Bonaiuto in for five of the six innings, the Jets made frequent pitching changes which ended up working to their advantage.
One thing McKenna Field has is a working scoreboard so it was odd to be able to look over at it and not have to keep track of things such as the inning and score on my own. The biggest factor in this game is what my uncle kept saying: you can't win if you don't score any runs and the Expos remained scoreless throughout this game. While the Jets put on a good performance with their many pitchers, their offense only really came alive in that single four run inning which could have easily tipped the game the other way at any point.
Basically, this game was about the pitching, yes, but when you consider that most of the pitching by the Expos was one person and the Jets had to use five different pitchers, it makes the performance of the one pitcher a bit more grand. This wasn't the type of game where the winning team scored ten more runs than the losing team-- it was more of a game where the Jets won, but they just barely were able to win. The Jets offense was hindered, the Expos offense was just hindered a little bit more on this night.
The Expos move to 5-4 (while the Jets move to 4-5) and if the Rainbow Graphics game isn't made up the best they can hope for now is a 7-4 record, but to do that they have to defeat the Phillies this Friday night at home and People's on Monday at Dunkin Donuts Park. People's has been on a roll, jumping up to third place behind the Orioles, and perhaps a lot of how these top four teams turn out by Monday will not only be decided on Friday night (as Ulbrich Steel looks to play spoiler to the Orioles) but on Sunday for the People's-Jets doubleheader as well.
Though the Expos now have their fourth loss of the season, it is worth noting that the three teams in front of them all have three losses so it can still be anyone's season to win. Well, except for Rainbow Graphics. They have eight losses so I don't see them coming out in first place in any scenario. Even the Jets could move up if they sweep People's on Sunday, which just makes these next few days that much more exciting and that much more intense. If you haven't been following along this season, no time like now to start.