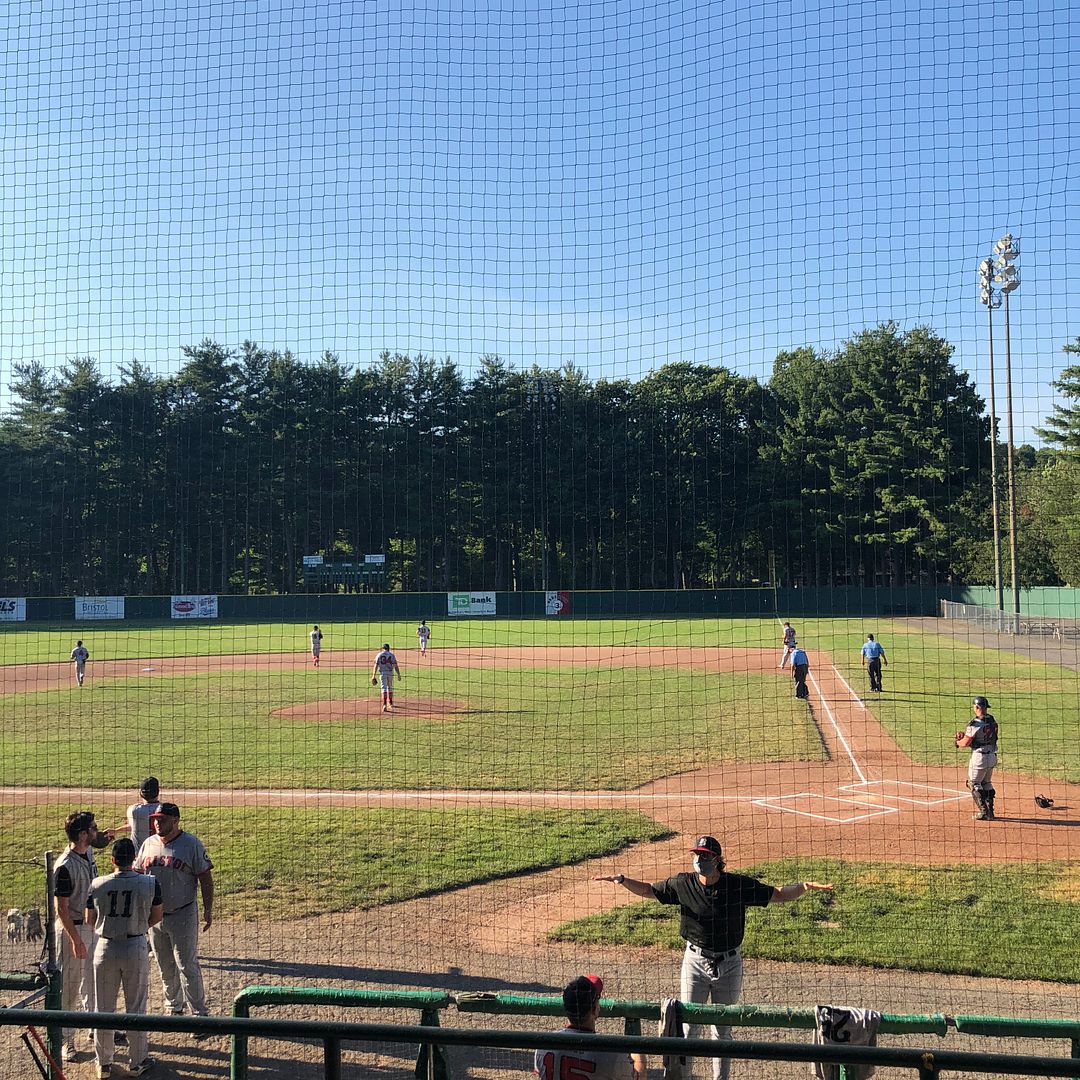 http://www.connecticuttwilightleague.com/
//
Additional photos can be found here :::
https://www.facebook.com/pg/raisedbycassettes/photos/?tab=album&album_id=4205595029482039
For the second day in a row I was in Bristol for baseball. This time, however, it was about ten degrees hotter outside and, yes, you could feel it. There was a little bit of a breeze, which was nice, but I'm not sure how the players did it when I was sweating too much just sitting in the sun during this game. Quentin and I started the game a little bit lower in the shade, but as the sun set it made us in the sun so we moved all the way up to the top to be in the shade and get a breeze from the windows at Muzzy Field.
This was my first time seeing the Connecticut Twilight League this season. When everything opened it, I felt like it opened up so fast and without warning (there was a little warning) and I've just hit the ground running since then. [Please Note: Not *everything* is opened up, but just the idea of baseball starting in July-ish and seeing who was playing, who wasn't, etc. was quite a bit to take in all within a week or so] There was a decent crowd here at Muzzy Field as well and they seemed split between the two teams. They were loud and I liked it.
As far as the game itself goes, this was just your typical comeback game that every kid ever dreams about making happen. Right away in the first a lead off double helped put a run on the board for the Knights. They would stay up 1-0 until they scored again in the sixth, going up 2-0. This was truly a game of pitching, as Marco Ross put on a show for the Bristol Knights. (The Gators pitcher also did a really great job, especially pitching a complete game, I just don't know his name!) In the top of the second, the Knights' right fielder made a great throw to third base to get an out, which I don't think the Gators expected.
What I saw from the Gators was that they seemed to take chances that they maybe didn't need to take. They'd have a good hit, then go for three instead of holding up at second. But as someone said at one of the games I was at recently, they're playing baseball this summer for fun, so they have to take those chances and it might not be about winning as much as it is just having fun. I can respect that.
There was a great diving catch in the top of the fifth inning and in the sixth Marco Ross got himself on base but his team couldn't help him score to bring them up over that two runs. It was really amazing and true testament to baseball that it felt like nothing happened during most of the game (which simply was not true, but if you look at the runs scored you might think so) and then it all came down to the very end of the game, the last inning.
In the top of the 7th the Gators began their comeback. After runners were on first and second, there was a HBP to load the bases and that was it for Marco Ross. At one point, the umpire warned the entire Gators dugout (I think they wanted him to call a balk) and this inning was just tense. Having someone near me cheering the Knights while someone on the right of me is cheering the Gators-- it was a scene. The Gators had those chances where they could score runs and they did just that.
The first two runs the Gators scored made me think we would go to extra innings. I thought the Knights would definitely shut them down then. What was interesting to me was that on this long fly ball for the second out with bases loaded the fielder threw it to home base, which he had no chance of getting, but as everyone was distracted by that- by what was happening at home plate- the other two runners moved over to second and third, which ultimately did help them both score as well.
I can't believe that the Gators didn't score all game, went into their last inning down 2-0 and then posted 5 huge runs to not only come back but to shut down the Knights in the bottom of the 7th and win the game. By the fifth or sixth inning, I was truly expecting this to be one of those games about pitching where it ended 2-0 and the Knights won. So did a lot of fans in attendance and the Knights possibly as well. I don't think anyone possibly saw this game ending the way that it did but that's why I love baseball.