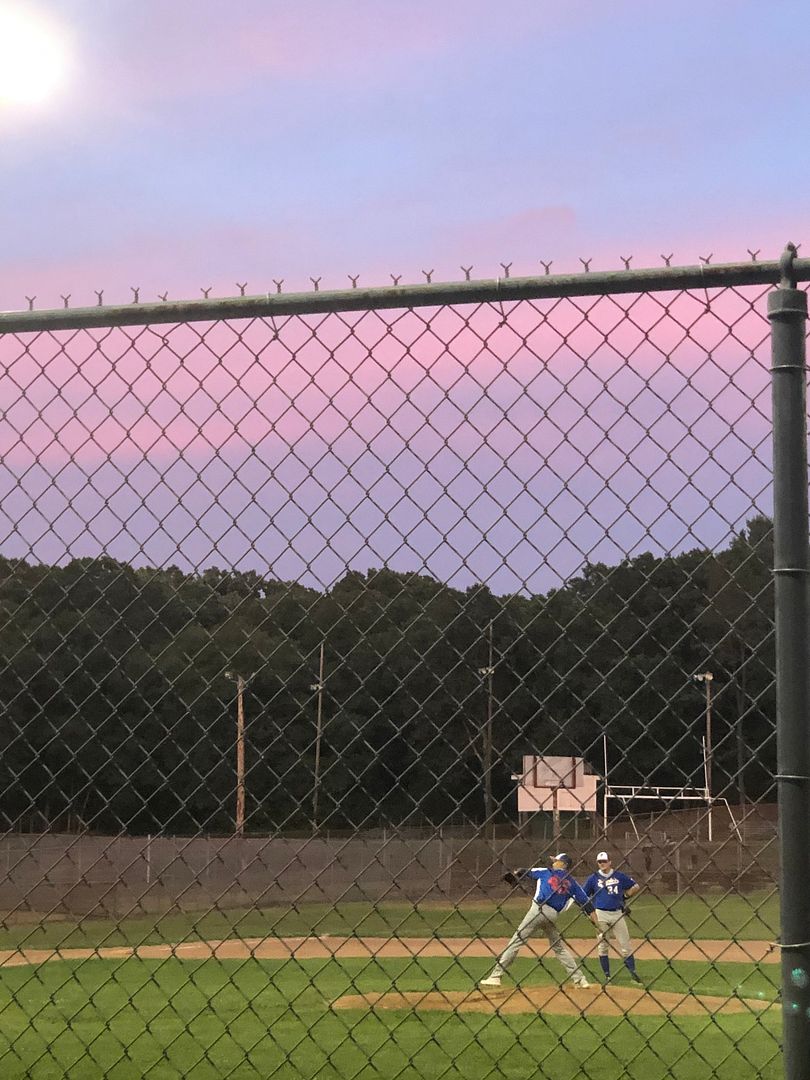 https://ghtbl.org/
//
https://hartfordtwilight.sportngin.com/game/show/28627680?subseason=688919
//
Additional photos can be found here :::
https://www.facebook.com/pg/raisedbycassettes/photos/?tab=album&album_id=4201331203241755
After visiting Mount Nebo Park for the first time last Thursday, I had the idea to come back here on this night to see the Rainbow Graphics welcome People's United Bank. For me, from what I saw last season and thus this season, the Rainbow Graphics are a bottom level team while the People's United Bank hangs out in the middle of the league but sometimes can go to the upper part of the standings. What makes that interesting is that sometimes those lower level teams (like the Graphics) can give the higher level teams (like People's) a hard time. So I did go into this game thinking it might be somewhat competitive.
I am also willing to admit that I went to this game because I wanted to see Justin Morhardt pitch. My dad and I got to the game a little after 6:30 and there was a 7 start time so we were hanging out, watching them warm up and we were on People's side for the dug out. I saw Justin Morhardt in the dug out and he kind of looked over at me so I asked him if he was pitching and he said no but that he was playing left field, which he seemed really excited about.
I'm not sure what happened to People's since the last time we saw them in Wethersfield, but Jack Risley, who I always considered to be one of their star players, was absent from this game, though he did play in that game against the Expos. In his place during this game seemed to be Willy Yahn, who just had a hell of a night both offensively and defensively. So while I feel like maybe the People's roster got shaken up a little bit, I also feel like they are somehow better now as well.
People's struck early with two runs in the first and I told my dad that they would win this game 10-0. But then, for a few innings, no one was able to score. We went through three innings with People's up 2-0 and not only were Ryan Skaff (Graphics) and Jeff Keenan (People's) pitching a great game against each other, the Graphics were also making solid double plays. Somehow, the Graphics were not making all of the errors that they tend to be known for on defense and that made for an interesting game.
Well, it made for an interesting game until the fourth inning when People's scored five runs and went up 7-0. It is worth noting that during this game, Max Quinn of the Rainbow Graphics reached base twice because he was HBP both times. However, Justin Morhardt also kept getting on base because he was walked and I think one time he was HBP as well. When Justin Morhardt made it to first base the second time he said something to the ump about how he was happy he was on base but that wasn't how he wanted to get there.
In the sixth inning, the Rainbow Graphics realized why they weren't pitching to Justin Morhardt all night, as he blasted a two run homerun into right field. This would become a three run inning and People's would go up 10-0, just as I predicted. Now, the Graphics would be able to score one run in the sixth, so People's had to come back and maintain their ten run lead by putting up a run of their own in the seventh. Evan Chamberlain tried to help the Graphics get out of trouble by pitching a few innings, but it didn't matter. People's were on a mission.
Jeff Keenan and Kevin Lukeivic split this game with Garrett Moran coming in to close it out and I do respect that People's has this pitching formula. It makes sense to have a starting pitcher go three or four innings at most if they feel good, then have two more pitchers divide up the remaining innings- one or two for the closer depending upon how the relief pitcher feels. So to divide the innings among three pitchers either 3-3-1, 4-2-1 or 3-2-2. It just makes it feel like once a hitter gets used to a pitcher it's too late and another pitcher has entered the game.
In the bottom of the seventh when Tim Hanlon struck out for the Graphics he became so upset that when he went into their dugout we could hear him across the field. That struck me as odd because they were down ten runs, which must be frustrating but by that point in the game there was really nothing any of them could do about it. The chances of a late ten run inning seemed highly unlikely, especially since People's has a closer.
After Justin Morhardt's homerun in the sixth inning, I noticed that no one was going to get the ball. Someone usually always runs after the foul balls and so I didn't know why neither a player nor a fan who was closer than I was made their way to get the ball. So I got up, walked over to that part of the parking lot and grabbed the ball because, hey, how often do you get a Justin Morhardt homerun ball? While I admit I came here to see him pitch, I'm just as happy going home having seen him hit a homerun.