I'm not sure how often it is that the first Saturday in May happens to be May 4th, but the fact that Free Comic Book Day and Star Wars Day can fall on the same day seems really special to me. It had been a number of years since I had been to a Free Comic Book Day because I've, sadly, been falling out of comic books. I feel like it's this combination of me not having time to read them mixed with not being able to find enough that I like to make it worthwhile. Yes, I'll grab the occasional trade paperback collection from the library or Newbury Comics when I'm in MA, but for the most part I've just not been into comic books as much as I probably should have been these past few years.
The first thing I needed to do when planning out FCBD was find a comic book shop. There is this new-to-me shop in Southington (not that far) called Boom Tube Comics, so we went there. I also looked online at the comic books which were being offered as exclusives, to see if there was anything worth going for, and I convinced Quentin to go based upon the Minecraft and Pokemon issues. I was ready for my own titles, but we'll get to that a little later on.
Quentin has this Darth Vader costume he wore because it was also Star Wars Day (he was the only one in costume when we were there) and I put on a Star Wars t-shirt. We got to Boom Tube Comics right around 10:00 am- when they opened- and there were already people inside. They had a table set up with all of the free issues on it and the deal was you got two or three issues just for showing up, but if you spent more than $10 you could get ten of the free issues. I didn't even really think about what we would or wouldn't get if we only got two or three issues each and just went straight for ten thinking it'd be easy to spend $10 or more.
One of my favorite comic book writers is Chip Zdarsky because of his work on titles such as Howard the Duck and Jughead. He is currently writing for Daredevil and they had the first few issues of that series, so I picked those up. I also grabbed the first two issues of "The Might Ms. Marvel" (I had been reading her more recent run and really enjoying it, along with Squirrel Girl and Gwenpool) and then I also saw the first two issues of a Spider-Man / Ms. Marvel team up I couldn't possibly pass up. I also picked up the trade for the Infinity Gauntlet, which I wanted for some time and figured this was the best place to give my money to for it.
Quentin has picked out a Heroclix blind bag for the Captain Marvel film and while we were waiting in line I saw a Constantine Pop Vinyl on the table. I picked it up and thought it looked cool, but when I saw it was exclusive to FCBD2019 I knew I had to buy it. I'm trying not to become engulfed by the mania of Pop Vinyls (I only have one for Howard the Duck and Goose) so I gave it to my better half, who I collect them through vicariously.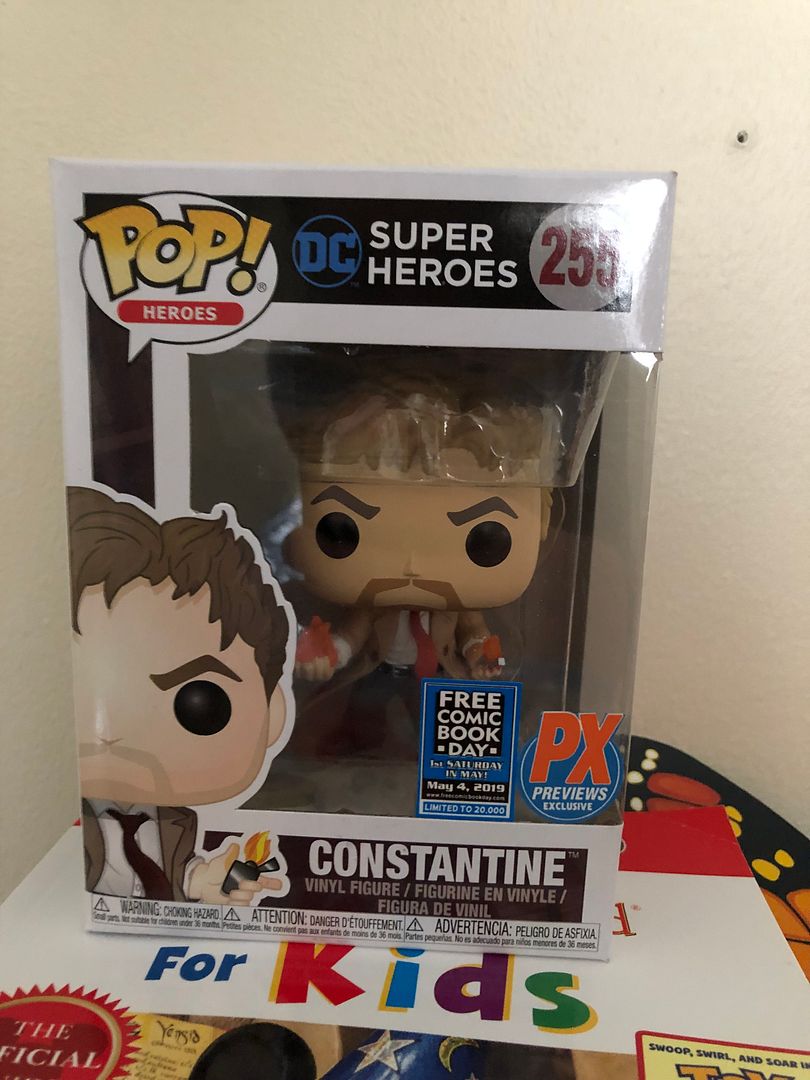 For what we spent and what we got, I would call the experience a success. When we first arrived at Boom Tube Comics there were a decent number of people inside but by the time we were leaving the place was packed to where you could barely move around without bumping into someone. I really enjoyed the shop and want to visit it once a month to get current issues and, you know, promoting reading for Quentin is never a bad thing either. I think I'm finally ready to fully dive back into comic book collecting again because Quentin is reading so the timing just seems right.
I'm typing this on a Saturday (the week after FCBD/SWD) with plans to post it on the following Monday, so I will update it about each exclusive issue I read as I read it. I would love to be able to review the issues I purchased but I feel like I barely have time to read comic books let alone write about them. Maybe if there is enough interest or if other music people who love comic books want to get together with me we can start a podcast or something. Now, onto the titles!
Vampirella - Free Comic Book Day 2019 (Dynamite)
When I was in my younger years, middle school if you will, I remember buying a Vampirella comic book because on the cover you could see her butt. My friends at the time thought it was cool and sort of something that- at our age- we wouldn't be able to buy because this, of course, was at a time when video stores had a section that you had to be 18+ to go into (Kids, ask your parents what that means)
Somehow, seeing that the new series starts with this issue brought me back to those younger years and, yes, I couldn't really resist picking this issue up. There is no real reason why it was the first of the FCBD exclusives I read, but I did enjoy it. There is a modern story in here and a classic one reprinted as well. What is interesting (perhaps brilliant?) about this pairing is how Vampirella was treated as a character in the past versus how she will be treated as a character now.
Many things about Vampirella that existed in the past simply cannot exist now. Right away, the idea that she is to be thought of as being less because she is a woman will not translate well in 2019, but I'm definitely looking forward more to an empowered version of her versus an underestimated one. Also, I'm not sure how well the idea that sex sells will translate in 2019 because where I was in middle school is a lot different than where we, as a society, are now (Let's just say we're off dialup, to make it brief)
Something about FCBD2019, my past and the future all came together with this issue though. Part of reading comic books, for me, is reconnecting with that younger version of myself and Vampirella takes me back there. I'm not sure what other character could have the same timing of a new series being launched, but when the first issue of the new Vampirella comes out I will be reading it.