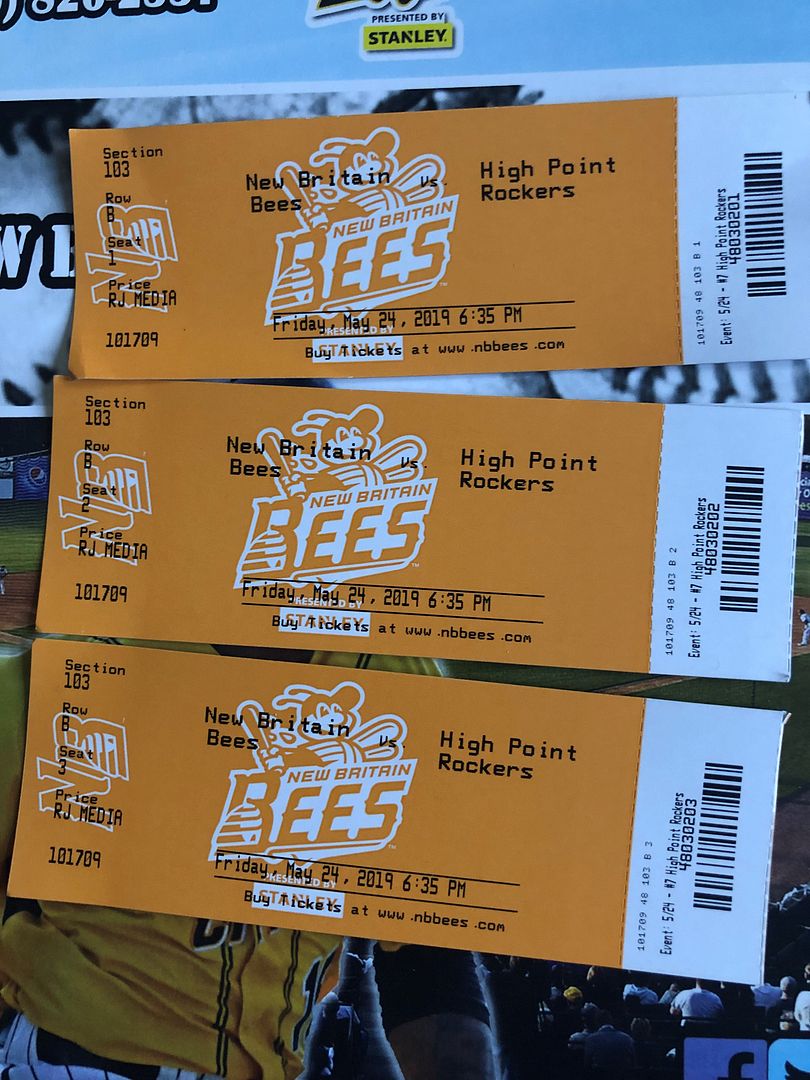 http://nbbees.com/home/
________________________________________________________________
Additional Game Day Photos can be found in the Facebook album here:
________________________________________________________________
This year, so far, we attended three different Yale baseball games, a Bees exhibition game against the CT Twilight League and the Bees opening day game. When we went to opening day, back on May 3rd, though it was raining and we ended up leaving early so between that and the final Yale baseball season of many of their top players, I didn't feel like there was a lot to write about until this game.
We arrived in New Britain around 5:45pm. We got our tickets and were put in the same spot as for opening day: Section 103, Row B, Seats 1, 2 and 3. There weren't any giveaways (like "Bobblehead Night" for example) and there aren't a lot of those in general for the Bees this season, which is kind of sad. As soon as we got in we saw this wing competition they had going on and I saw "Wing It On" which says it's in New Britain but there is also one right across the street from me (They also ended up winning)
Sting was out front and center so Quentin ran over to give him a hug and then take a picture together. We went into the shop to get the roster folder and Quentin ended up getting a batting helmet. By the time we got to our seats it was almost game time so it never really ceases to amaze me how the time from parking at the stadium to getting to your seats seems to fly by like we're in some kind of time portal. We've arrived an hour early for games and it never feels like you're just sitting around waiting.
This was a wild game. The Bees came back from being down three runs to ultimately win it and the play which you could say won them the game was Jason Rogers sliding into third base on an argued call. Now, I was sitting on the first base side, so I did not see a clear picture of what happened, but... If you've ever seen Jason Rogers in action before... Well... When the ball was hit towards left and he was rounding second he was maybe halfway to third with the throw coming in much faster than he was running.
My only guess at this point was that he somehow avoided the tag which made him safe, otherwise he would've been clearly out by a mile. The crowd was cheering the safe call but the High Point Rockers manager was not. He challenged it, though it was not overturned, and eventually the manager then got into this huge shouting match with the umpire who threw him out of the game. I've seen managers thrown out of games before but this one kept trying to come back and I thought for some time he might actually start swinging.
On paper, this was a fun bit of baseball. The come from behind victory for the Bees is everything you want to see in a baseball game because it was just such a hard fought effort back and forth from both teams, who both made mistakes, and seeing the home team win is never a bad thing either. Aside from the game itself, the first base side umpire gave Quentin a game used ball, Sam Gervacio gave out bubblegum to the kids (including Quentin) and when they threw t-shirts into the stands one landed in Quentin's seat, as thrown by Sting.
Overall this was just a rather enjoyable game of baseball. I know that sometimes a team can get beat 5-0 or 1-0 and it seems like the same crushing defeat. People can say baseball is boring, but it is a game of strategy and even so, this was just such a great back and forth game with events unfolding in favor of both teams at times but in the end it was the Bees who ended up winning, which was something worth going out on a Friday night to see.