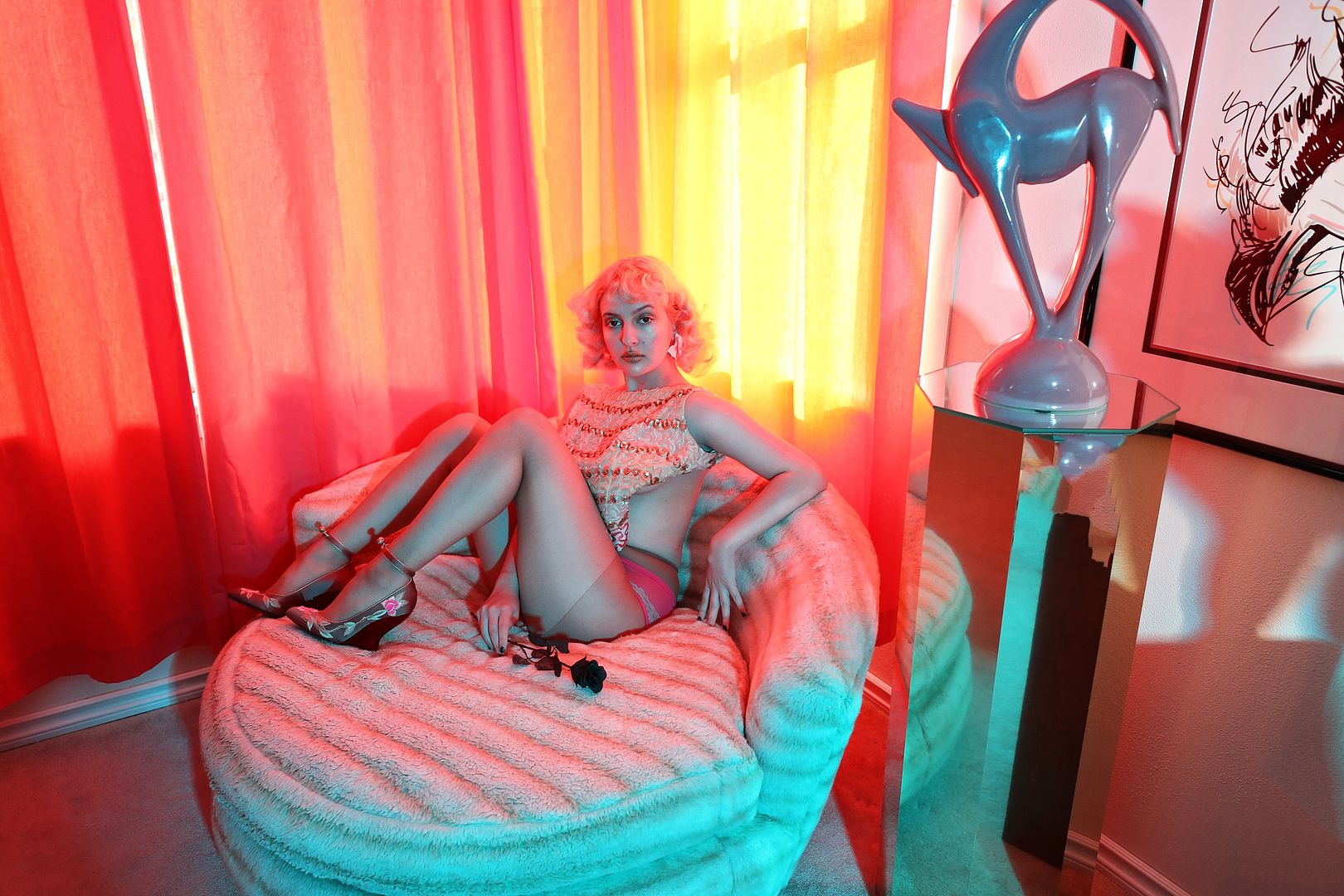 photo by Angel Ceballos
1) "Holy Hell" seems to have a style which is new but an evolution of sorts from your past music. What was the process like making this EP and creating a sound so familiar yet strange?
Thanks to my label Yellow Year and my producer Johnny Goss, I've been granted permission to explore the confines of my dreams and what I would like to see and hear before me. When I was making music on my own, my music education and access was limited and I did what I could with it which resulted in drone and folk which I like a lot but I always wanted to contribute something to music that had more body to it. Something you could dance to or be angry with. Some of the songs are old songs that have had new life breathed into them but then there are some new ones like "Sisyphus," which has manifested in ways I never knew I would one day attach my name to. I am thankful for [label head] Angel Ceballos for seeing me for who I truly am.
2) Your music does not really sound like anything else. Who are some of your influences which have helped you craft this style?
I don't remember what mind state I was in when I wrote those songs or even who I was listening to but I love Brian Eno. I love Alexander Girard. I want to be Zsa Zsa Gabor. I like Fennesz. I love Mistress Mary. I love the singing nun and I hate her demise. I love all of the numero compilations. I go to Jazz Is Dead alot. I listen to Rob Zombie before work. I made a lot of friends through the Grateful Dead bootlegging community on instagram. I grew up listening to a lot of Frank Zappa. I don't listen to a lot of music anymore other than things my friends' have made. I am influenced by women, sex, joy, orgasm, feelings, death, the philosophy of ethics, all dogs and chaos.
3) Do you feel there is an importance for physical media still in music?
Music will die if it doesn't have art attached to it. You can't just be a good musician anymore it seems, you need to look and act and portray something inviting which is strenuous but exciting. I don't think my art or look would have taken the direction it has without a push from music.
4) Final thoughts, shout outs, etc... ??
Magic is real! Body negative is a great band! All the boys in Death Bells are babes. I love you, Chelsea Wolfe. Nedda Afsari is my muse. MIA FOREVER. TENNESSEE FOREVER. PAGAN FOREVER AND EVER AND EVER AND EVER!