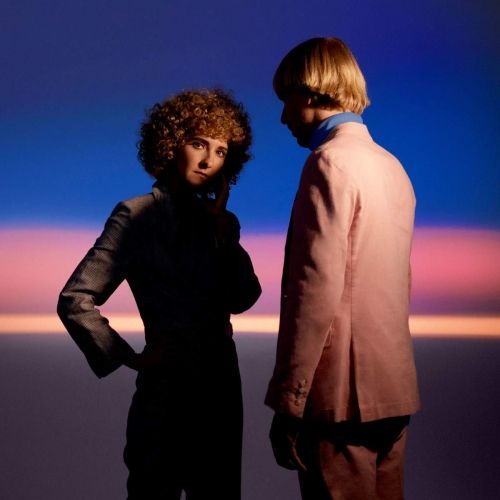 https://www.tennis-music.com/
//
https://orcd.co/swimmer
//
The first time I heard Tennis was back in 2012- almost eight years to the day- when they released "Young & Old". Funny how their second album (but first I heard) was released the month after Quentin was born. So, here I sit, listening to their new album eight years later and Quentin is eight years old. That's a crazy coincidence with numbers, right? I've been listening to the two studio albums that Tennis has released since 2012, as "Swimmer" is their fifth overall, but this was the first time I've been inspired to write about them, which may or may not be a result of the current state of the world.
"Swimmer" opens with a song called "I'll Haunt You" which has pianos and beats, but then we go into "Need Your Love", "How To Forgive" and "Runner", all of which were released as singles so you should somewhat be familiar with them and they just have that 1960's energy like something you'd hear while rollerskating back when that was something that my parents did. (Shout out to the movie "Roll Bounce") Through this blissed out pop, there are moments where the tempo can increase, decrease or kind of stall as if it's buffering and I really enjoy how Tennis makes the rules for their songs and no one else.
"Echoes" is more like a folk song while the titular track comes out dark and as a slower ballad, which does remind me a bit of that older No Doubt, from their second or third album. As the lyrics sing "It's better for me with my feet in the sand" we go into this funky jazz breakdown and it's kind of interesting how the song "Swimmer" can be thought of as being not about swimming but rather perhaps someone else being the swimmer.
"Tender as a Tomb" starts off with an island vibe- which goes with the beach/swimming feel of this album- and it just has this upbeat essence which makes me happy while listening to it. Even if it's bright and sunny outside, as I type this we're not really allowed to go outside so it's nice to at least pretend like I can be some place while listening to these songs.
The pace of "Late Night" picks up for a little bit, where it's not quite a ballad but it's not too fast either. There are some words in here about the ship and the sea, and I really do enjoy the lyrics on this album. I was browsing around the Tennis website because I was looking for the physical release of this album (it's $20 for the record!) and while doing so I found a t-shirt that has the lyrics for this album on it- the way you'd find them inside a record sleeve- and I just thought that was the coolest.
"Swimmer" ends somewhat how it begins with pianos on "Matrimony II", but the song bursts wide open into such a huge type of feeling with lyrics about changing your name. Many of these songs have a personal meaning to me- which I don't feel like I type enough, I don't feel like I connect with music so deeply anymore as I used to, say, twenty years ago- but I don't want to go into why. The best way to describe it is like deja vu- a lot of what these songs are about are topics I've discussed with the same person- and so this album will always have a special place for me personally. As someone listening to music, you should be playing this now more than ever for its positive effects.