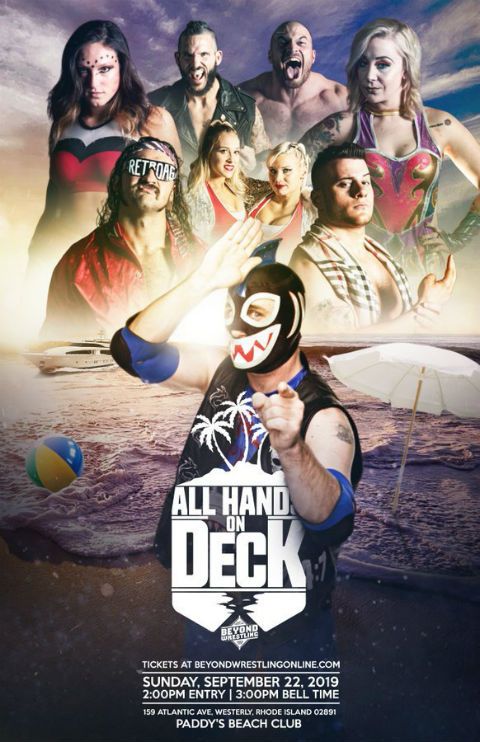 CageMatch results :::
https://www.cagematch.net/?id=1&nr=236266
Official Beyond website :::
http://beyondwrestlingonline.com/
Right away, I like this event because it's at the beach. Yeah yeah, I know WCW did that whole Bash at the Beach thing, but how long has it been since someone has had a themed show that just really stood out? I really do miss that about WCW: the Halloween Havoc shows and the ones with the motorcycles. This is my first time watching Beyond Wrestling, though I've read a lot about it, and I'm diving deep into my IWTV subscription now so I'm not counting how many shows I've watched and written about anymore.
What I like about Beyond Wrestling- and this show- is that it was the perfect mix of everything. Some names I didn't know and some I'd only seen recently, since starting my IWTV subscription, and some I've known about for years, so it blended the talent in that way. There were also an interesting mix of matches, as some were singles, tag and even the ladies got on the show- sometimes versus the men. My feeling about "intergender wrestling" is to simply look at it like a sport and what would be weird about having an NBA team vs. a WNBA team?
Nick Gage is on everything these days. I'm surprised he hasn't signed with NXT (ha!) or AEW, but I'm too scared to ask him why not. Erick Stevens is making a comeback to wrestling that somewhat lines up with my watching wrestling so I can dig it. I'm still not 100% a fan of Kimber Lee and I feel like her win here over John Silver was a bit of a fluke.
Warhorse (who is the IWTV Champion) defended his title against DL Hurst (seeing for the first time) and Wheeler Yuta in a great match. I am a fan of all three of these men and Warhorse is quickly becoming one of my favorite all around wrestlers. I usually like the odd wrestler (like Orange Cassidy) but in terms of just fighting style and being badass, Warhorse is the one to watch.
Now, I'm jumping around a bit, but towards the end of this show you will see Chris Dickinson face Kenn Doane and if you're thinking "All that time in the Spirit Squad finally caused Kenny to crack", just know that this show- in 2019- also features Shark Boy. Yes, I am going to admit that while I enjoyed the idea of this being at the beach I also maybe 95% clicked to watch this because Shark Boy was on the poster.
Beyond Wrestling seems to have that perfect look back to the past while looking ahead towards the future as well balance figured out. They also seem to have the right characters in play because if you think back to when the Spirit Squad was in WWE... Yeah, some characters from that time I wouldn't want to still see now (Though I wonder what happened to Jonny Jeter) Chris Dickinson vs. Wheeler Yuta is also in the future so this would be the best time to get into Beyond Wrestling if you aren't already watching.