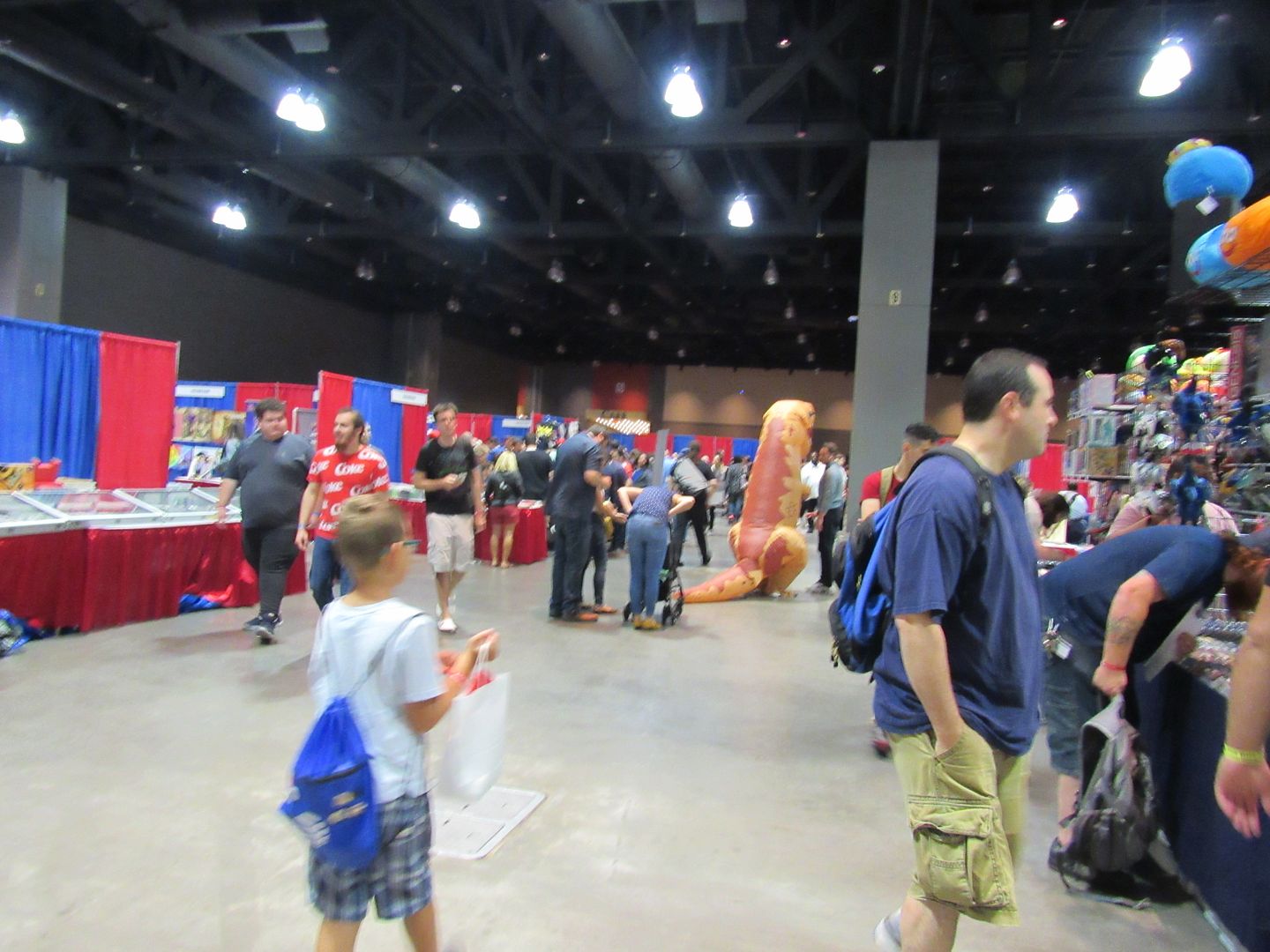 http://retroworldexpo.com/
Additional photos can be found in a Facebook album located here :::
https://www.facebook.com/pg/raisedbycassettes/photos/?tab=album&album_id=3144542288920657
For the second time, Quentin and I went to Retro World Expo. This time I feel like we had a better idea of what was going to be happening versus going in last time with less of an idea and that worked out well because there were people there from last year so it felt like an old reunion with friends or family of sorts. I tried to tell Quentin going into this that he would be on a budget but how well I stuck to that budget remains to be seen because I'm not really going through and adding up all of the money we spent throughout the day.
The first difference between this year and last year was that there was a will call area set up on the second floor so we had to go up the escalators prior to checking in. However, the lovely women there knew who I was somehow so it was nice and easy. When we got in, as usual, our first stop was the bathroom. After this we headed towards the arcade area because who doesn't want to free play classic arcade games.
To his credit, Quentin spent time trying various games even if he didn't know what they were, but he mostly just played the Super Mario Bros. game they had set up. We played a game of hockey as well, with those old spinner guys like foosball, and I just wish that was a concept that they brought back with new characters, like a Marvel themed one somehow. My favorite arcade game, for the record, was Robocop.
As we headed out onto the floor, I followed Quentin around the merchants. The problem I had this year (which I felt less last year) was that Quentin would stop and see what he wanted, which I was fine with, but when I wanted to stop and look at something he'd get upset because he wanted to keep going and see what he wanted to see. I found myself buying a lot of random stickers from various artists there and I have no idea what I'm going to do with all of them but that's okay.
Quentin's first purchase (and perhaps his biggest one) was some yarn toys that look like objects from Super Mario and one is a Pokeball which actually opens up. I was rather impressed by them and, yes, I think this is still a great place to go to buy things that fit the general aesthetic of my home.
We then found a man selling Lego mini figures, which had Mario and Luigi among others, so we picked up some of those because Quentin loves Mario. We actually saw the artist who last year sold us the mystery box (which Quentin talked about for an entire year) but they weren't selling mystery boxes this year just the pillows. We found the vendor with the beads from last year though so we got some more of those.
At some point I headed towards the cafe because I knew if I didn't buy food then I was at least going to get something to drink. As we were walking, Quentin asked if we could get food so I told him that's where we were headed. Chicken tenders and a Sprite for him plus a BLT wrap and purple Mountain Dew Game Fuel for me made for a good lunch I'd say.
After lunch we found the Pixel Pop Maid Cafe, where Quentin sat down to play some Jenga. He will tell you that he lost once but the time he did lose it fell on him so it was kind of funny. We spent a while playing there and I wanted to buy something but didn't have cash at that point and didn't want to do the charge for just a dollar or two so I bought this package they had where you get a photo, sticker and pins.
It's funny because at first I asked Quentin if he wanted to take a picture and he said no, but then later on after I decided we should buy the package deal he said he would take a picture and he had so much fun doing it. Once again, the Instax Mini proves to be worth its price because of how much fun it provides (They had the same one as us just in a different color / This immediately bonded us like family)
On our way back to the main floor, the band came on and it was more of an orchestra playing video game music and that was pretty rad.
Even though I knew this was going to have a lot of video games for sale, I wasn't prepared for this many. I also don't think I was prepared for the number of toys which were here. I have a Sega retro deal but this really made me want to buy an old school console and then that way even if I only buy games here, once a year, and spend like $500, it'd be so worth it because I could spend the next year playing those games.
I think my favorite aspect of this all this year though was the people. Which is weird to type because I tend not to like people. But, there were people here in costume. There were people in video game themed shirts. But also there were people in comic book themed shirts. There were people in wrestling themed shirts (Shout out to that one guy in the old school ECW Taz shirt) And I even saw one guy in a Mets shirt. It was just so wild how all these people came together for the same common bond and I wish it was something we could do every month.
Though I feel like I always make these promises, this time I will stick to them. By next year, I want to dive further into classic games. Buy a console and look for games for it because there were just so many here and at such great prices. I also want to get into tabletop gaming, specifically D&D, because I told Quentin that's what he has to do if he wants shiny metal dice. But I feel like every year I'm going to get a little bit deeper into RWE and eventually it's just going to consume me completely. By that time Quentin might be 10 years old so it will be the perfect time for him as well.